Tim Tebow rally to be held in Jacksonville
A group of Tim Tebow supporters in Jacksonville wants the Jaguars front office to answer one question when it comes to Tebow signing with the Jaguars 'Why not?'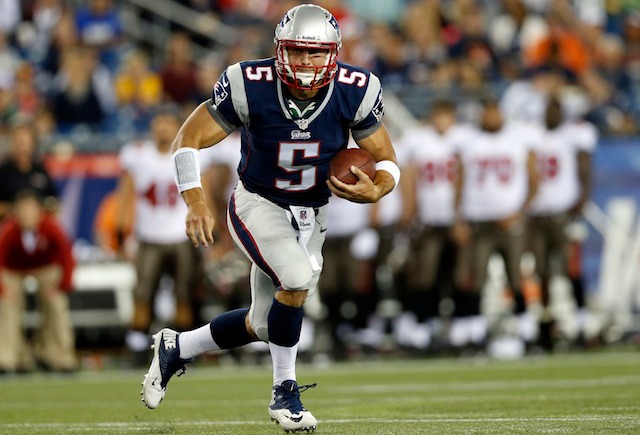 Tim Tebow is a popular man.
The Russians want Tebow. Gene Simmons wants Tebow, but apparently, no one wants Tebow more than the fine citizens of the city of Jacksonville. 
A group in Jacksonville will be holding a rally on Monday at 3:16 p.m. ET at EverBank Field. The rally has one purpose: to convince team owner Shad Khan and the Jaguars front office to bring Tebow to Jacksonville. 
The group has set up a Facebook page and a web page where they're trying to convince everyone in Jacksonville to participate in the Tebow-to-Jacksonville movement by wearing t-shirts, hats and putting bumper stickers on their cars. 
From the web page of the 'Why Not' campaign: 
Tim Tebow Quarterback of the Jacksonville Jaguars? We say.... WHY THE HECK NOT? The Jags are going no where in 2013 if Opening day is any indication. An embarrassing 28-2 Home loss to the only team as bad as us last year. Look at the photos above. That is 5 minutes to go in a NFL game. Stadium Empty.

Jacksonville will continue to be the same ho hum doormat of the NFL Unless we take action. We have waited enough. We have seen enough. Time for Jacksonville to send a message. We need YOU to help send that message.

Love him or hate him ....Tim Tebow behind center in a Jacksonville Jaguar uniform would change everything.

We are asking that YOU Take action NOW. We are mobilizing the City Of Jacksonville to shame the Jaguars into getting Tebow. If the Jags got Him....Overnight, The Jaguars would be on the National Stage. The Stadium will be full of Tebow Maniacs & Tebow haters alike. The whole country would tingle with anticipation & all eyes would be on Jacksonville. Not as a punchless loser but as the Grand-Final-Once-and-for-all Tebow proving ground.

The Jags front office has already said they are not going go after Tebow. WHY NOT? The Jags belong to Jacksonville. Lets Take Action and Show the Jags we want to bring this Hometown hero here and let's see what happens. EVERYONE wants to see this.

Here is our action plan. Put a "Jags-Tebow WHY NOT? "signs everywhere in Jacksonville. Put it On signs on every corner of Jacksonville, Put it On bumpers of every car, On shirts and hats of everyone in Jacksonville.
The rally is set to last three hours and 16 minutes, which is not a coincidence, nor is the 3:16 p.m. start time. The Tebow-to-Jacksonville movement is slowly -- like, really, really, really slowly -- gaining steam. 
Chuck Norris is riding shotgun on the Tebow-to Jacksonville bandwagon. Norris went on the record in May saying that Jacksonville should sign Tebow. And lets not forget about the presidential petition that someone in Jacksonville put together to try and get President Obama to force the Jaguars to sign Tebow. 
Next up, the Jacksonville zoo will probably rename all of its jaguars 'Little Tim Tebow,' which doesn't have a bad ring too it.
Show Comments
Hide Comments
The Norman-Dez feud continues

Cruz, who says there was a conspiracy to get him out of New York, can help a needy Bears a...

Cruz thinks there was a conspiracy to get him out of New York
Hernandez, who committed suicide in his cell last month, struggled with the transition to prison...

The Cardinals coach isn't alone in thinking the overtime rules change isn't a big deal

From a still great Brady to his weapons to hidden factors, the 2017 Pats could be an all-time...