Tom Brady: 'No excuses for me for not getting the job done'
A day after his season ended, Patriots quarterback Tom Brady wasn't willing to blame his offensive line for their lack of protection.
• 1 min read
Even before the AFC title game began, the Broncos relentlessly pestered Patriots quarterback Tom Brady, calling him a crybaby and a "whiner." Then, on Sunday, the Broncos defense lit up Brady on the field, hitting him 20 times en route to a 20-18 win.
But after his season ended, Brady didn't live up to the Broncos' labels. He didn't cry or whine about the lack of protection his offensive line provided for him. Instead, Brady took the blame.
"When you play quarterback, you're going to take hits. You have to stand in there and make throws. There are no excuses for me for not getting the job done," Brady said, per ESPN. "Our guys fought hard. I'm proud of all the guys for what they tried to accomplish. We just came up one play short to a very good football team."
His answer is expected, but he'd be completely justified if he were to blame the offensive line, which didn't do much of anything on Sunday. In fact, the Broncos managed to generate unrelenting pressure even though they blitzed just 17.2 percent of the time, which means they were able to get pressure and keep extra defenders downfield to cover Brady's targets.
The Broncos blitzed a season-low 17.2 percent of the time yesterday

— Pro Football Focus (@PFF) January 25, 2016
"It's a tough front with good players," he said. "They're teeing off on the cadence. We're trying to keep changing it up. They did a great job of it."
That led to some awkward moments for Brady, who felt the pressure even when it wasn't there.
Tom Brady's happy feet on this play... pic.twitter.com/iBpRghzqXA

— The Cauldron (@TheCauldron) January 24, 2016
In all, Brady went 27 of 56 for 310 yards, one touchdown and two picks. Still, the game came down to a failed two-point conversion in the final seconds of the game. But even on that play, Brady didn't seem to have the necessary time in the pocket. And, maybe if he had, he would've spotted tight end Rob Gronkowski, who may have been open in the end zone.
Instead, the Patriots' season is over -- all due to the Broncos' incredible pass rush.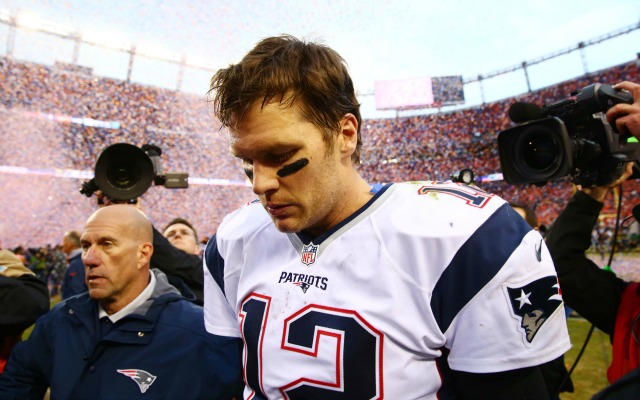 Show Comments
Hide Comments
Sometimes it's hard to figure out what the Bills are doing

Peterson would join a formidable backfield that includes Mark Ingram and, of course, Drew...

John Schneider has a simple rule: He doesn't like lying to people
Kizer, the former Notre Dame standout, is one of the top QBs in the draft class

Can the Browns get it right? Can the Cowboys and Raiders build dynasties?

The versatile safety/linebacker could slip out of the first round