Top 10 potential head coaches for 2014
Here are 10 candidates who teams in need of a new head coach could look at for the 2014 season and beyond.
• 6 min read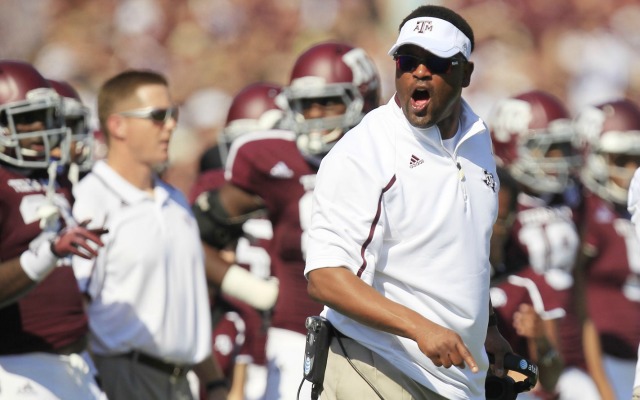 Greg Schiano is in trouble. Joe Philbin is in trouble. Gary Kubiak is in trouble. Perhaps Mike Shanahan. Maybe Dennis Allen.
All of the aforementioned coaches whose teams have underachieved (whether it's in the eyes of their fans, their media or, most importantly, their bosses) are in danger of being fired by the time the season is complete. Perhaps in one or two cases, they won't even make it to Week 17.
But as usual, there are coaches who will take their places and many other coaches who will apply but eventually fall short. Some will come from college. Some will already have been head coaches who are looking for another chance. Some are long-time assistants.
Some will finally get their shot. Here are 10 candidates who very well could be in the conversation to have their own head coaching gigs by the beginning of 2014.
10. Adam Gase, Denver Broncos offensive coordinator: The Broncos offense is amazing, and by the end of the season, it might be called one of the best in NFL history. Obviously, a huge reason for that is Peyton Manning , but Gase, at the age of 35, deserves plenty of credit as well. He is one of the young up-and-coming assistants, taking over this job for current San Diego Chargers head coach Mike McCoy after McCoy and Gase helped mold the offense for Tim Tebow and then remolded it for Manning. Now, will Gase really have a shot at landing a head coaching job after this season? Perhaps not. But will he be a legitimate candidate in the years to come, based in part because Manning believes in him? For sure.
9. Dave Toub, Kansas City Chiefs special teams coach: After interviewing for the Chicago Bears head coaching job that went to Marc Trestman, Toub accepted Andy Reid's offer to take over special teams in Kansas City. And he's turned it into one of the best units in the league, ranking third in the NFL according to the Football Outsiders measurements. And just because he's a special teams coach, that doesn't mean Toub can't jump right into the head coaching spot. John Harbaugh made that leap, and last season, he won a Super Bowl.
8. Greg Roman, San Francisco 49ers offensive coordinator: Despite the idea that 49ers quarterback Colin Kaepernick has regressed some this year, the 49ers are still in the top-10 of points scored. In reality, San Francisco, despite a five-game streak earlier this season in which the team didn't score less than 31 points, isn't as good on offense this year. Still, even with other offensive coordinators who could draw interest as a head coach (Cincinnati's Jay Gruden, Indianapolis' Pep Hamilton and New England's Josh McDaniels being three), Roman's performance in the past few years -- helping make Alex Smith a competent quarterback, molding the offense around Kaepernick last season, getting within a few yards of winning a Super Bowl -- still should make him a hot candidate.
7. Mike Zimmer, Cincinnati Bengals defensive coordinator: The only reason people can figure that Zimmer, whose defenses impress every single season, hasn't received an offer for a head coaching job is because he reportedly doesn't play nice at interviews. He apparently tells the truth, and perhaps, he's too rough when interviewing with owners and general managers. Doesn't suck up as much as he should. Or maybe he just doesn't interview well in general. Either way -- and we said it in this space two years ago -- it's time for Zimmer finally to get his chance. He's more than earned it.
6. Todd Bowles, Arizona Cardinals defensive coordinator: Bowles has been on the precipice of being a head coach the past few seasons. He was the assistant head coach under Tony Sparano in Miami for a number of years, and when Sparano was fired, Bowles took over as interim. After he didn't get the job won by Joe Philbin, Bowles spent last season as the secondary coach in what became a disastrous season in Philadelphia. But Bowles has begun to resurrect himself in Arizona in 2013 with a defense that's hanging out just outside the top-10. And how did Bowles do when he was Miami's interim coach? He won two out of three games and nearly knocked off the eventual AFC champions, New England Patriots . He was impressive then, and he very well could make the same impression if he gets a chance at a head coaching job now.
5. Lovie Smith, former Bears coach: In nine seasons as the Bears head coach, Smith went 81-63 and provided a sense of stability that hadn't been evident in Chicago since Mike Ditka roamed the sidelines. But Smith also only made the playoffs three times, and even though the team went 10-6 in 2012, the Bears again missed the postseason. That led to his dismissal. Apparently Smith is ready to get back to work, reportedly interviewing for the job at USC and landing on lists to return to the NFL as a head coach. He's had success in the past, and Andy Reid's renaissance in Kansas City this season could lead owners to avoid the unknown college coaches and return to a coach like Smith.
4. David Shaw, Stanford coach: Since taking over for Jim Harbaugh after the 2011 season, Shaw's Cardinal teams are a combined 31-5 and he's earned  a pair of Pac 12 coach of the year awards. He's quite clearly a capable head coach. Plus, he also has nine years of NFL experience, coaching with the Philadelphia Eagles , Oakland Raiders and Baltimore Ravens . Shaw has said in the past that he's not interested in the NFL, but that, of course, could change if enough money is offered.
3. Jon Gruden, ESPN analyst: It's got to happen one of these years, right? At some point Gruden will want to get out of the Monday Night Football booth and get back on the field, correct? CBSSports.com's Jason La Canfora  reports that Gruden most likely would land with the Atlanta Falcons or the Raiders this year if he decides to transition back to coaching. Which has to happen at some point, yes?
2. Ray Horton, Cleveland Browns defensive coordinator: The man who Bowles replaced in Arizona after head coach Ken Whisenhunt and his staff were fired, has moved on to Cleveland, and he's done an impressive job with the Browns. He took a Cardinals defense ranked as one of the worst and made it the 12th-best last season, and after interviewing for three head coaching jobs last offseason, he's taken a Browns defense that lacks stars and turned it into the fifth-best unit in the league. Horton clearly was mad he didn't get a head coaching job last year. You have to think there's a good chance he'll be pleased this offseason.
1. Kevin Sumlin, Texas A&M head coach:At this point of the season, it seems as though everything that happens to Sumlin in the next few months is up to him. He can stay at Texas A&M, with his high-priced salary, and perhaps continue to build an SEC franchise that could eventually turn into an perennial powerhouse. Or he can test himself in the NFL, where seemingly a number of teams would love to see how his offense operates in the pros. Eagles coach Chip Kelly has been up and down since he arrived in the NFL, but that won't stop a desperate owner from salivating at the possibility of discovering if Sumlin can be the one former college coach to change the NFL's landscape.
Follow Josh Katzowitz on Google+
Show Comments
Hide Comments
'I don't think there's anybody more worthy than Marshawn to wear that number,' Woodson sai...

He's targeting a return in early June

Lockette retired from the game after suffering an injury that nearly ended his life
Mangini said he'd take Kaepernick over RG3 '10 times out of 10'

Cook spoke with CBS Sports about following in a future Hall of Famer's footsteps

The former running back blasted his old coach