Top 10 potential rookies of the year that have surprised us
Here are some of the rookies who have given us the biggest surprises.
• 5 min read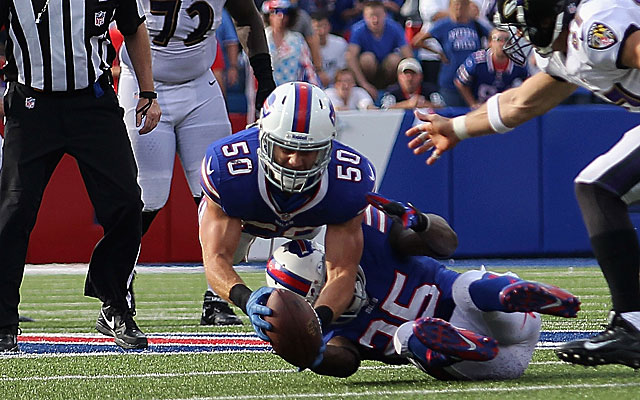 We're nearly 3/4 of the way through the season, and we've had some phenomenal rookie performances. We've had some terrible ones as well (look at just about every offensive tackle taken in the top-10), but we're not focusing on that today. No, we're going to be more positive in this week's Top 10 list. It's Thanksgiving, after all.
Instead, we'll take a look at some of the top rookies of the year and why these particular players have surprised us. Only three were drafted in the first round, but none were taken in the top-10. Instead we've got representatives from the second round to the seventh.
There are no Eric Fisher 's or Dee Milliner 's  hanging around on this list. Nope, these are the surprising freshmen who could very well walk off with a rookie of the year award. As such, we've selected five offensive players and five defensive players.
10. Marcus Cooper , Kansas City Chiefs CB, seventh-round pick: Released by the San Francisco 49ers before the start of the season -- you know it's not good when Nnamdi Asomugha beats you out of a job -- Cooper has rebounded to have one of the best rookie seasons of any cornerback in the league. True, the No. 252 pick has struggled badly the past two weeks, going against the Denver Broncos and San Diego Chargers . As ESPN.com wrote, " He has collapsed the past two weeks to the point where his confidence must be shot. [Chiefs defensive coordinator Bob] Sutton has to be wary at this point of trusting Cooper after he had two dismal games." Still, Cooper's first nine games were solid or better, so even though he's not one of the team's top-two cornerbacks, he's still played a valuable role.
9. Jordan Reed , Washington Redskins TE, third-round pick: It seemed unlikely that Reed would become one of the top-five tight ends in the league in his rookie season, but that's what he's accomplished. He's made 45 catches in just nine games. He was compared by some predraft experts as similar to Aaron Hernandez, and while it might be difficult for Reed to reach that level of production, Reed is off to a good start so far.
8. Kenny Vaccaro , New Orleans Saints S, first-round pick: Vaccaro's stock might have been higher if he had entered the draft after his junior season, but instead, he returned to school where the Texas Longhorns had a disappointing season with a defense, led by Vaccaro, that was awfully underwhelming. So, it might have seemed a little bit of a reach when New Orleans took him at No. 15 (though, to be fair, Pete Prisco liked the pick immediately). He's been a tad inconsistent, but his play has been strong enough where you can see Vaccaro being a force at safety for years to come.
7. Larry Warford , Detroit Lions G third-round pick: Offensive guards taken after the first round usually aren't expected to make such big impacts in their rookie seasons -- in fact, they hardly ever seem to get noticed -- but Warford has done a solid job ingratiating himself into the Detroit offense. He ranks fourth in the league according to the Pro Football Focus metrics, and he's allowed zero sacks on the season (of the guards who have played more than 450 snaps this season, Warford is one of six in the NFL to shut out his opposing defenders all year). There's a good chance Warford will land himself on the Pro Bowl team.
6. Zac Stacy , St. Louis Rams RB, fifth-round pick: Entering the season, St. Louis needed to improve the running game that was ranked No. 19 last year. Former second-round pick Isaiah Pead hadn't seemed capable of doing so and Daryl Richardson , last season's second-leading rusher behind Steven Jackson , has fought injuries and mediocre play. When Sam Bradford was lost for the season in Week 7 because of a torn ACL, the Rams turned to Stacy as the most-important player on offense. And the man ranked No. 17 among the 2013 draft-eligible running backs responded, rushing for 624 yards in just seven starts thus far. He's not having quite the impact that sixth-round pick Alfred Morris had last season as a Redskins rookie, but Stacy has been surprisingly solid.
5. Tyrann Mathieu , Arizona Cardinals CB, third-round pick: After all his travails at LSU and the many positive drug tests, you could understand why 31 teams would be wary of taking Mathieu with a draft pick, especially as early as the No. 69 overall selection. But Arizona was convinced that cornerback and former LSU teammate Patrick Peterson would be a good influence, and that risk has paid off for the Cardinals because Mathieu has made game-changing plays this season. Mathieu also has been effective when he's been put in a position to blitz the quarterback, and Pro Football Focus ranks him as the fourth-best cornerback in the league. Overall, a pretty good risk taken by Arizona.
4. Travis Frederick , Dallas Cowboys C, first-round pick: Remember how much guff Dallas took for selecting Frederick with the No. 31 overall pick in the draft? Most of us thought it was silly, because Dallas had so many other needs and because Frederick was tagged with either second- or third-round grades by some draft analysts. Instead, Frederick has thrived, and Pro Football Focus ranks him the ninth-best center in the league thus far. He's not a superstar center yet, but he's played much better than many people would have thought. Come to think of it, he's probably the most successful offensive linemen taken in the first round.
3. Mike Glennon , Tampa Bay Buccaneers QB, third-round pick: All along it seemed as if Glennon was the quarterback that coach Greg Schiano wanted to play instead of Josh Freeman . It seemed strange at the time, because Freeman, though not a great quarterback, was the kind of solid-enough starter that could lead a team to the playoffs (I mean, he almost did it in 2010 when Tampa Bay went 10-6 and Freeman threw 25 touchdowns against just six interceptions). But Schiano apparently knew what he was doing, considering that Freeman is being paid $2 million currently to sit as the No. 3 quarterback in Minnesota, and Glennon has played well in the second half of the season. No longer are the Buccaneers the laughingstock they were earlier this season. Glennon (13 touchdowns vs. four interceptions) has helped lead the team back to respectability and might, in the process, help save Schiano's job.
2. Sheldon Richardson , New York Jets DE, first-round pick: Based on pure performance, Richardson should have been the No. 1 overall pick (food for thought, but how much scarier would the Chiefs be if they had taken Richardson there in the first round. Maybe he wasn't needed as much other position groups, but hell, it's not like Fisher has contributed much this season). Richardson didn't have extensive Division I experience when New York took him at No. 13 in the first round, but he's been an absolute force this season.
1. Kiko Alonso , Buffalo Bills LB, second-round pick:The fact Alonso is playing well isn't a huge surprise. He was, after all, a second-round pick, and CBSSports.com ranked him as the third-best draftee at his position.  But the dominance with which he's played has been a little jarring. He's ranked eighth among all inside linebackers by Pro Football Focus, and his 112 tackles are second-most in the league. His four interceptions also tie him for second in the NFL. He has been one of the best defenders this season, rookie or not.
Follow Josh Katzowitz on Google+
Show Comments
Hide Comments
With 75 picks in the cards for Friday, we have you covered with all the action and reaction...

Things might be get ugly this season between the Watt brothers

McKinley promised his late grandmother that he would make the NFL, and he did
Trubisky was shocked when the Bears picked him, and knows he's going to back up Glennon in...

Chicago's approach to Thursday night's drat was very bizarre

It was a rough 24 hours for Gary Barnidge