Top Ten Super Bowl-winning coaches who eventually got fired
Here are the Top 10 coaches who won a Super Bowl and then eventually got fired at least once.
• 6 min read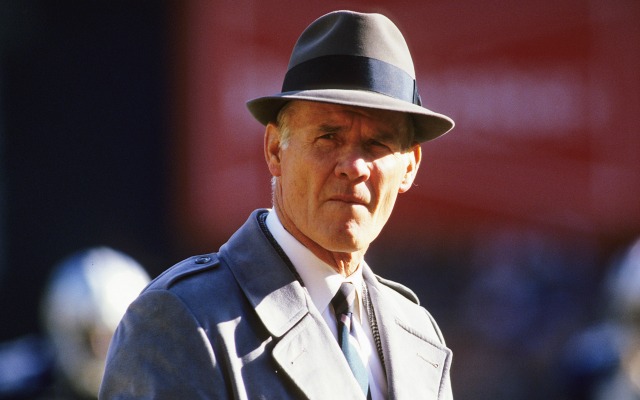 As a coach, winning the Super Bowl is most likely the pinnacle of your career. Heck, maybe even getting to the Super Bowl is the absolute zenith. But winning the NFL title -- whether you win it once or you take home the Lombardi Trophy on multiple occasions -- doesn't earn you a life time contract.
As we've seen over and over again. Most of the time, coaches are hired to be fired (instead of the lucky ones that are allowed to retire themselves), so it's no surprise that one major success a number of years ago doesn't buy you tenure forever.
That brings us to Mike Shanahan.
Shanahan has won two Super Bowls, but he's also only triumphed in one playoff game in the past 14 years. As you know, he's just about run himself out of Washington. And he will join the small list of Super Bowl coaches who eventually were fired (and soon will join an even smaller list of coaches who have been won two Super Bowls and been fired by two different teams). This was not a fate that befell such men as Vince Lombardi, Bill Walsh and Chuck Noll. But for most every other coach in NFL history, a pink slip is the only light a man will see at the end of his career. Even if that coach has won the biggest game on the biggest stage.
10. Brian Billick, won Super Bowl XXXV: In just his second season as head coach, Billick (along with quarterback Trent Dilfer and one of the best defenses the NFL has ever seen) and the Baltimore Ravens knocked off the New York Giants to win the Super Bowl. Baltimore enjoyed winning seasons in three of the next four seasons, and in 2006, the team went 13-3. But a season later, Billick went 5-11, the team's worst performance since its inaugural season in 1996. Not surprisingly, he was fired after that, in part because of his stubborn nature.
9. Don McCafferty, won Super Bowl V: McCafferty might be one of the few coaches who modern-day NFL fans who weren't born before 1975 wouldn't have heard about. He was lifted into history after the 1970 season when his Baltimore Indianapolis Colts squad knocked off Tom Landry's Dallas Cowboys team. McCafferty took over for Don Shula when he left to take the Miami Dolphins job, and then won the Super Bowl before leading the Colts to a 10-4 season in 1972. But Baltimore lost to the Dolphins in the AFC title game, and the next season, the Colts lost four of its first five contests. General manager Joe Thomas, who had been on the job for about three months, wanted McCafferty to bench Johnny Unitas, and when McCafferty refused, Thomas fired him.  
8. George Seifert, won Super Bowl XXIV and XXIX: Along with Tom Flores and Jimmy Johnson, Seifert is one of three coaches who won two Super Bowls but didn't make the Pro Football Hall of Fame (and Johnson could get in this season). Seifert's San Francisco 49ers offenses were ridiculous in their Super Bowl appearances, beating the Denver Broncos 55-10 after the 1989 season and dominating the San Diego Chargers 49-26 after the 1994 season. But after leaving San Francisco, he eventually took over in Carolina where, in three seasons, he produced a combined record of 16-32, including a 1-15 mark in 2001. Doesn't matter how many Super Bowls you win; winning one game in a season is a recipe for getting fired.
7. Tom Flores, won Super Bowl XV and XVIII: Considering Flores coached for Oakland Raiders owner Al Davis, you'd be forgiven if you thought to yourself, "Well, of course Davis would have fired a two-time Super Bowl winner." But you'd be wrong. Flores was allowed to move into the Raiders front office after he went 5-10 in 1987. But when he took over as the general manager and coach for the Seattle Seahawks , that's when life got really tough. In his three seasons, the team went 14-34 and attendance dropped below 40,000 for a couple games. That's when Flores got pink-slipped.
6. Jon Gruden, won Super Bowl XXXVII: Perhaps one reason why fans of teams who are in need of a new head coach every year are so enthralled by Gruden is because of the job he did with the Tampa Bay Buccaneers . But remember, after the Buccaneers won the NFL title, Gruden's teams made the postseason in only two of the next six seasons (and secured at least 10 wins in a season just once). His final act in Tampa Bay came when the team started 9-3 in 2008 before losing the last four games of the season to miss the playoffs.
5. Hank Stram, won Super Bowl IV: Along with Sid Gillman, Hank Stram is one of the best coaches of the past six decades that doesn't get as much credit as he deserves. Before the leagues merged, Stram's Kansas City Chiefs won two AFL titles, and while we all (probably) know that Vince Lombardi's Green Bay Packers won the first two Super Bowls played, Stram and the Chiefs were the ones to be defeated in Super Bowl I. Three years later, Stram, led by quarterback Len Dawson, got his NFL title by beating the Minnesota Vikings . But his teams got steadily worse and worse (winning eight games in 1972, seven in '73, and five in '74), and five years after winning the Super Bowl, the Chiefs deemed him expendable. Stram surfaced in New Orleans a season later, went 7-21 in 1976 and 1977, and the New Orleans Saints fired him from the league for good.
4. Mike Shanahan, won Super Bowl XXXII and XXXIII: This hasn't happened yet, but it'd be shocking at this point if Shanahan somehow isn't fired by Snyder by the end of this season. Robert Griffin III ended up saving Shanahan's job with his outstanding play in the final few games of last season and helping lead Washington to the playoffs, but Griffin's regression this season and the team's inability to adjust on offense (not to mention the putrid defense) will cost Shanahan this job. After two Super Bowl wins in Denver, he eventually was fired by the Broncos, meaning Shanahan will join Stram and Mike Ditka as the coaches who have won a Super Bowl to be fired by two teams.
3. Mike Ditka, won Super Bowl XX: The most-beloved figure in Chicago Bears history finally watched as his jersey was retired on Monday. Why it hadn't been taken out of circulation before, considering Ditka was a Hall of Fame tight end, is curious. Either way, Ditka was a winner as a Bears player and as a Bears coach (until he was fired from Chicago after the 1992 season). He was not a winner with the Saints from 1997-99 and didn't win more than six games in a season. As such, he was fired. Sometimes that's what happens when you trade an entire draft of picks in order to acquire Ricky Williams.
2. Paul Brown, won three NFL titles: OK, I'm cheating a little bit because Brown never won a Super Bowl. No, all of his titles came before the Super Bowl existed. But considering he won three of them (and four AAFC titles before that league folded), I'm including him on this list. Especially since his departure from the Cleveland Browns after Art Modell fired him after the 1962 season left him so bitter. Brown eventually took ownership of a new team in a different league and then eventually coached that team, the Cincinnati Bengals , to a trio of playoff appearances in his eight seasons as the head coach. Cincinnati has never won a Super Bowl title, but the legacy of Paul Brown and the anger he felt toward Modell live on. That's one theory as to why Paul Brown's son, Mike, rarely fires any of his head coaches.
1. Tom Landry, won Super Bowl VI, XII: New Cowboys owner Jerry Jones didn't ingratiate himself to the Dallas fanbase at first, because one of the first moves made when Jones bought the team was to fire the only coach the Cowboys had ever known. Not only had Landry's teams won two Super Bowls, they also played in three others. To be fair, by the time Jones took over after the 1988 season, the Cowboys had gone a combined 17-30 in the previous three years. The team might have needed new blood. But sacrificing the legend as one of the initial moves of a tenure didn't shine the kindest of lights on Jones. And that could be why Landry reportedly died a Giants fan.
Follow Josh Katzowitz on Google+
The Panthers added more playmakers to take some of the pressure off Newton this season

Young has been out of the NFL a while but still feels slighted when other quarterbacks get...

Jones is the latest Cowboys defensive player to heap praise on the redshirted linebacker
He might play for the bad Bears, but Howard is just as good as Cowboys' Elliott

Only two defensive players finished in the top 10 of the rankings