Toronto mayor Rob Ford, WSOP winner honor NFL in their own way
It was a big day for non-NFL news Tuesday, but that didn't mean the NFL didn't photo-bomb everybody anyway.
• 1 min read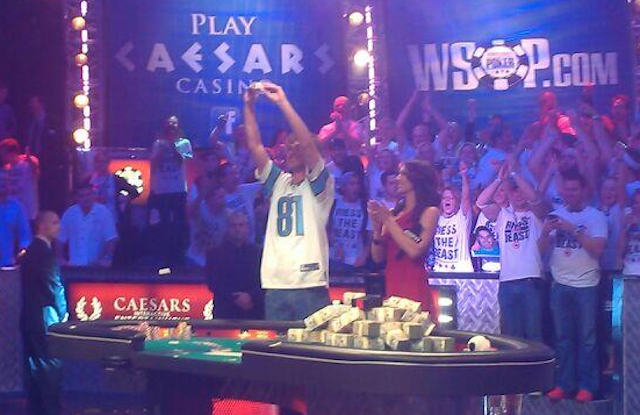 If you don't think the NFL invades every facet of everybody's life, I have two examples to prove just how wrong you are.
No. 1: Toronto mayor Rob Ford has been involved in a bit of a scandal recently when it was revealed -- and which he admitted Tuesday -- that he had been caught on video smoking crack cocaine. He said that he didn't remember doing it at first because it had probably occurred during a drunken stupor.
But that's not what was really interesting about Ford's meeting with the media. No. Instead, look at the tie that he wore to the press conference in which he admitted that he, who leads one of the largest cities on this continent, has smoked crack.
It's full of old NFL logos!
Oh yes, the vintage NFL logo tie. A solid look for your press conference, Rob Ford. http://t.co/bDxETZRD5c pic.twitter.com/T2XGAFJG1T

— SB Nation (@sbnation) November 5, 2013
Check out the Buccaneers logo. Or the Broncos logo. Or the Oilers logo. Or the freakin' Oilers team!
Yeah, none of those exist anymore. We'll find out when Ford runs for reelection next year whether his political career is any more relevant than the tie he wore Tuesday.
(The Sporting News did some fine investigative work and traced the tie back to 1995. Also, via Vanity Fair, you can buy that bad boy on eBay for less than $15. $15 American, I presume. Sadly, the crack cocaine isn't included.)
2) The final table at the World Series of Poker wrapped up Tuesday night, and guess who won? Yep, the guy wearing the Calvin Johnson jersey.
As you can tell, the Lions official feed is very excited about all of this.
Channeling the power of #MEGATRON? @wsop @Bigplaycj pic.twitter.com/s47ypQIS10

— Detroit Lions (@DetroitLionsNFL) November 6, 2013
Luckily, our colleague John Breech had some good investment advice for the WSOP winner.
@RyanRiess1 You should take that $8,361,570 you just won and bet it on the Lions to win the Super Bowl. #WSOP

— John Breech (@johnbreech) November 6, 2013
At the very least, Riess should take a few of those dollars and help Ford update his wardrobe.
Follow Josh Katzowitz on Google+
Show Comments
Hide Comments
Our Latest Stories
The Vikings said they knew Murray would have the procedure before they signed him

Plus, two USC prospects tackle agility drills and two small-schoolers look to make their m...

The Steelers signed Brown to a record contract this offseason
Let the annual Brett Favre comeback rumors begin!

Jones' attorney says he plans to plead not guilty to three misdemeanor charges

It might involve a more centralized replay system and a play clock after extra points