Training camp roundup: Josh Freeman not giving up starter role
In the Buccaneers first preseason game, Josh Freeman was better than Mike Glennon
• 6 min read
We're still unclear how Tampa Bay Buccaneers coach Greg Schiano feels about Josh Freeman as the quarterback enters his fifth year in the league.
As CBSSports.com's Pete Prisco wrote in May, "This much we know: Schiano didn't draft Freeman. He inherited him. General manager Mark Dominik drafted Freeman. And when he did, there were questions about it. I know. I questioned it at the time. A year later, I admitted I was wrong. Freeman can play. But the fact that the head coach is internally questioning it -- even if he denies it publicly -- says there are issues."
Freeman is in the last year of his contract, and chances are that he'll need an impressive year in order to get a large extension from the Buccaneers heading into 2014.
On Thursday, in the team's preseason opener vs. the Baltimore Ravens , Freeman had one or two good moments and a whole mess of decent, but not great plays. But all of that was better than what backup Mike Glennon showed.
The team's first series was unimpressive after Doug Martin was stopped for a loss of one, Freeman threw a bad pass intended for Kevin Ogletree and Freeman took a sack from Chris Canty . On the next drive, Freeman made a nice 22-yard throw to Ogletree across the middle on a third-and-seven and then tossed a well-placed 20-yard sideline throw to Vincent Jackson to get Tampa Bay into the red zone (the catch was later overturned). Freeman finished 4 of 7 for 34 yards.

Meanwhile, Glennon, who the team drafted in the third round this year, had a fantastic start to his (exhibition) NFL career when he evaded the pass rush near the goal line on his first snap and then fired a pass to an open Tom Crabtree that went for 61 yards.
Glennon didn't look great for most of the night, though, going 11 of 23 for 169 yards and a really bad interception to Asa Jackson .
He also took a bad sack on third and 10 with 17 seconds left in the first half, a play after barely overthrowing Chris Owusu on what would have been a long gain.

As for what this means? Not much. Freeman is still the starter and likely will be heading into the season.
"Josh is our quarterback," Schiano said late last month. "Maybe as things went on this year, I talk a lot about competition and maybe that kind of got taken out of context. I'll put it on me; I shouldn't have led people that way. But I'm really excited about Mike Glennon. Mike is an excellent quarterback and one that we're going to develop here. But I expect big things from Josh, and more importantly Josh expects big things from Josh. I really think he'll have a good year."

Return of the Giant Hogweed(en)

Sorry, that's a bad Genesis (the band) joke, but Brandon Weeden 's performance was not funny. Instead, he actually looked pretty darn solid in his 10-of-13, 112-yard, one-touchdown performance to lead the Cleveland Browns to a 17-0 lead against the St. Louis Rams .  
Is Weeden's starting job in trouble? At this point, I don't think so. But is he what the new front office regime sees in a franchise quarterback? I don't think that either.
It's not like Jason Campbell or Brian Hoyer are in that position either, so unless Weeden has a standout year, the Browns could fish for another quarterback in next year's draft.
But I also don't think Weeden was so terrible last year. Yes, he wasn't on the level of Andrew Luck, Robert Griffin III and Russell Wilson, but he actually had a decent-enough rookie season. If he shows some improvement, though, perhaps he can keep himself as the Browns quarterback for another season or two.
Or the Browns could do this and start preparing Weeden's Hall of Fame plaque.


.@WillBrinson tells @BullandFox #Browns "could be dangerous if everything breaks right", believes 6 wins is realistic http://t.co/JpsFkPgvrk

— Keith Britton (@KeithBritton86) August 8, 2013


    
Welcome to the league
On the Cincinnati Bengals first offensive snap, Andy Dalton completed a short pass to tight end Jermaine Gresham . Game Atlanta Falcons cornerback Desmond Trufant , the first-round draft pick who is five inches shorter and about 75 pounds lighter than Gresham, tried to take him on chest to chest and tackle him.
Not surprisingly, Gresham ran right through him.

Welcome to the league, part II

En route to his 58-yard touchdown run, Tennessee Titans running back Chris Johnson taught Washington Redskins rookie safety Bacarri Rambo a valuable lesson when Johnson completely faked out Rambo in the middle of the field.
The valuable lesson: Johnson still is one of the better running backs in the league, and he WILL embarrass you if given the chance.
Take a look, via SB Nation.
Whatever happened to just "You suck!"?
Mark Sanchez might not have a ton of close friends among New York Jets supporters, but at least he's taking all the insults (and death wishes) in stride.
Behold some of his recent tweets.


Hey thanks for ur support #oppositeday RT @FeenDaddy "@Mark_Sanchez: Cup o' joe http://t.co/AUhRLUVPjv" I hope there's cyanide in that

— Mark Sanchez (@Mark_Sanchez) July 30, 2013


And …


Thanks for your support man! #classy RT @YOUNGSTOWN4LI4E .@Mark_Sanchez F*** YOU HOPE YOU TEAR YOUR ACL ON FRIDAY

— Mark Sanchez (@Mark_Sanchez) August 8, 2013


Hmm, perhaps some of these Sanchez haters should just sit out the next few plays out and relax for a bit.
Thanksgiving day
Don't tell me Falcons linebacker Brian Banks wasn't grateful to be playing Thursday. Brings a tear to the ol' eye.


Game Day. Never thought this day would come. And if it all ended here tonight... Mom, I did it.… http://t.co/vfUHylhMc9

— Brian Banks (@BrianBanksFREE) August 8, 2013


Ring the bell
It sounds like Pittsburgh Steelers second-round pick Le'Veon Bell will spend some time with the starters in Saturday's preseason game vs. the New York Giants .
"Don't be surprised if you see Le'Veon getting some snaps with those guys," coach Mike Tomlin said, via the Pittsburgh Post Gazette. "I think he has earned that. I think how he is running the ball speaks for itself.
"Don't be surprised to see him getting some snaps after those guys are out of the game, as well. He, like a lot of guys, we need to get a lot of exposure to."
Bell is competing with Isaac Redman and Jonathan Dwyer for playing time, but as the newspaper writes, "it it is clear the Steelers are clearing the path for Bell to be their workhorse."
Your Tebow update
We don't know if New England Patriots coach Bill Belichick plans to play Tim Tebow in Friday's preseason opener, but Tebow will be on alert.
"Just be ready when your number is called," Belichick told Tebow, via the Boston Globe.
More spoken words from Tebow:
"I feel like I'm getting better every single day," he said. "More comfortable with the offense, better timing with everybody around me, better understanding of what the coaches want me to do and with the offense, with the reads, with the timing.
"So it's just every day trying to get a little bit better, and it sounds cliché, but it's true. That's really what I'm focused on, and I know it's something that hopefully I've been able to accomplish."
What are you looking at?
Though Rob Gronkowski shasn't begun practicing with his Patriots teammates as he recovers from back and forearm injuries, he's still making an effort at being charitable in the community.
The picture below, via the Boston Globe, comes from a dinner the tight end participated in with the winners of an auction at the Good Sports Legends of the Ball annual fundraising dinner.
And what's the deal with the kid sitting next to him? He's looking at Gronkowski awfully suspicious-like. But hey, at least everybody else looks happy.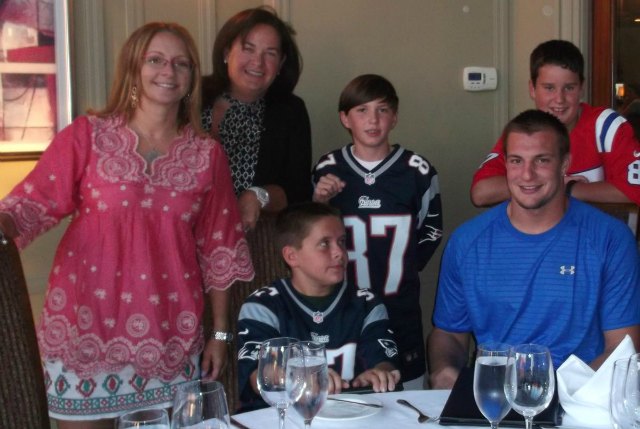 Follow Josh Katzowitz on Google+
Show Comments
Hide Comments
Marshawn Lynch will probably appreciate this shout out by his new quarterback

The legal battle in the Aaron Hernandez case is still ongoing, despite the former tight end's...

The Eagles quarterback was recently hanging with Josh Duhamel and Fergie
The Raiders quarterback has one problem: Oakland doesn't have the thing he wants to splurge...

What happens in Mexico City doesn't stay in Mexico City

Cord-cutters are probably going to like what the Patriots owner has to say