Twitter prom proposal leads to date with Texans cheerleader
A 17-year-old high school student in Texas asked a Texans cheerleader to prom over Twitter and things worked out a lot better than might you think.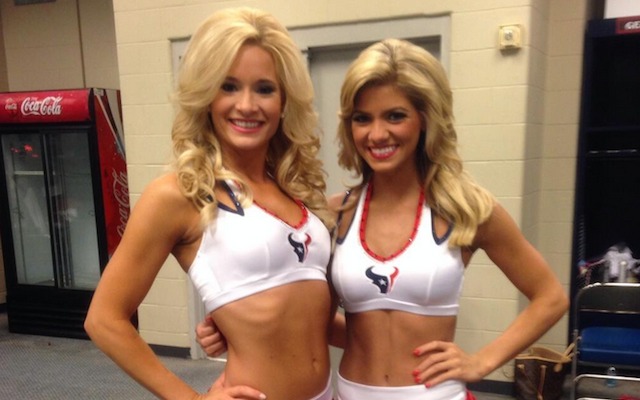 I don't remember much about my high school prom, but I do remember that there were no NFL cheerleaders there. That won't be the case at Crosby High School in Texas though, thanks to a resourceful 17-year-old senior who knows how to use social media.
Crosby student Mike Ramirez  sent a direct message to Houston Texans cheerleader Caitlyn on Feb. 27, asking if she would go to prom with him if he got 10,000 retweets. Caitlyn's response, "Of course I will." 
Getting the Texans cheerleader to agree to go to prom was the easy part, now Ramirez had to figure out how to get 10,000 retweets.
If you don't use Twitter, I should probably point out that unless your name is Kim Kardashian, Katy Perry, Taylor Swift or you're Ellen Degeneres hosting the Oscars, getting 10,000 retweets isn't easy. 
10,000 Retweets and I'll be taking a texans cheerleader to prom?? @HTC_Caitlyn . RETWEET RETWEET RETWEET pic.twitter.com/xSwNhH9D5E

— Big Mike (@Big_Mike_71) February 27, 2014
Ramirez sent out the tweet above at 10:23 a.m. CT on Feb. 27 and from there, it took off, "When I got to school, that's when it started going up more and more," Ramirez told NBCDFW.com. "I got to 3,000, 4,000. I got from like 6,000 to 8,000 in maybe like 30 minutes."
One day after Ramirez sent out the tweet, he hit the 10,000 mark. Now the tweet's up to over 11,200 retweets. If it gets to 20,000, he should probably get two cheerleading dates.
Caitlyn, who graduated high school in 2011, is looking forward to Ramirez's May 10 prom, "I'm excited. I feel like I'm back in high school," she said. "I get to pick out a dress. I get to get my hair and make-up done."
Not only is Caitlyn a Texans cheerleader, but she was also Miss Austin Texas 2013. 
As for Ramirez, he's thinking about wearing what any guy taking a Texans cheerleader to prom would wear, "I'm thinking maybe a Texans colored suit," Ramirez said. "Like blue bowtie, red bowtie, or some red shoes, blue suit, Texans colors."
Ramirez may want to think about ditching the red tie, his cheerleader date has already taken pictures recently with someone wearing one of those. 
Show Comments
Hide Comments
Our Latest Stories
This is not how you run a two-minute drill

Eli Manning will be without his best pass-catching running back for the rest of the season

Wilson left the Seahawks' win over the 49ers with a knee injury while Rawls was inactive for...
Snead has been a reliable target for Drew Brees this season

Bowles had just one word to describe his team's performance, and he repeated it endlessly

The Seahawks defensive end did not hold back when asked about San Francisco's QB situation