Twitter reacts to the insanity at the end of the Steelers-Bengals game
The last couple minutes of this game were out of control and Twitter was there to witness.
OK. So if you are on this page, you know that the end of the Bengals-Steelers first-round playoff game was totally bonkers.
It started with a Ben Roethlisberger injury at the end of the third quarter. Vontaze Burfict (remember him, because he's going to come back into the picture a few times) sacked Ben and drove him into the ground, injuring his shoulder. Ben was helped off the field and eventually carted off into the locker room.
While Landry Jones replaced Roethlisberger, AJ McCarron and the Bengals negotiated two touchdown drives sandwiched around a field goal to take a 16-15 lead. On Pittsburgh's first drive after Cincinnati took the lead, Landry Jones was picked off over the middle by ... Vontaze Burfict, who made an unbelievable play and then ran all the way off the field, through the tunnel and into the locker room.
Seriously:
On the next play, Bengals running back Jeremy Hill was stripped by Ryan Shazier while fighting for extra yards, and Pittsburgh had the ball back once again, having lost only five yards of field position and just under 30 seconds of comeback time.
With Jones having just been picked, Roethlisberger came back into the game to lead Pittsburgh's last season drive. He threw mostly screen passes and quick hitch routes, eventually getting Pittsburgh to fourth-and-3 to go from their own 41-yard line with 28 seconds to go. Ben found Antonio Brown for a quick pass and a 12-yard gain.
The next play was the one that basically decided the outcome. Roethlisberger finally let the ball go down the field, trying to find Brown over the middle. And Vontaze Burfict (here he is again), who had been out of control for basically the entire game, literally tried to take Brown's head off his body. Yes, literally. That word was used correctly there.
This is just brutal pic.twitter.com/hBsIAJIBwO

— The Cauldron (@TheCauldron) January 10, 2016
Brown remained down for several minutes while trainers and a couple of Steelers coaches came onto the field to tend to his head injury. While he was walking off the field, Adam Jones took another penalty for (apparently, per this EXTREMELY NSFW Instagram video he posted) responding to Steelers assistant coach Joey Porter's trash talking, when Porter wasn't supposed to be on the field.
Is anyone going to address #joeyporter being on the field bumping players and antagonizing players? #PITvsCIN pic.twitter.com/1vCJ5Xm6Wv

— John Lott (@RealTalkwithJL) January 10, 2016
Those 30 yards worth of penalties set the Steelers up for the game-winning field goal, which Chris Boswell knocked through the uprights.
And then everyone on Twitter went ballistic.
Tonight's real winner was Cleveland Browns fans, because now they can mock somebody else for a while.

— Tom Fornelli (@TomFornelli) January 10, 2016
ugh, poor bengals fans

— Mina Kimes (@minakimes) January 10, 2016
What a meltdown

— Michael Smith (@michaelsmith) January 10, 2016
This is beyond surreal. Can't play out of control like this

— Jason La Canfora (@JasonLaCanfora) January 10, 2016
Bengals are out of control. Embarrassing

— John Legend (@johnlegend) January 10, 2016
"nailbiter!" - roger goodell

— alex (@steven_lebron) January 10, 2016
"Welcome to the Jungle" right now, stadium DJ?

— Matt Miller (@nfldraftscout) January 10, 2016
Embarrassing way for a professional football game to end. Stupid. #PITvsCIN

— Louis Riddick (@LRiddickESPN) January 10, 2016
Honestly this is next level humiliation for Cincy.

— Will Brinson (@WillBrinson) January 10, 2016
Remember when the Bengals intercepted the ball and a bunch of them ran all the way to the other endzone laughing and celebrating?

— Andrew Ungvari (@DrewUnga) January 10, 2016
Why was Joey Porter on the field, though?

— Doug Farrar (@SI_DougFarrar) January 10, 2016
I think the league has to also ask itself how the officials so totally lost control of this game.

— Aaron Schatz (@FO_ASchatz) January 10, 2016
Nobody's Burfict.

— Stacey Gotsulias (@StaceGots) January 10, 2016
if only we could never speak of it again

— Lindsey Adler (@Lahlahlindsey) January 10, 2016
You just hate to see someone win this football game.

— Tim Britton (@TimBritton) January 10, 2016
Hard to have a good feeling about the sport after that.

— Christopher Hayes (@chrislhayes) January 10, 2016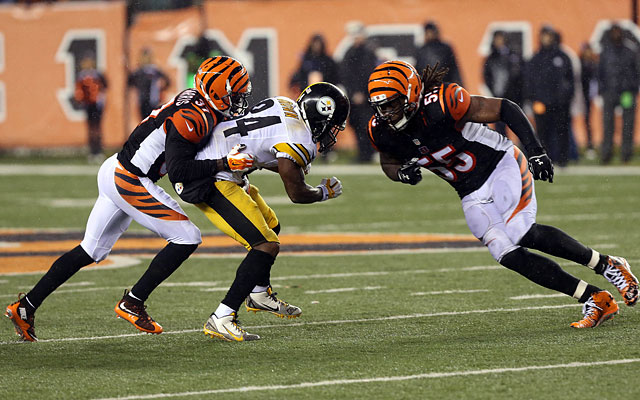 Show Comments
Hide Comments
Our Latest Stories
Wondering which NFL teams are going to win in Week 4? You've come to the right place to find...

The Saints couldn't buy a stop and ended up falling 45-32 to the Falcons

Jones, who survived Katrina, races 90 yards for a TD to all but seal a win for the Falcons
The Falcons running game is becoming difficult to predict

The Cowboys could have landed Josh McCown for Ron Leary but stood pat with Dak Prescott

Players and coaches from both teams come together at midfield to hold hands