Unfortunately, I have Stevan Ridley on my Fantasy team
If you're like me and have Stevan Ridley on your Fantasy football team, you're likely not off to a good start according to data from CBSSports.com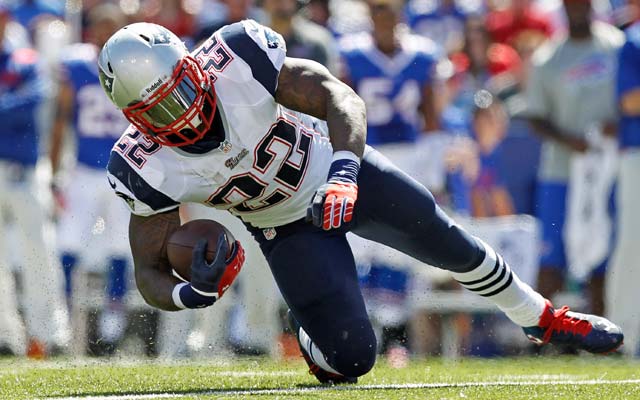 Stevan Ridley was the 14th best running back option -- and No. 1 in my heart -- heading into the 2013 Fantasy football season. 
This, of course, is according to the aggregate site FantasyPros.com.
He was ahead of names like DeMarco Murray, Darren McFadden and Giovani Bernard.
Fantasy experts were smitten with Ridley as 62 percent of experts ranked Ridley higher than his average draft position. I fell for it. He's on my big money favorite Fantasy team.
And he sucks.
He's pulled in 12.4 Fantasy points this year so far. David Wilson owners, ya know what I'm talking about, amirite?
That favorite team of mine? Yeah, it's 0-3 for a variety of reasons, but one of the big ones is Ridley.
I bit on the Patriots being a running team. I bit on him carrying that load, Corey Dillon 2004 style. 
Now I'm part of the 19 percent. 
I'm one of 19 percent of owners on CBSSports.com who are 0-3 and have Stevan Ridley on their team. 
If you have Stevan Ridley on your team there's a 61 percent chance you're either 0-3 or 1-2. And there's this: if you own Stevan Ridley you have just a 7 percent chance you're 3-0.
For comparison's sake, if you have DeMarco Murray -- consensus RB #19 -- on your team, you have a 74 percent likelihood of being 3-0. 
Darren McFadden (RB #21)? You have a 65 percent chance of being 3-0. 
Giovani Bernard (RB #27)? A 60 percent chance of being 3 and friggin' 0. 
What's this little exercise in data examination tell us? Never trust Patriots running backs, Bill Belichick, fantasy experts or people hating on Chip Kelly's offense (see below).  
Because you may be wondering, here are the most common names on teams that are 3-0. 
1. Peyton Manning
2. Jimmy Graham
3. LeSean McCoy
4. DeSean Jackson
5. Jamaal Charles
6. DeMarco Murray
7. Jordan Cameron
8. Julio Jones
9. Jordy Nelson
10. Adrian Peterson
11. Seahawks D
12. Michael Vick
13. Wes Welker
14. Darren McFadden
15. Matt Forte
Hope you have a few of them. Because I don't. And it's already a long Fantasy season for me. 
Show Comments
Hide Comments
Plus the Bills grab multiple starters and Jets add talent but may still struggle in our AFC...

A little more than 29 percent of early declarees went undrafted, a small raise from recent...

No teams did bad enough to earn an 'F,' and give credit where it's due to the 49ers(!) and...
CBS Sports NFL Insider Jason La Canfora reports the Bills could be making a change at GM

College players who didn't get drafted are now free to sign with any team in the NFL

According to Sean McDermott, Taylor, Peterman and Cardale Jones will compete for the starting...