US Defense Department paid 14 NFL teams $5.4M to honor soldiers
The money has been allocated for things like showing soldiers on screen at games, which has been justified as a recruitment tool.
According to a report from Christopher Baxter and Jonathan Salant of NJ.com, the Department of Defense has paid 14 different NFL teams a total of $5.4 million over the last four years in exchange for patriotic displays at games.
Per NJ.com's report, "U.S. Sen. Jeff Flake (R-Ariz) last week called out the New Jersey Army National Guard for the spending, which, in part, paid for a segment at Jets home games in which soldiers were featured on the big screen, thanked for their service and given tickets to the game."
The National Guard responded by asserting that it was a useful recruitment tool.
"Promoting and increasing the public's understanding and appreciation of military service in the New Jersey Army National Guard increases the propensity for service in our ranks and garners public support for our Hometown Team," Guard spokesman Patrick Daugherty said.
The Jets were joined by the Falcons, Ravens, Bills, Bengals, Browns, Packers, Colts, Chiefs, Vikings and Steelers in receiving multiple payouts, while the Cowboys, Dolphins and Rams were each one-time recipients. The team that has received the most money from this practice is the Falcons, with a total of $1,049,500 coming their way in five payments.
Here's the full list from NJ.com: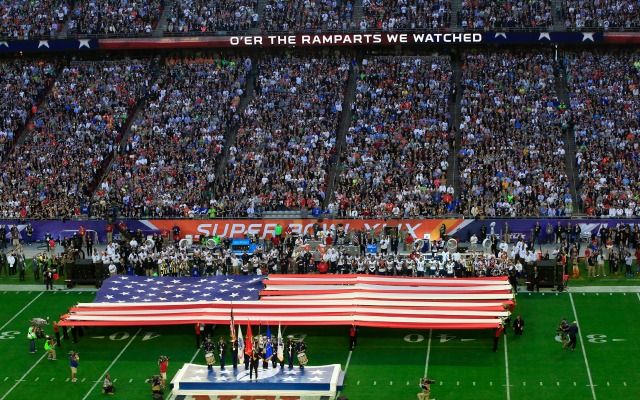 Sherman thinks that all quarterbacks on all NFL teams get treated better than anybody else

The Patriots coach looks pretty cool on the 15th anniversary cover of Nantucket magazine

Taco Bueno has been angling for a deal with Charlton ever since he was drafted
Jeff Garcia, Jimmy Clausen and Justin Forsett explain their involvement in American Flag Football...

The Panthers added more playmakers to take some of the pressure off Newton this season

Young has been out of the NFL a while but still feels slighted when other quarterbacks get...