Vernon Davis not doing himself any favors with 49ers
Vernon Davis doesn't understand the tight end market or his own value, or else he wouldn't be staging a protest against the 49ers.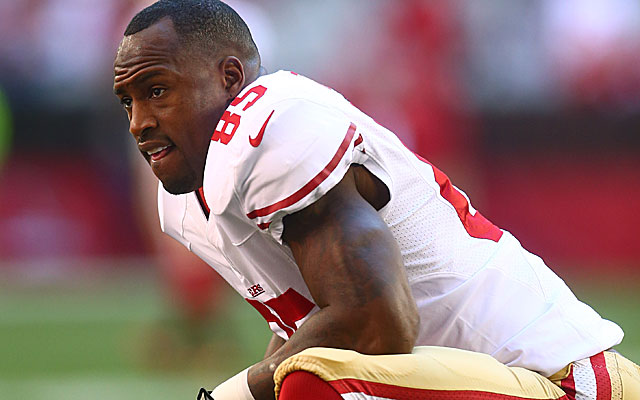 More NFL offseason: League minicamp dates | 49ers' Davis skips voluntary workout
Now that free agency and the draft are behind us, we've entered the protest season in the NFL.
Most teams are involved in voluntary Organized Training Activities and as usual a number of players are taking the opportunity to protest their contract.
I once asked Bill Cowher what he would do differently if he ever went back into coaching and he said, "Probably not react to the guys protesting their contracts during the spring." For the most part NFL coaches don't take the bait when players refuse to show up during voluntary practice sessions anymore, which is a good idea even if it bothers them.
Jim Harbaugh has handled the absence of Vernon Davis in a professional manner, but I thought I would look at Davis' issues from a front-office perspective much like I did when I had players protesting their contracts.
Davis signed a five-year contract in 2010 that paid him a $10 million signing bonus and averages $7.35 million over the life of the contract. Davis was paid over $21 million of the deal in the first two years and is coming off a 2013 season when his base salary was $6 million. The structure of the deal calls for descending salaries in 2014 and 2015, but Davis will still see close to $10 million over the final two seasons.
Davis already passed on a $200,000 workout bonus by not showing up this spring. I had a former first-round tight end do the same thing, and 15 years after he retired, he regretted doing that -- money is harder to earn later in life for most players.
Davis' contract is in line with the top tight ends in the NFL. Antonio Gates signed a five-year deal in 2010 that averages $7.23 million but only had a $4.5 million signing bonus and he saw only $14 million in the first two years. Jason Witten signed a five-year deal a year later that averages $7.4 million, and in typical Cowboys fashion -- because they struggle to find cap space -- he got a $12.5 million signing bonus. In 2012, Rob Gronkowski signed an eight-year deal that averages $6.9 million and he got a signing bonus of only $8 million.
Davis cannot claim his contract is out of line. Maybe when Jimmy Graham finally gets his deal there will be a difference, but Davis might not hold up to Graham because of age and production.
Davis is more than two years older than Graham but -- don't get me wrong, Davis is a very good player -- outside of his 13 touchdown receptions (second to Graham's 16 for tight ends) there are some interesting stats to look at in the tight end market.
To start with, 10 tight ends caught more passes than Davis. When it came to yards after the catch (YAC), Davis was ninth among tight ends. When it came to moving the chains and creating first downs, Davis was 10th. In converting third downs into first downs, he was 14th. In critical situations like fourth-quarter receptions, Davis was the 30th-ranked tight end in the league.
Granted, the 49ers are a run-oriented team, but Vernon was targeted 98 times during the regular season and playoffs. In that Super Bowl against the Ravens, he was excellent in catching six of the eight balls thrown his way for 104 yards and five first downs, but how did he do in the 2013 playoffs and how did he deliver against the division rival Seahawks in recent years?
In his past five games against the Seahawks, he was targeted 12 times and caught only eight passes for 84 yards and only 19 YACs with one touchdown. In three playoff games this past January, he was targeted 14 times with five receptions for 54 yards and two touchdowns and only 6 YACs. I would think a $7.35 million average salary is in line with his production recently.
The 49ers still need Davis, but there are some interesting forces at work with the club. The team doesn't have a lot of salary-cap space ($1.74 million as of May 29) and a number of key players to negotiate with -- like Colin Kaepernick, eventually.
More important, Davis could be looking at the role Anquan Boldin played last year. There's only one football, and with the addition of Stevie Johnson, Davis might just feel like some of his production could be slipping away, which is never comfortable for a 30-year-old tight end with two years left on his deal.
Last year, Boldin was targeted 129 times, 45 more than Davis. Up in Buffalo, Johnson was targeted 101 times; that will take away from Davis, as well. Last season, Boldin had more converted third downs than the rest of the 49ers receivers put together. In fact, Boldin led the NFL in third-down receptions with 33. The year before that, Michael Crabtree led the team in that category. Then there's always the reality that Crabtree and 23-year-old tight end Vance McDonald, who was drafted in the second round in 2013, could be fighting for more balls thrown their way.
Davis has a solid contract. The 49ers don't need to tear it up because he's underpaid. In fact, Davis has an appropriate contract for his production and the tight end market. Davis will show up for the mandatory camp in June although giving up a $200,000 workout bonus wasn't a good idea. He will not miss any games or summer camp time with the fines the club could impose or the $276,470.59 game checks. The 49ers have built in options for their offense if Davis starts to have diminished skills over the next few seasons. If there are enough footballs to go around and his production stays up in the 80 reception/double-digit touchdown range, the club will offer him an extension as early as 2015.
If I were Davis, I would be at every team function and wait to see if Graham's deal changes things for tight ends. For now, try and remember the $10 million signing bonus the club gave you a few years ago and the $10 million yet to be earned over the next two years. This protest is a waste of time.
Show Comments
Hide Comments
For teams sorting out their final draft boards, a pro day isn't an afterthought

The hope is that kelly green makes its way back into Philly's uniform rotation by 2018

The Panthers went from 15-1 in 2015 go 6-10 in 2016, and now Newton needs surgery
The 2014 first-round pick suffered a horrific knee injury last August

Mixon might be a first-round talent but his past might keep him off an NFL roster

The commissioner says he first wants to get more input from players