VIDEO: Antonio Cromartie runs 40, claims to finish in 4.34
Cardinals cornerback Antonio Cromartie claims he can still run a 4.34 40 at age 30.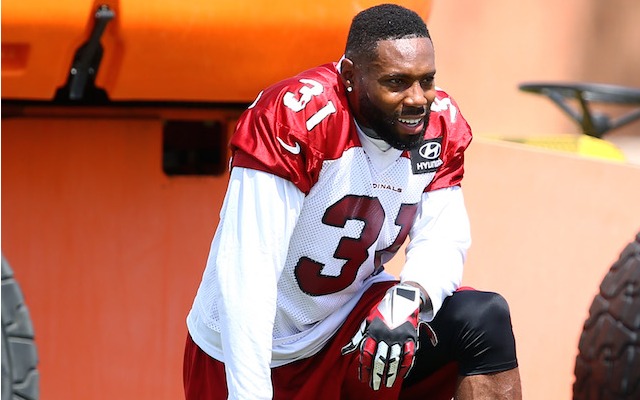 Is Antonio Cromartie faster than every cornerback who's ran at the NFL Combine for the past two years? The obvious answer seems to be know, but Cromartie posted an Instagram video on Saturday that might suggest otherwise. 
The Cardinals cornerback says he hit 4.34 seconds during a workout. The fastest official time by a corner at the combine this year was Cleveland's Justin Gilbert, who ran a 4.37. The fastest time by a corner in 2012 came from Detroit second-round pick Darius Slay, who ran a 4.36.
The last corner to top 4.34 at the combine was Minnesota's Josh Robinson, who ran a 4.33 in 2012. 
So did  the 30-year-old Cromartie really run a 4.34? You can break out your favorite hand-timer and judge for yourself.
From Cromartie's Instagram:
"And ppl say I've lost a step. Only thing I can do laugh at you all. Ran 4.34 & 4.36 in the 40 today after a workout and I'm only getting faster."
Even if Cromartie can hit 4.34, he's still not the fastest person in Arizona. Just ask teammate Teddy Williams. 
"@Fast_Teddy: @nfl @CRO31 That makes u 3rd fasted on the team behind me and @TedGinnJr_19" lol I'll take tht but I'm 30 years old young buck

— ANTONIO CROMARTIE (@CRO31) June 28, 2014
Show Comments
Hide Comments
Trubisky was shocked when the Bears picked him, and knows he's going to back up Glennon in...

Chicago's approach to Thursday night's drat was very bizarre

It was a rough 24 hours for Gary Barnidge
Here are the 50 best prospects still on the board as the 2017 NFL Draft heads into Day 2

Here's everything you need to know about the 2017 NFL Draft

Pete Prisco grades every first-round pick of the 2017 NFL Draft