VIDEO: Bengals teammate punches A.J. Green in practice
A.J. Green took a punch to the helmet from teammate Emmanuel Lamur during practice on Wednesday.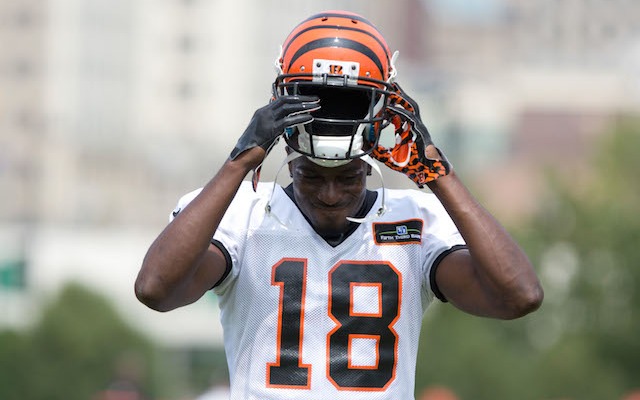 More NFL: Photos |  Videos & GIFs |  Training Camp updates | Manziel watch
When the Bengals were on Hard Knocks before the 2013 season, the team's coaching staff had one rule about wide receiver A.J. Green: Don't touch him. Ever.
The exact quote from then-offensive coordinator Jay Gruden was "We don't touch the merchandise."
Second-year linebacker Emmanuel Lamur must have missed that episode of Hard Knocks though because he touched the merchandise during practice on Wednesday. Actually, he punched the merchandise.
Here's a Vine of the play in practice that led to Lamur punching Green. 
Big scrum after this play. Mostly harmless until Emmanuel Lamur threw a punch at AJ Green's helmet! What ar... https://t.co/0Bg8xofKo9

— Brennen Warner (@JustBeWarned) July 30, 2014
It's not clear why everyone got mad at each other, but they did. The punch happens underneath the field goal posts at about the six-second mark of the video below.
The hit was bad enough that it caught the crowd's attention. After Lamur throws the haymaker, you can hear the fans in attendance go 'ohhhhhhhh! Oh Man!'
This isn't as bad as the Zapruder film, but you'll have to pay close attention if you want to see the punch because it happens fast.  
Gruden might not have been a fan of Green getting hit in practice, but defensive coordinator Paul Guenther didn't seem to completely mind.
"That's what training camp is about," Guenther said, via the Cincinnati Enquirer. "We don't want to get any of our teammates hurt, but part of training camp is setting your identity, playing physical and that's how we want to play. We have to be smart about that. We don't want to have any penalties. One thing I've told the defense is we want to be known as smart bullies. We want to know what to do, play with a physical edge and bully some people."
Anyway, if Lamur gets cut, now we all know why. 
Show Comments
Hide Comments
Our Latest Stories
Packers cornerback Makinton Darleant is also charged in incident early Sunday morning

Panthers owner Jerry Richardson won't be in attendance as he continues to battle health is...

The Raiders vote is expected as early as Monday, and 'pace of play' is also high up on the...
Translation: The Browns want to upgrade at the quarterback position

Oher missed the final 13 games of the 2016 season

The new Packers tight end says he was inspired by his brother, Seahawks defensive end Michael...