VIDEO: Bengals WR Marvin Jones catching passes with broken foot
Bengals wide receiver Marvin Jones doesn't need his feet to practice.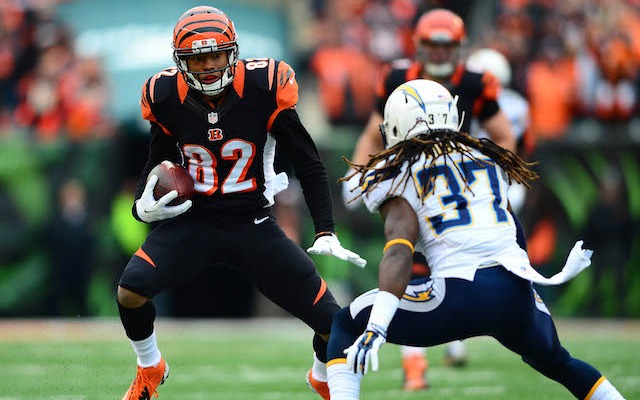 Apparently Marvin Jones takes practice a little bit more seriously than Allen Iverson. Iverson saw no need for practicing. On the other hand, there's Jones, who feels obligated to practice even with a broken foot. 
Bengals offensive coordinator Hue Jackson asked Jones if he could still catch footballs with his broken foot. Jones said yes, so now he's catching 100 balls a day while sitting on a stool. 
"Catching is catching," Jones told the Bengals official website week. "Keep my hands right, keep them ready, so when it's right there'll be no drop-off and they'll be no drops."
Here's a brief look at Jones' new stool-catching regimen. The Bengals are hoping that Jones will be ready to return by Week 5, when Cincinnati plays at New England.  
Show Comments
Hide Comments
The free agent running back's father lost both of his legs due to diabetes

Jerry indicated that the Cowboys have some opportunities to move up or down in the draft

Is O.J. Howard worth drafting in the top five? Will the Browns pass twice on a quarterback...
Could the Bucs be where Peterson lands in free agency?

Bennett wonders how the FBI solved one crime so fast and can't solve others

Brad Kaaya looked smooth in passing drills in front of all 32 teams at Miami's pro day