VIDEO: Brett Favre breaks down NFL Draft from his living room
Just in time for the draft, Brett Favre made a video from his living room telling us which prospects he likes best this year.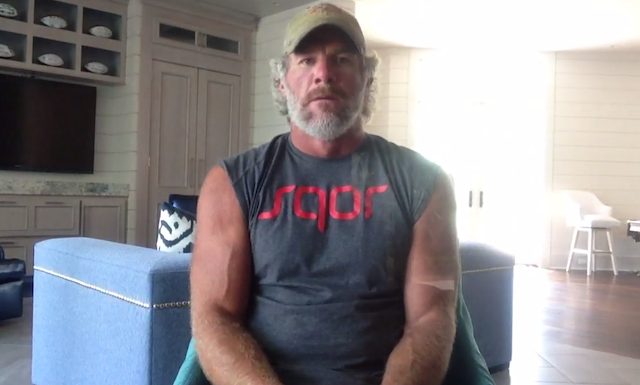 If Roger Goodell's seriously thinking about moving the location of the NFL Draft next year, then he should defintely give some thought to moving the entire event to Brett Favre's living room. It would be a publicly lauded decision. 
This year's draft isn't in Brett Favre's living room, but we did get glimpse into his living space on Thursday thanks to a video Favre posted on Twitter.
In the video, Favre breaks down the draft and mentions that he really likes a certain gunslinging quarterback, "I personally like Johnny Manziel as the quarterback in the draft," Favre says. "I think Manziel's probably the best playmaker in all of the draft."
Favre then kind of gives us a five-pick mock draft that only actually involves two picks and goes something like this: 
St. Louis: Sammy Watkins, unless they decide not to take Sammy Watkins, but they won't take a quarterback. 
Jacksonville: Quarterback, unless they decide not to take a quarterback. 
To commemorate Favre's draft video, here's a picture of Favre on the day he was drafted in April 1991. 
Brett Favre's draft day house party. Via @ryanwilson_07 #tbt pic.twitter.com/YmErOGOJkD

— Eric Kay (@ekaycbs) April 24, 2014
Anyway, you can watch Favre's entire draft video below. 
The star cornerback says that he and Wilson have a 'professional' relationship

The Giants wide receiver went out of his way to visit young Jayro Ponce

The rookie receiver says he is 'good' and won't need to have back surgery
The pass rusher thinks he is being misused by Kansas City

The legendary Rams running back wants to see Sean Mannion play instead of the No. 1 pick

A 911 call from the Uber driver sounds pretty terrifying