VIDEO: Conan O'Brien plays Madden on Cowboys Stadium Jumbotron
Conan O'Brien proved something important this week: You can play video games on the giant video screen at AT&T Stadium in Dallas.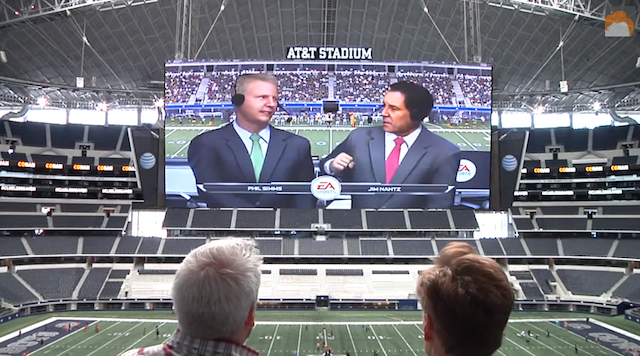 Have you ever played video games on a 160-foot wide television screen inside of an empty NFL stadium? No? Neither have I. Conan O'Brien has though. 
The late night talk show host was at AT&T Stadium in Dallas recently and he did what anyone who has access to an empty NFL stadium would do: He hooked up a PS4 to the Jumbotron and played Madden.
O'Brien also played Street Fighter 2 -- and a game called Flower. I'd explain what Flower is, but even if I explained it, it still wouldn't make sense and we'd probably all be even more confused. 
Anyway, back to the Jumbotron. The Jumbotron at Jerry-world is a giant 160-foot by 72-foot screen that was made my Mitsubishi. If those numbers mean nothing to you, let me try and put it in perspective: It would take 4,920 52-inch flatscreen televisions to fill up the giant screen at AT&T Stadium. 
Now that you know how big the screen at Cowboys Stadium is, lets get back to Conan playing video games. You can watch that below.
Show Comments
Hide Comments
Remember when the Falcons blew a 28-3 lead in the Super Bowl? The Bucs do

Wearing a No. 1 jersey, Jackson was unmistakable when running deep routes one-on-one on Tu...

The quarterback missed the 2016 season because of a torn ACL and dislocated left knee
It's reportedly a five-year deal that has a clause to turn it into an eight-year deal

Though Gronk has dealt with injuries, he's the Patriots' most important weapon when health...

The Bengals coach says he doesn't understand why the NFL wants to give in to individual ce...