VIDEO: Johnny Manziel vs. 49ers QB Colin Kaepernick in the 40
Texas A&M Johnny Manziel ran a fast 40 at the NFL combine on Sunday, but he didn't run as fast as Colin Kaepernick in 2011.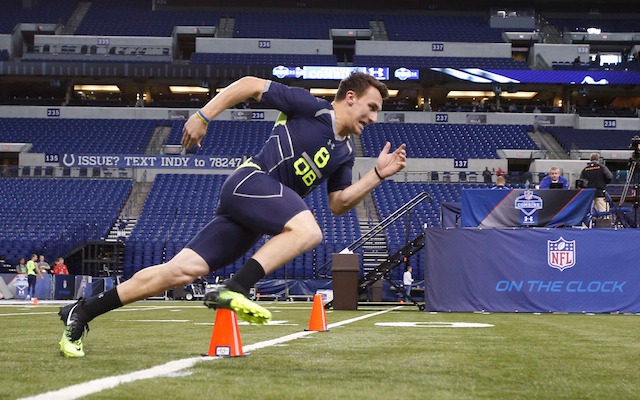 More Draft: NFL Mock Drafts | Prospect Rankings | NFL combine workout results
Texas A&M quarterback Johnny Manziel ran the 40-yard dash on Sunday and he was fast, but not Colin Kaepernick-fast. 
After Manziel finished his run, NFL Network combined Johnny Football's 40 with Kaepernick's 40 from 2011 and as you can see below, Kaepernick is slightly faster. Manziel's 40-time on Sunday was officially clocked at 4.68, his fastest unofficial time was 4.56. In 2011, Kaepernick's official time was 4.53. 
Manziel was nowhere near Michael Vick's combine-record for a quarterback. In 2001, Vick ran a 4.33. As recently as last May, Vick said that he's still the 'fastest quarterback in the NFL' and that he could probably still run a 4.4. 
(Wink of the CBS Eye to Bleacher Report)
Williams is currently a free agent

Eight members of the Cowboys' defensive front-seven have been suspended since 2015

After being scammed, Portis contemplated murder until his friend dissuaded him
Two months after a woman earned a football scholarship, the AFFL says 'everything is on the...

The quarterback nearly retired this offseason but opted to return for his 15th NFL season

One of 2016's breakout rookie stars says he and Romo have a strong relationship