VIDEO: Saints charity cruise could get awkward
The Saints are having a celebrity fan cruise and all of the sudden, it doesn't look like it will be that much fun.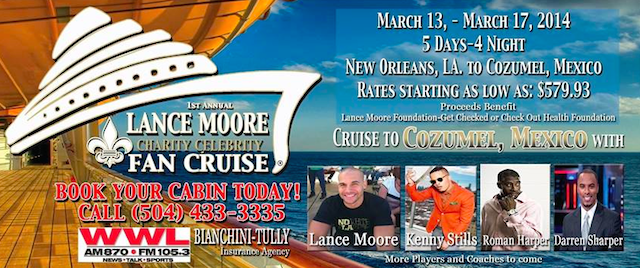 If you think you have bad luck, you don't, at least not compared to the promoters of the first-ever 'Saints Ahoy Celebrity Fan Cruise' There's a good chance this first-ever 'Celebrity Fan Cruise' is going to be the last-ever 'Celebrity Fan Cruise' and you'll understand why once you see the guest list.
Here's the guest list: 
Lance Moore: No longer a Saint
Roman Harper: No longer a Saint
Darren Sharper: In Jail
Kenny Stills: Still a Saint
The guest list for the March 13 cruise was originally annouced back in October, but as you can imagine, the 'Saints Ahoy Charity' has had to make some minor modifications. For one, Sharper is no longer invited on the cruise. There's a lot of reasons Sharper can't go, you can catch up on those here.
Sharper won't be there, but the show must go on. So if you're a Saints fan and you want to hang out with two former Saints on a five-day, four-night, $579.93 trip, then this is the cruise for you. Just remember to wear your Kenny Stills jersey. 
Derek Carr is the clear-cut top quarterback, but what about Blake Bortles and Teddy Bridge...

Williams is currently a free agent

Eight members of the Cowboys' defensive front-seven have been suspended since 2015
After being scammed, Portis contemplated murder until his friend dissuaded him

Two months after a woman earned a football scholarship, the AFFL says 'everything is on the...

The quarterback nearly retired this offseason but opted to return for his 15th NFL season