VIDEO: Zac Efron is a New Orleans Saints fan
That sound you just heard is every teenage girl in the country jumping on the Saints bandwagon.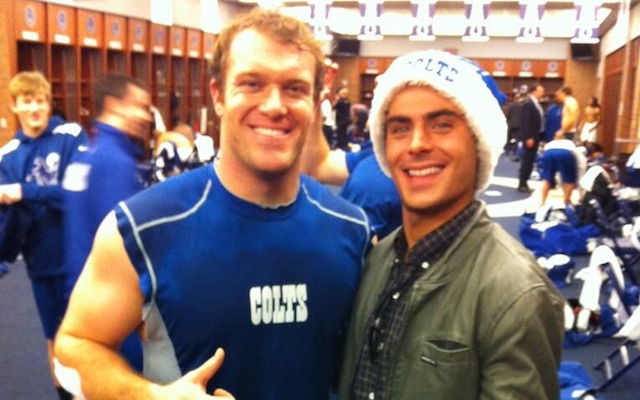 Draft coverage: Draft picks and grades | Prospect Rankings | Mock drafts | News
If you're trying to get your teenage daughter to watch the NFL Draft with you tonight, just tell her that Zac Efron will probably be watching too. 
Why would Efron be watching? I'm not sure, but I'm also not sure why he'd talk about NFL football during a television appearance, but he did that last night on Jimmy Fallon. 
During the interview, Efron said he's a 'die-hard Saints fan' and apparently, he knows 'Coach Payton really well.' 
The news that Efron is a Saints fan is probably going to hit Colts long snapper Matt Overton pretty hard. As you can see in the picture above, Overton and Efron looked so happy together after the Colts beat the Texans in Week 15. 
Oh, and Aaron Rodgers will probably be disappointed to hear that Efron's not a Packers fan, after all, the two did film a commercial together in April. 
Show Comments
Hide Comments
Brad Kaaya looked smooth in passing drills in front of all 32 teams at Miami's pro day

That would result in the second-most touches in a single NFL season

The free agent notched two picks for the Rams last year, but his offseason isn't going wel...
So then, let's compare Bennett to Rob Gronkowski

The NFL approved the Raiders' move to Las Vegas on Monday

'I don't see anything happening at all,' Seahawks coach Pete Carroll said Wednesday