Vikings fans steal seat backs after final game at Metrodome
A few Vikings fans will remember the last game at the Metrodome forever, mainly because they took home a piece of the stadium.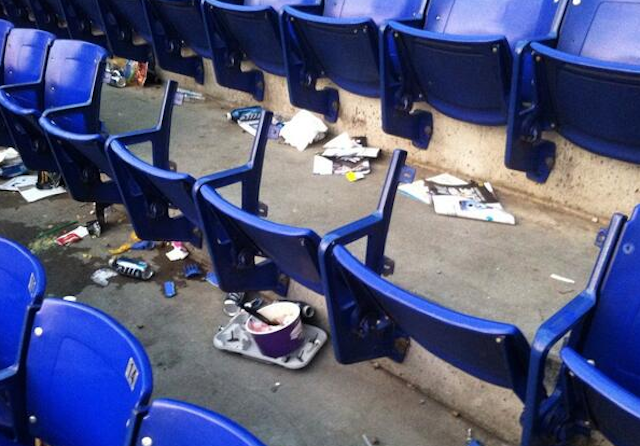 The Metrodome hosted its final game ever on Sunday and some fans decided to take their seat backs home with them, even though the team made it clear they didn't want fans to take their seat backs home with them.
The Vikings hired extra security officers for Sunday's game against the Lions to deter fans from stealing things like seat backs, but apparently, that strategy didn't work. 
As you can see above in this photo from WCCO-TV, at least four fans decided to unhinge their seat back and take it home, which is kind of impressive when you think about it. If you've ever been to a stadium before, you know it's not easy to steal a seat back. And it's even harder when there's extra security people around who are specifically looking for people trying to steal seat backs. 
I'm not sure what these fans are going to do with half a seat, but if they decide they want to buy the entire seat, they can. The Minnesota Sports Facilities Authority is selling Metrodome seats for $60. Or they can not buy a seat and spend that $60 on beer and frozen yogurt because judging by the picture they like that stuff too. 
Show Comments
Hide Comments
Rob Gronkowski isn't impressed with Dallas using a famous Belichick line in its new facili...

After a few lean years, the Wolverines are flush with NFL talent

John Mara says he's 'comfortable' having the kicker on his roster
Maybe Johnny Football can find work after all

The Seahawks QB confirms -- without confirming -- that he moved his wedding over bathroom...

Too early to project how a rookie will turn out? Sure, but here's five comparisons based on...