Vikings GM Rick Spielman has no plans to fire coach Leslie Frazier
The Vikings might be 1-6, but coach Leslie Frazier still has the confidence of general manager Rick Spielman. Spielman said he's '100 percent' behind Frazier.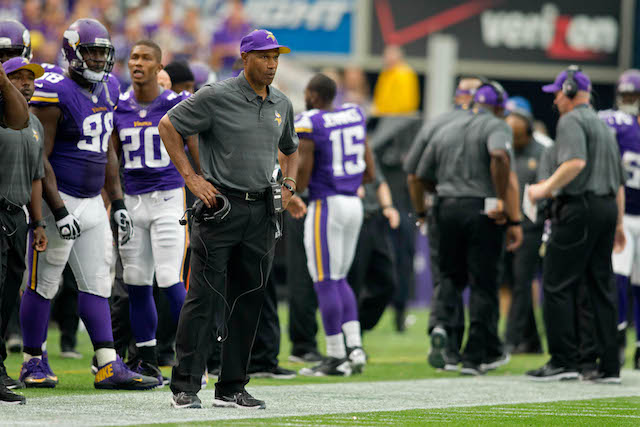 It hasn't been a great season in Minnesota so far for coach Leslie Frazier. The Vikings are 1-6 and through eight weeks, Frazier doesn't seem to have figured out who his starting quarterback is. The Vikings have definitely struggled, but that doesn't mean Frazier's job is in trouble.
General manager Rick Spielman said on Friday that he's '100 percent' behind Frazier.
"Leslie Frazier is not going anywhere," Spielman said, via the Minneapolis Star Tribune. "I am telling you that we are very committed to Leslie Frazier and this coaching staff. We back Coach Frazier 100 percent and we'll do everything we can to help him get this thing turned around."
A vote of confidence is always nice, unless Spielman gets fired too, then it means nothing. 
The quickest way to turn around the team would probably be to figure out who the quarterback of the future is and if that quarterback is on the roster. The Vikings have started three different quarterbacks in seven games this season and none of the three have been that impressive.
Matt Cassel was the starter in the team's only win, while Christian Ponder (0-4) and Josh Freeman (0-1) are both winless.   
"I know by the end of the year we should definitely have idea on what direction if we have a franchise quarterback on this roster right now, or do we have to go into the draft potentially and look for a franchise quarterback, or where do we go at the end of the season," Spielman said, via the Associated Press. "But if you don't have them in your building to get a fair assessment and true evaluation, this will give you a clearer picture of the direction you have to go at the end of the year."
If Minnesota ends up needing to draft a franchise quarterback, 2014 might be the year to do it. The Vikings are 1-6 and end the season with a nine-game stretch that includes road games in Dallas, Seattle, Green Bay, Baltimore and Cincinnati. A top-five pick in May's NFL Draft seems like a very real possibility for the Vikings. 
Show Comments
Hide Comments
Don't blame Norman -- he's 10 inches shorter than the Knicks' Kyle O'Quinn

The Cowboys owner offers an interesting take on what's bringing future fans to the game

The Seahawks cornerback told a student last year that he'd pay for a scholarship if she raised...
Romo is set to call games for CBS Sports this fall, but the Cowboys are keeping the door o...

Can Roberto Aguayo, the Bucs' maligned second-round pick, beat out Nick Folk?

John Mara says Colin Kaepernick's protest led to a ton of letters from emotional fans