Vikings unlikely to host Monday or Thursday home games in 2014
When the NFL schedule is released in mid-April, don't look for the Vikings to be hosting any Monday or Thursday night games.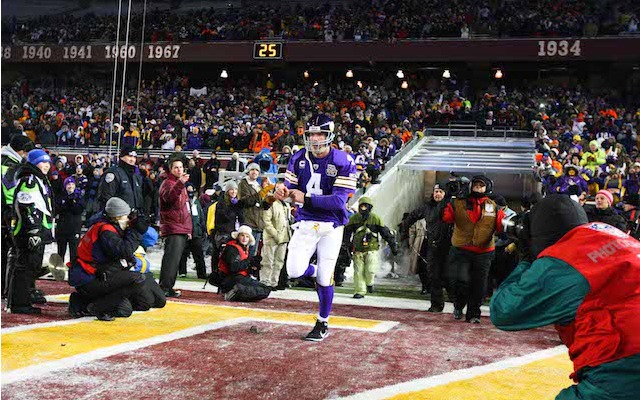 More NFL offseason: Mock Drafts | Prospect Rankings | Pro days | Top free agents
Back in February, the Metrodome was blown up to make way for the Vikings new stadium, which is scheduled to be open in time for the 2016 NFL season. Until then, the Vikings will play their home games at TCF Bank Stadium -- the home of the Minnesota Golden Gophers -- or as you might remember it, the place where Brett Favre played the final game of his career in 2010. 
The thing about playing your home games at someone else's stadium though is that you have to play by their rules. In this case, that means the Vikings probably won't be hosting any Monday or Thursday games during the 2014 season. 
Under an agreement the team signed with the University of Minnesota, the Vikings are only allowed to host one weeknight game per season and that game can only be scheduled when classes aren't in session at the school. 
First semester classes at Minnesota run through December 18, so the Vikings wouldn't be able to host a Monday or Thursday game until after that, according to the Minneapolis Star-Tribune.
That means the team could host a Monday night game in Week 16, but since that would be the final Monday night game of the season, it's unlikely the NFL would put a team that went 5-10-1 in that slot. The final Monday night game of the 2013 season was between the Falcons and 49ers, a rematch of the 2012 NFC Championship game. 
The Vikings only hope for hosting a weeknight would probably be Thanksgiving when classes at the University of Minnesota aren't in session. Although Dallas and Detroit annually host two of the Turkey Day games, there's no regular host for the third game. 
The Vikings aren't the only team that probably won't be hosting a Monday or Thursday game in 2014: The 49ers aren't expected to get any weeknight home games either because local authorities are worried about the traffic conditions around the team's new stadium during rush hour.
The entire NFL schedule is expected to be released sometime in mid-April, but if it gets delayed, it's because the NFL has hundreds of issues to work around like the two above. 
Show Comments
Hide Comments
The NFL commissioner was spotted in Patriots territory for the first time in more than two...

Devonta Freeman explains who should've won MVP of Super Bowl LI

The Chiefs were awfully busy on Thursday
It looks like America's team also has America's best fans

Brown has decided to trade in his Steelers helmet for a Panthers helmet. ... At least for one...

General manager Reggie McKenzie has built one heck of a roster in Oakland