Von Miller offers heartfelt advice to Johnny Manziel: 'Keep grinding'
Von Miller gave the troubled quarterback advice after the Broncos' Super Bowl win.
• 1 min read
SANTA CLARA, Calif. -- Not long after Von Miller secured the Broncos' Super Bowl 50 win with an MVP-caliber game, his attention shifted to another entirely unrelated subject: Johnny Manziel, who's dominated the headlines lately with his latest off-the-field troubles, this time for allegedly assaulting his ex-girlfriend.
It actually wasn't that long ago when Miller was considered a liability due to his own troubles, though not nearly at the same scale as Manziel's mistakes. But in 2013, Miller was suspended six games for violating the league's drug policy. Now he's the MVP of the most important game of the season, recording 2.5 sacks of Cam Newton and forcing two crucial fumbles.
This is the advice Miller, who like Manziel attended Texas A&M, offered to the quarterback following the Broncos' championship.
"Johnny Man, you know its a hard time," Miller said. "I've been in the same situation. Just keep grinding. I'm here with you, brother. Keep grinding, you too can do it ...  I love you."
Miller also sent Manziel advice on Instagram.
As it stands, Manziel, who isn't expected to return to the Browns, is still under investigation for the alleged incident. Furthermore, his dad recently revealed that he's fearful Manziel "won't live to see his 24th birthday."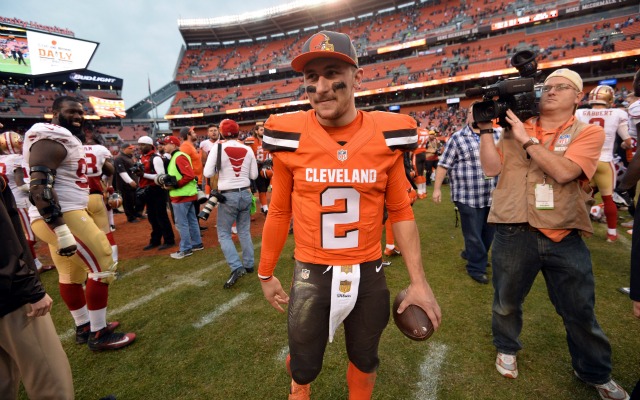 Show Comments
Hide Comments
The crowd went wild when Waka informed them who was on the phone

Everybody whiffs in the draft. Here's the worst pick for each franchise since 1995

Smith missed all of last season recovering but could be close to a return
The Saints have four of the first 76 picks in this week's draft

Players can now sell their data as the NFLPA looks to advance player safety

Ross looks like the perfect replacement for Brandin Cooks in the Big Easy