Want Weird Al Yankovic at the Super Bowl? There's a petition for that
If you like your music goofy and awesome, you can sign a petition nominating Weird Al Yankovic to play the Super Bowl in 2015.
• 1 min read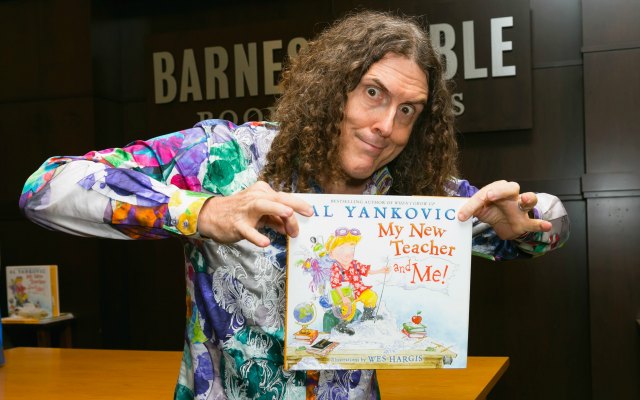 More NFL: Photos |  Videos & GIFs |  Training Camp updates | Manziel
If you're tired of the likes of Madonna, Bruno Mars and the Black Eyed Peas headlining the Super Bowl halftime show and you, dammit, want some humor injected into your music, you should think about signing this Change.org petition that suggests making Weird Al Yankovic the intermission entertainment in 2015.
As petitioner Ed Ball writes, "For decades Weird Al has entertained fans, young and old, with his popular clever parodies and unique sense of humor. Having him headline the Super Bowl XLIX Halftime Show would not only be overly accepted by the millions of views, but it would remain true to the standards and quality of the show business we have come to love and respect out of this prestigious event. The songs of artists that he is parodying could join him on stage to accompany, as well as other surprise appearances from well-known actors/actresses, adding more prestige and star power. The theatrics alone would be hilarious and a welcoming change, and draw a wider audience of fans that typically would not tune into the championship game or half-time show."
As the Wall Street Journal notes, it's a decent-enough idea. After all, Weird Al's latest album, Mandatory Fun, was the No. 1 record in the land when it was released, and would give the halftime show a family-friend vibe.
Especially if you added, say, Coolio to the mix.
As of 2 p.m. ET, the petition had amassed more than 6,100 signatures.
Show Comments
Hide Comments
Our Latest Stories
Cousins fired a football at a cardboard box to reveal the gender of his and his wife's forthcoming...

It's reportedly Houston or retirement for No. 9

Michigan, California and BYU held pro days on Friday, with Davis Webb fighting a 'torrential...
Peterson's reported asking price would make him the NFL's second-highest paid running back...

Mayor Libby Schaaf informed the NFL about a $600 million pledge for a new stadium

The Jets are also still interested in trading down to acquire more picks