WATCH: NFL Draft prospect Jake Matthews changes up his training
It appears that former Texas A&M tackle Jake Matthews has been training hard for his shot in the NFL. Here's some footage of the top-rated OT prospect in action.
More NFL offseason: Mock Drafts | Prospect Rankings | Pro Days | Top free agents
Texas A&M OT Jake Matthews figures to go off the board early in this year's NFL Draft. Consistently ranked among the very top NFL prospects -- and currently in the No. 3 spot in our prospect rankings -- Matthews is considered one of the top two offensive tackles available, in a draft rich with teams looking for beefed-up protection.
With so much on the line, it's only natural that Matthews has enlisted in what appears to be a pretty rigorous pre-draft training regimen, as seen in the video above.
Proactive Sports Performance owner Ryan Capretta said Matthews was able to improve his workout numbers in everything from the bench to the cones before the combine and his subsequent pro day.
"He's progressed across the board and shown us some impressive numbers," Capretta said.
Interestingly, Matthews' training includes occasional sessions on the beach, which serve a function other than just a change of scenery and fresh air.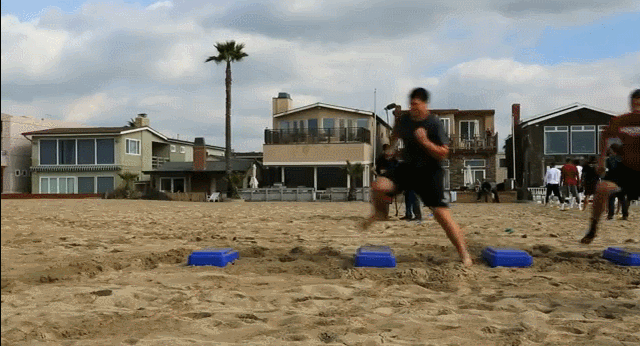 "Being explosive on an unstable surface will really help him transition onto the field," Capretta said.
Vick's team won 64-41 over a squad led by Terrell Owens in the American Flag Football League...

The youth coed league will begin this year in Louisiana with the hope of spreading nationw...

The former Chiefs GM likely won't be out of work for too long
That's a really, really nice birthday present and a really, really strong message

The former second-team All-Pro is coming back to football and is immediately a free agent

The former NFL wide receiver is not worried about retiring as a member of the Panthers