WATCH: Peyton Manning does a goofy jig to 'Rocky Top'
If you've ever wondered what Peyton Manning looks like while dancing, Monday was your lucky day.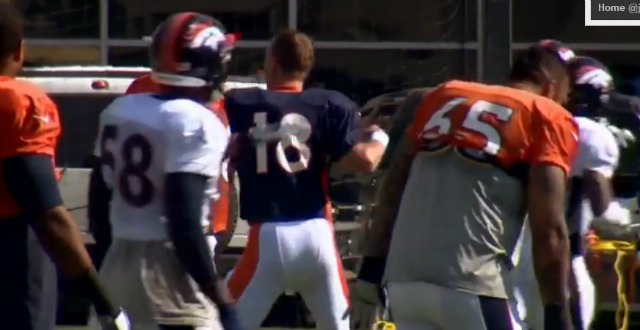 Peyton Manning: where Loosey meets Goosey.*
Only a few days after Peyton Manning tried to get reporters to name the color of his (foot)balls, Manning did a little jig when "Rocky Top" blasted away at Broncos practice at Monday.
If you've ever wondered just how goofy Manning might look if he ever tried to dance the fight song of the University of Tennessee, here's your answer: awfully freakin' goofy.
Take a gander, via 9 News.
Manning wasn't the only one getting down. Former Volunteers punter Britton Colquitt also took it upon himself to let loose (as did Wes Welker). Somehow, I think Colquitt is doing the University of Florida Gator Chomp while he dances.
Either way, things seem to be going OK at Broncos training camp Monday.
*Sorry, that's an old Rick Morrissey line from a 2002 Chicago Tribune story that has always stuck with me, and this is the first time I've ever written it for a story. So, thanks Rick, for the inspiration.
Show Comments
Hide Comments
Here's a player on each NFC team with everything to prove in 2016

Damon thinks Brady is going to come back with a wicked vengeance

The NFL coach of 20 years will reportedly work for the football operations department
Ryan Fitzpatrick's name is not supposed to be uttered by players

Our countdown of the top programs for NFL prospects continues

Patriots coach makes it clear: Tom Brady is the starter when he comes back from his suspen...