WATCH: UGA RB who runs 'crazy 40 times' almost breaks combine record
Georgia running back Nick Marshall fell just short of breaking the combine record in the 40.
Before the NFL combine started this week, Keith Marshall predicted that he'd run a "fast" 40 time, and the Georgia running back didn't disappoint. 
During his first attempt at the 40-yard dash on Friday, Marshall came out blazing. The UGA running back ran an unofficial time of 4.29. The NFL's official website had him at 4.28.
Either way, it was ridiculously fast, as you can see below.


Oh my goodness.
Keith Marshall from @FootballUGA runs a 4.29u 40. #NFLCombine https://t.co/ivmVNlQvAi

— NFL (@NFL) February 26, 2016
When all was said and done, Marshall's official time came out at 4.31, which left him just a few hundreths of a second away from breaking Chris Johnson's 2008 combine record of 4.24.
Marshall's time is the third-fastest of the past 10 years and tied for the 10th-fastest overall since the the NFL officially began electronic timing at the combine in 1999.
If you've never heard Marshall's name, that's because injuries derailed his career after he was recruited to UGA as a five-star prospect in 2012.
The running back tore his ACL in 2013 and only played a total of eight games during the 2013 and 2014 seasons combined. Although he started to get healthy in 2015, Marshall still missed two games as he battled an ankle injury throughout the year.
Here's what Marshall could do when he was healthy:
Marshall finished his Georgia career with 1,379 rushing yards and 12 rushing touchdowns. Injuries kept Marshall from carrying the torch held by former Bulldog running back Todd Gurley, who Marshall counts as a close friend.
"Me and Todd are very close. We talk pretty much every day," Marshall told SECCountry.com. "He just told me about what to expect about this and really just told me to keep doing what I've been doing, keep working hard and give it everything I got."
The good news for Marshall is that he's healthy now, and he expected to put up a fast time in the 40 this week. 
"I'm not going to throw any numbers out there, but I expect to be fast," Marshall told Rivals.com this week. "I've run some crazy 40 times, we'll see, I'm not going to throw out any times, but I'm right where I need to be."
The running back says his leg injuries are a thing of the past. 
"There wasn't so much concern, they just wanted to talk and get a feel for me," Marshall said. "We did medical yesterday [Wednesday] and everything checked out 100 percent, the doctors said it looked as good as it possibly could. So that's great, it's a blessing, so now just a matter of me getting to know everyone and talk about the process."
Going into the combine, Marshall was projected to be an undrafted free agent by NFLDraftScout.com, but that could change soon. Not only did Marshall run the fastest 40 of all running backs, but he also led in the bench press with 25 reps of 225, which topped Alabama's Derrick Henry, who did 22 reps.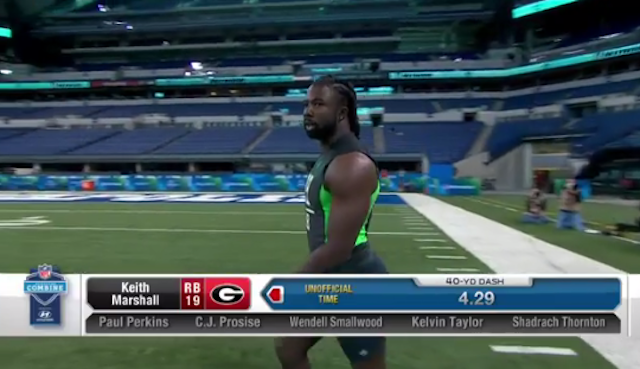 Show Comments
Hide Comments
Our Latest Stories
The Browns quarterback took to Twitter to discuss his personal life

Broncos GM John Elway doesn't sound like he has any regrets about letting Brock Osweiler get...

The Division-III left tackle transfer is quickly proving he has a future in the NFL
Clay Matthews and Morgan Burnett join Sam Shields as out, while two others are now doubtfu...

The former NFL wide receiver has some strong opinions on the commissioner

Gurley rushed for 1,106 yards as a rookie, now he's averaging 2.7 yards per carry