WATCH: Vikings kicker Blair Walsh nails 70-yard field goal in warmups
Blair Walsh's leg is really strong.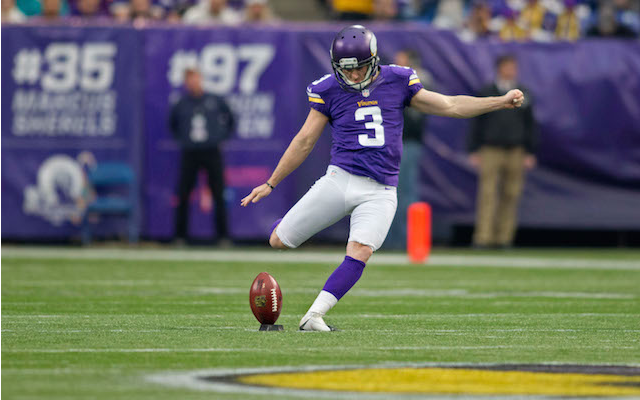 More NFL: Photos |  Videos & GIFs |  Training Camp updates | Manziel watch
If the Vikings decide to send Blair Walsh out for a 70-yard field goal attempt this season, don't laugh, because Walsh might actually make it. 
The Vikings kicker proved that he has the leg for a 70-yarder when he nailed one during warmups on Saturday. Sure, Walsh wasn't wearing pads and no, he didn't have anyone holding the ball -- BUT HE KICKED THE BALL 70 YARDS, OUTDOORS, IN MINNESOTA.
Raiders kicker Sebastian Janikowski hit a 70-yarder in warmups once, but he did it in Denver where apparently everyone can make a 70-yarder, at least according to Ravens kicker Justin Tucker. Janikowski's kick was impressive though because he did it with a snap and a hold. 
Broncos kicker Matt Prater holds the NFL record for longest field goal. Prater hit a 64-yarder against the Titans at the end of the first half in Week 14 last season. 
The longest field goal of Walsh's NFL career is 56 yards. He probably didn't even have to try on that one. 
Here's the 70-yarder Walsh hit on Satuday before the Vikings played the Cardinals. Walsh hit two field goals (21, 34) that weren't from 70 yards in the first half against Arizona. Walsh also missed a field goal in the first half when he hit the left upright from 51-yards, but he probably did that on purpose. 
Show Comments
Hide Comments
The Steelers quarterback is focused on 2017 now

The former 49ers coach admits it was his fault

Johnson talked to Roger Goodell a few times before the rule change on TD celebrations was...
Franchise QBs are the only road to success nowadays; unfortunately, they're impossible to...

The wide receiver isn't in the best shape of his life after a down 2016 season

Colleen Smith joins Jen Welter and Kathryn Smith as women who have held NFL coaching posit...