WATCH: Walter Payton, Joe Montana spar with Church Lady in 1987
On the 61st anniversary of Walter Payton's birth, here he is appearing on Saturday Night Live.
• 1 min read
Former Bears superstar running back Walter Payton would have turned 61 years old today (well, 60 if you believe the team, 61 if you believe Payton's biographer).
And though he died in 1999, we'd like to celebrate his birthday remembering the time he appeared on Saturday Night Live and sparred with the Church Lady.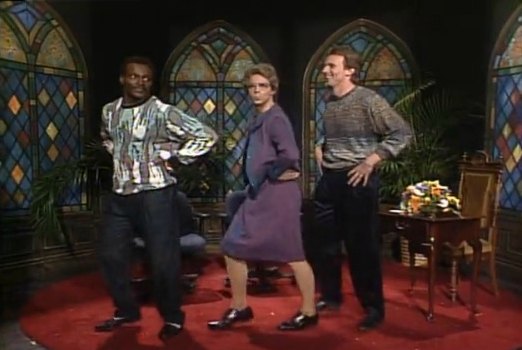 Despite Dana Carvey's character calling it the Satan Bowl and decrying the fans who watch it as "little beastmasters who drink beer and spit up," Payton, luckily, is there to talk to her about the finer points of the game. Also, he smiles while thinking about how he could kill the average man walking down the street with his bare hands.
So, take 7 minutes of your day and watch Payton and Joe Montana riff with the Church Lady in 1987, via Yahoo Screen. It'll probably make you laugh.
Romo supported his former teammate, who has been involved in several off-the-field inciden...

Dez spent $16,000 on barbecue food to throw a party and a kickball game for people in his...

Oher signed a three-year extension with the Panthers last offseason
Harrison is a strong man that loves showing off how strong he is

Simpson drew money from his NFL player pension, which is protected by Nevada laws

Johnson will likely work once again as the primary backup to David Johnson