Wes Welker has ankle sprain, Champ Bailey has foot sprain
Wes Welker suffered an ankle sprain on Saturday night, which the Broncos are calling "mild." Champ Bailey suffered a foot sprain that is reportedly "serious."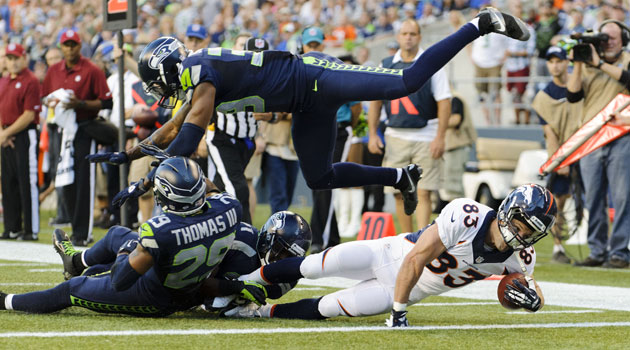 Rumors started sprouting up on Twitter (as rumors are wont to do) Sunday that Broncos wideout Wes Welker might be dealing with an ankle sprain. The rumors are true.
And it's not the only injury Denver's dealing with -- Champ Bailey also has a foot sprain, the team announced on Sunday.
Further evaluation has revealed CB Champ Bailey has a left foot sprain & WR Wes Welker has a mild right ankle sprain.

— Denver Broncos (@DenverBroncos) August 18, 2013
Bailey's injury appears to be worse -- NFL.com reports that the Pro Bowl cornerback is dealing with a "serious" type of sprain and that he "faces a recovery timeline of several weeks."
Champ told the Denver Post that he suffered the sprain during Saturday night's loss to the Seahawks when a Seattle player pushed his foot off of Bailey's.
"I wish I could describe it," Bailey said. "We'll see."
It's not expected that Welker's ankle sprain will keep him out of the Broncos opener against the defending-champion Ravens. However, the passing game won't likely be the biggest of their worries if Bailey can't go.
That would be the secondary, which would be drastically thinner if Bailey's unable to go.
The Eye on Football podcast brings you the best NFL analysis money doesn't have to buy. Subscribe on iTunes here!
Show Comments
Hide Comments
Watson and Trubisky are considered two of the draft's top QB prospects

The former Patriots running back has been sitting on the open market all offseason

Maccagnan's family friends were killed in a domestic violence murder-suicide several years...
Foreman's son died less than two months after he was born

The future Hall of Fame running back is joining the Saints

The Notre Dame coach clarifies his earlier comments about his former quarterback