Wes Welker in danger of missing Patriots game with concussion
Broncos receiver Wes Welker sustained a concussion on Sunday, and it's unclear whether he'll play next week vs. the Patriots.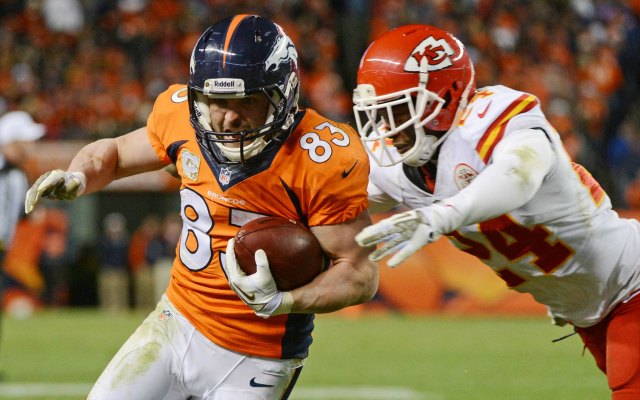 With the Patriots set to play the Broncos next Sunday night in a primetime, sure-to-get-huge-ratings matchup, one of the most intriguing players on either squad is in danger of missing the contest.
That's because Broncos receiver Wes Welker, who spent the previous six seasons catching 100-plus passes per year from Tom Brady in New England, sustained a concussion Sunday night vs. the Chiefs.
The injury happened in the fourth quarter of Denver's win vs. Kansas City after he caught a 20-yard pass. After Welker was hit, he appeared a bit woozy and took a knee on the field.
Somehow, he was then allowed to return to the game briefly, making another catch, before leaving the contest for good.
Now, Welker won't have the chance to practice or play until he's cleared by an independent doctor, leaving his return to New England in doubt. Which would be a slightly weird paradigm shift.
Yes MT @brentustick @BenVolin Would be strange for the injury prone Amendola to be on the field & the durable Welker to miss the homecoming

— Ben Volin (@BenVolin) November 18, 2013
Follow Josh Katzowitz on Google+
Show Comments
Hide Comments
Our Latest Stories
Kaepernick's protest isn't going over so well in some parts of the country

Bradshaw seems to be a big fan of Dak Prescott

The bye week looks like it's going pretty well for Carson Wentz, but not so well for this...
The Redskins corner is probably going to want to get out his checkbook

The Stanford star could stay in the Bay Area and would add another dimension to the Oakland...

There's an ugly downside to joining Colin Kaepernick's cause