Why the next few months are key for a 49ers team at a crossroads
Issues surround centerpieces Jim Harbaugh, Colin Kaepernick, Aldon Smith, NaVorro Bowman and more. Can the Niners keep their powerhouse stoked?
• 9 min read
The 49ers are at a crossroads.
It's a strange thing to say about a robust franchise coming off three consecutive seasons reaching at least the NFC championship game, and it may not be something anyone in that organization wants to consider, but I believe it to be true. From the frayed relationship between coach Jim Harbaugh -- whose hiring ushered in this return to glory for San Francisco -- and GM Trent Baalke and other members of the front office, to the necessity to figure out a long-term deal with quarterback Colin Kaepernick, to the continued legal missteps of pass-rushing savant Aldon Smith -- considered a franchise cornerstone not long ago -- to the advancing age of some key players to the uncertainty about when all-world linebacker NaVorro Bowman will be back from the devastating injury he suffered in the postseason, these are indeed strange times in the city by the Bay.
Add in the fact the NFC West, already the best division in football, may in fact be getting even better, and the fact that is so incredibly difficult to maintain the rarified success the 49ers have had under Harbaugh -- finishing annually among the league's final four teams -- and one can't help but wonder if perhaps the pendulum might indeed be swinging a bit in the other direction. Don't get me wrong, the 49ers have grown and evolved from the pre-Harbaugh era, from ownership on down, with the bizarre days of cycling through coaches and the failed Mike Singletary experiment feeling like something on ancient history, though in fact we are not all that far removed from it. But success is never guaranteed in this league.
With a sparkling state-of-the-art stadium about to open, new revenue streams available, and the opportunity to host Super Bowl 50 less than two years away, the 49ers won't be falling back into the dark ages right away. But given all that has already gone on this offseason, dating back to the Bowman injury and their elimination from the playoffs in Seattle, is it is still fair to expect this team to live up to the lofty expectations set the past three seasons? Might there be a decline ahead?
More than any other team in the NFL, the next three months could shape the future of this franchise. It starts with Harbaugh and trickles down throughout vital spots on the roster. If the team's brass can navigate through a cauldron of inter-personal dynamics with their coach, uber-tricky negotiations with their emerging franchise quarterback, and pull off a successful draft -- the 49ers have six picks in the first three rounds -- the next three months might just propel the Niners to even greater heights.
And if they can't, or won't, reward Harbaugh with a big extension, and if they can't sort through some of the power struggles that have taken place, and if they have Kaepernick playing out his rookie deal in 2014, and if father time catches up to guys like Frank Gore and Justin Smith and Anquan Boldin, and if the rest of the NFC West remains in ascent, well, then all of a sudden the short and long term future of the franchise gets a lot more nebulous.
Getting deals done with coach and QB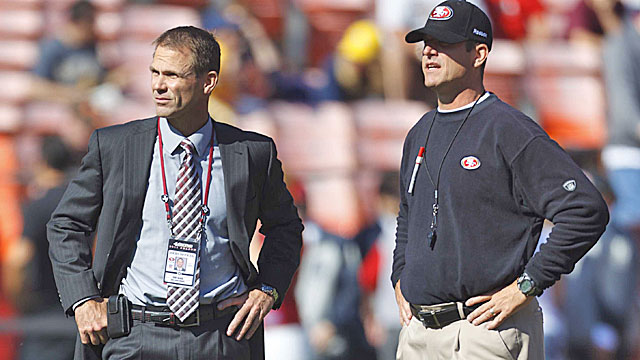 Already this offseason we've seen elite coaches like John Fox and Pete Carroll land contract extensions without much fanfare and certainly without any backdrop of hand-wringing or consternation. Meantime, Harbaugh, who has far outperformed the $5 million a year he earned coming over from Stanford and who has clearly become the face of that franchise in the process, remains on that same deal with two years remaining. The Browns had designs on trading for him in January and, should the 49ers fail to secure a deal with him before the start of the 2014 season, trust me, other teams (starting with the Dolphins if they don't pull out of their malaise) will be primed to see what it takes to pry Harbaugh out of San Francisco, as 2015 would be his lame-duck year.
Not getting something done with Harbaugh before the start of this season would send an indication to other teams that it might be worth their while to come a calling next winter. Harbaugh is a somewhat unique case. His personality can be grating, he is strong willed and he and Baalke are both type-A personalities with a fair amount of ego. Perhaps that alone was always going to keep this from becoming a truly long-term relationship. Whatever the case, you will have a helluva time convincing me that the 49ers, post Harbaugh, in such a scenario, would have a chance of being as good as they have been with him there.
As a further backdrop to that Harbaugh/Baalke relationship is the ongoing negotiations with Kaepernick, who (as I noted months ago) has let the team know he believes he belongs in the class of $20M-per-season quarterbacks. And nothing has changed that, certainly not the "incident report" and murky allegations against him recently (and I'll deal with that more in a minute). The 49ers haven't exactly embraced that concept as best I can tell, and if Baalke and team president Paraag Marathe -- the chief negotiator for the team -- can't deliver Kaepernick and he goes out and continues to perform as he has, and he plays out next season for a $974,000 base salary and the 49ers have to deal with potentially franchising him and all of that, well, I doubt that's going to please the coach.
Keep in mind, Harbaugh has championed Kaepernick. He made the switch to the novice passer in the middle of a season with Super Bowl expectations when Alex Smith was out with a concussion and had the gumption to stick with him all the way through that Super Bowl, which the 49ers came a play away from winning. He has defended Kaepernick and nurtured him and is the integral figure in his rapid development. Coaches, in general, want to see their key players get paid ASAP to keep drama and conflict and swirling questions out of the locker room. It's Baalke's primary chore to deliver as much.
The longer the Kaepernick contract saga takes, should it happen to get contentious or heated at all, should things not quite go swimmingly, well, all of that would only serve to drive a bigger wedge between coach and front office. And, with the accusations of a woman recently about potential impropriety at a Miami hotel suite Kaepernick is sharing with fellow NFL players, there certainly is the potential for things to go somewhat sideways.
Letting Kaepernick situation play out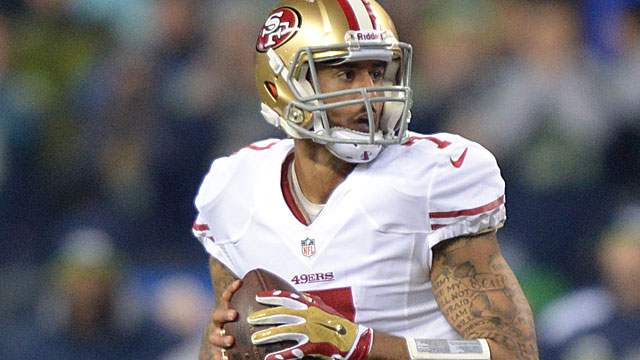 So with that in mind, let's keep this in mind: Kaepernick has been charged with nothing, police eventually were in that apartment on the night in question to restrain the female and forcibly remove her from the suite, according to sources. Kaepernick did not invite her to the room and, from what I am hearing, Kaepernick was not even in that hotel for most of the night in question. So before the media, in its haste to make waves, starts opining about Kaepernick hurting his negotiating position or displaying questionable judgment, how about waiting to see what authorities say and what, if anything, comes of this?
What we know for now is the woman was removed from the suite, claims she woke up in the hospital and days later filed an incident report, short on details. For all we know, this could have been some sort of set-up, with the motives of any and all involved unknown and the incident report itself short on details any wrong doing. And, again, I fully anticipate it becoming clear that Kaepernick was out of the suite for a vast majority of the night, and having virtually no contact with the woman involved, when the investigation concludes.
So ultimately, even the idea of wrong place/wrong time, or choosing to be around the wrong people, and all of that stuff, end up not applying to the quarterback, who has already been the subject of some of the most asinine columns in recent history for, gasp, such misdeeds against society as having tattoos, wearing his hat backwards or having the temerity to don a Miami Dolphins hat. How dare he!
Regardless, while the matter is under investigation, one would anticipate the pace of talks between him and the 49ers to subside. Surely, ample time remains to get a deal done before the season, but if this was ever going to be a sooner-rather-than-later contract extension, well, that's probably not the case now.
Future of pass-rushing star in peril
Aldon Smith, another young focal point of the franchise, with 42 sacks in 43 regular season games, is a much more troubling matter. His new-found sobriety very well may have been compromised, with him possibly under the influence while making a false bomb threat at LAX Airport, and his decision-making and ability to function as a member of society remains under question. And he is still awaiting future legal dates regarding a gun charge and a DUI. Luckily for the 49ers, he was drafted under the new CBA, so they need only pick up a 2015 team option by next month (guaranteed for injury only), and they can continue to retain his rights below market value. Picking that up, even amid this latest episode, seems like somewhat of a no-brainer.
But Smith might well run himself out of the league well before then, having already served a five-game suspension last season, and his actions have certainly catapulted pass rusher into a possibly pressing team need. (Troubled corner Chris Culliver might end up truncating his career as well with some of his missteps).
Does Aldon Smith contribute in 2014? Can Justin Smith play at a top level again? Will Bowman get back by midseason? Will Tank Carradine return from injuries and make an impact off the edge in his second season? Those answers could go a long way to determining if this long-feared defense loses its bite. The 49ers have also suddenly gotten young on the back end of that defense, with Donte Whitner the latest defection, and coverage issues have caught up to them at the most important time of the season in the past.
Offensively, what will Kaepernick's mindset be given how much progress is made, or is failed to be made, on the contract front? Gore, who showed signs of his massive workload over the years catching up to him a year ago, might be hitting the wall. If so, can Marcus Lattimore, drafted essentially as a redshirt for 2013 coming off his knee surgery, step up in what amounts to his rookie year? Will they find that other receiving weapon they have been searching for -- considering moves for Percy Harvin and DeSean Jackson -- in this year's receiver-rich draft?
The reality is, the 49ers have received almost no production from their 2012 draft (top pick A.J. Jenkins was dealt to the Chiefs before the start of last season) and will need their Day 2 picks from 2013 to make major strides this season as well. Maximizing their bevy of picks in the first two days of the draft next month would be the easiest way to stem the tide, and viewed through the prism of this trying off-season, pressure will be on to find some impact players right away.
Niners management has the opportunity to determine what is and is not acceptable, who merits being among the core moving forward and who deserves to be compensated right now. How they juggle it all -- beginning with negotiations with their coach and quarterback -- will dictate whether this run is sustainable, and if in fact they end up perhaps competing for a Super Bowl in their home stadium following the 2015 season. The next three months will give us plenty of indications as to the direction they are headed.
Show Comments
Hide Comments
Brett Hundley was apparently on the block during Day 2 of the draft

The Bills fired their GM Sunday morning, then cleaned house

Get ready to start hearing a lot about Sam Darnold and Josh Rosen
College players who didn't get drafted are now free to sign with any team in the NFL

Benjamin has had weight issues going back to college

As one exec put it, 'We don't know what the hell they were doing'