Will Chad Johnson buy Bengals tickets so they can avoid blackout?
The Bengals are in danger of not selling out their playoff game vs. the Chargers. No problem, says Chad Johnson.
• 1 min read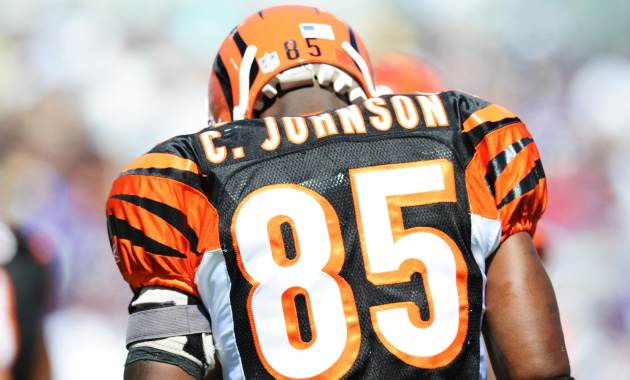 The Bengals seemingly are in real danger of not selling out their playoff game vs. the Chargers and blacking out the game for fans in Cincinnati, Dayton and Lexington, Ky.
On Monday, the team said ticket sales "dipped below 10,000" but also reminded fans that "unless the rate of daily sales increase[d]," the game would not be shown locally. On Wednesday, there reportedly were about 8,000 tickets left, but never fear, says former Bengals receiver Chad Johnson.
This was his response to news posted by Cincinnati Enquirer writer (and friend of the blog) Joe Reedy.
I'll get the rest RT @joereedy: Statement from #Bengals: "Unless the rate of daily sales increases -- we will not achieve a sellout.

— Chad Johnson (@ochocinco) December 31, 2013
Cool, right? Johnson, now an analyst on CBSSports.com, would be happy to do a good deed to the city in which he became a star. Right?
FYI @ochocinco, that will be approximately $910,000 to buy the remaining #Bengals tickets w/out the usual service charges

— Joe Reedy (@joereedy) January 1, 2014
Since then, the Bengals haven't heard from Johnson.
But this isn't unprecedented for Johnson. In 2009, he worked together with a cell phone company and one of the local TV stations to prevent a blackout of a regular-season game vs. the Texans when Johnson bought the remaining allotment of tickets (it almost assuredly didn't cost him $900,000 to do so, though).   
Either way, color Reedy skeptical about Johnson's latest claim.
@beccaccio_jason If you believe he's buying the tickets, I've got a nice bridge to sell you

— Joe Reedy (@joereedy) January 1, 2014
But the Bengals aren't the only ones who were having problems selling out their home playoff game. Earlier this week the Packers and the Colts also were worried about the possibility of a blackout, as of Thursday morning, none of the three teams have sold out their contests.
Follow Josh Katzowitz on Google+
Show Comments
Hide Comments
One of the league's best wideouts had just four catches for 28 yards against Green Bay

The Browns selected Kizer in the second round of the 2017 NFL Draft

Talk about a great Christmas present
'I don't think there's anybody more worthy than Marshawn to wear that number,' Woodson sai...

He's targeting a return in early June

Lockette retired from the game after suffering an injury that nearly ended his life