With Jason Campbell starting again, Brandon Weeden's fate likely sealed
Browns coach Rob Chudzinski made the expected move Monday and said Jason Campbell will start at quarterback this week.
• 1 min read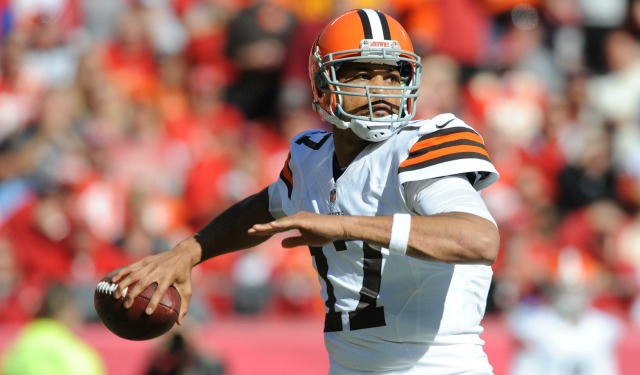 If you didn't believe the Browns are moving on from 2012 first-round pick Brandon Weeden, the announcement Monday by coach Rob Chudzinski that Jason Campbell will start again this week vs. the Ravens should persuade you for good.
Campbell was named the starter for Week 7 vs. the Chiefs, and though the offense was brutal for most of the first half -- as I pointed out in the Week 8 By The Numbers post, the Browns didn't achieve their first first down until 26:30 had already passed off the clock -- Campbell and the Browns rallied before falling 23-17 to the undefeated Chiefs.
Still, a pretty good showing from Campbell, who went 22 of 36 for 293 yards and two touchdowns. Really, it was Campbell's best performance since he went 23 of 33 for 323 yards, two touchdowns and an interception in leading his Raiders to a close loss to the Bills in Week 3 of the 2011 season.
Either way, it was good enough for Chudzinski -- who, you'll recall, started Brian Hoyer instead of Campbell when Weeden was hurt early in the season.
"[Campbell] gave us a lift in how he played," Chudzinski told reporters Monday.
Yes, and almost gave the team a chance to knock off Kansas City.
But regarding Weeden, his time seemingly has been coming since the old regime, general manager Tom Heckert and coach Pat Shurmur, were fired after last season and new general manager Michael Lombardi, who had been critical of the Browns when they drafted Weeden, took over the team.
Still, Chudzinski gave Weeden a chance (actually, two chances after Hoyer was lost for the season).
#Browns Chud on why he started Weeden at beginning of season: "Brandon was somebody we didn't know a lot about.'' Wanted to find out more.

— Mary Kay Cabot (@MaryKayCabot) October 28, 2013
Now, his chances are probably over (unless Campbell gets hurt), because Weeden is actually performing worse this year than he did during his rookie season.
Which probably leaves Weeden feeling like this.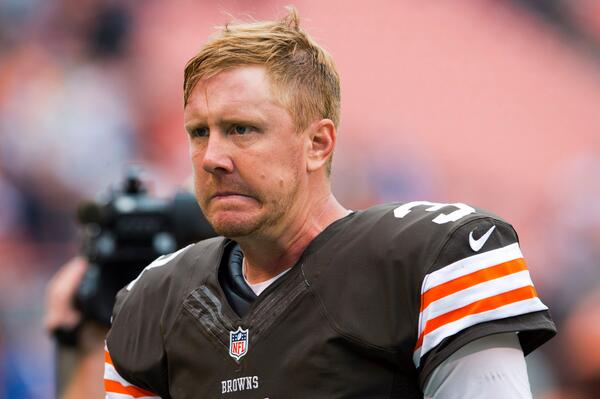 Follow Josh Katzowitz on Google+
Show Comments
Hide Comments
The Clemson quarterback believes he should be first off the board

Follow along as we track all the rumors as the 2017 NFL Draft approaches

Talking about doing your homework as a GM
Three years ago, Manziel was about to become the Browns' latest franchise quarterback

Could the Clemson quarterback end up being a top five pick?

Conley, a first-round talent, has denied rape allegations that came to light this week