WR James Jones on Panthers: I would love to play with Cam Newton
Free agent wide receiver James Jones, who's spent his entire seven-year career in Green Bay, would 'love' to play in Carolina with Cam Newton.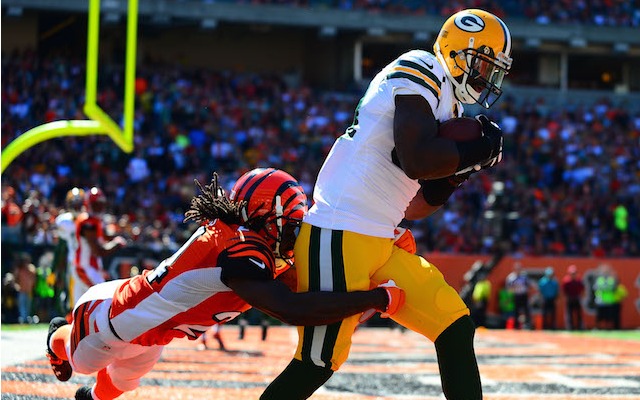 If the Panthers are looking to sign a wide receiver -- and they probably should be, because there's no receiver left on the current roster who caught a pass in 2013 -- James Jones would like the Panthers to know that he would 'love' to play in Carolina. 
The 29-year-old free agent, who's spent his entire seven-year career in Green Bay, told ESPN.com on Sunday that he's interested in playing for the Panthers, "I would love the opportunity to play for the Carolina Panthers," Jones said. "I would love to play with Cam [Newton]."
It's not clear if the interest is mutual, but one thing is clear: Carolina is definitely in need of a wide receiver. Since free agency began on March 11, former Panthers wide receivers Steve Smith (Baltimore), Brandon LaFell (New England), Ted Ginn (Arizona) and Domenik Hixon (Chicago) have all signed with different teams.
That's not merely a list of every wide receiver who has left Carolina in free agency, that's also a list of every receiver who caught a pass for the Panthers in 2013. Right now, the most experienced receiver on the Panthers roster is Kealoha Pilares, who has two career catches for 42 yards.
The Carolina #Panthers have just $3.1M 2014 cap dollars allocated to WRs, lowest in the NFL (#Raiders $4.6M) http://t.co/7429SUm5fk

— Spotrac (@spotrac) March 16, 2014
Although the Panthers haven't shown an interest in Jones just yet, they do seemed to be interested in Jerricho Cotchery. The free-agent receiver, who spent the past three seasons in Pittsburgh, is expected to visit Carolina on Monday, according to the Pittsburgh Tribune-Review.
Show Comments
Hide Comments
Dozens of NFL players took to Twitter to weigh-in on the Colin Kaepernick issue

If Week 3 is meant to be a dress rehearsal for the season the Chicago Bears have some work...

Being a punter isn't easy
The Packers running back is having second thoughts about his long hair

The Cowboys will once again be without their starting quarterback for an extended period of...

The Patriots not only have a guy who can win with Brady out, but should go 3-1 in his abse...