WR or TE: Jimmy Graham ruling reportedly coming on July 3
Jimmy Graham will reportedly find out on Thursday whether an independent arbitrator thinks Graham is a tight end or a wide receiver.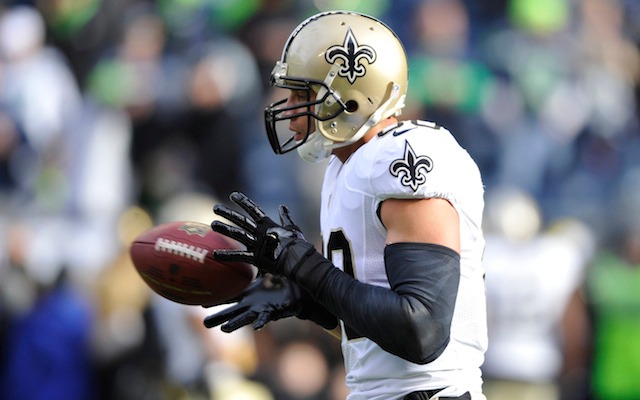 Is Jimmy Graham a wide receiver or a tight end?
The answer to the question is expected to be handed down on July 3, according to ESPN.com. Arbitrator Stephen Burbank has informed the appropriate parties that he plans to make a ruling on Graham's grievance 'No sooner and no later' than Thursday. 
Graham was franchise tagged as a tight end back in March and later filed a grievance in May with his people arguing that he's a receiver. The hearing began on June 17.
There's almost $5.3 million at stake for Graham. A tight end hit with the franchise tag will make $7.035 million in 2014, while a receiver will earn $12.312 million -- a $5.277 million difference.
Graham lined up in the slot or as a wideout on 67 percent of the snaps he played in last season, a number that might sound like a lot, but it didn't lead the league. According to ESPN.com, there were at least five NFL tight ends who topped 67 percent with Ravens tight end Dennis Pitta leading the way at 74 percent.
Saints coach Sean Payton was one of several people who testified during the hearing that Graham should be labeled a tight end. Then there was former NFL head coach Butch Davis and Steelers receiver Lance Moore -- a former teammate of Graham's -- who both testified that Graham should be tagged as a wide receiver.
Once a decision is handed down, the losing side has the right to appeal. However, an appeal could slow down any potential long-term negotiations and the two sides won't have much time to negotiate as it is.
The Saints and Graham only have until July 15 to work out a long-term contract, otherwise Graham will have to play 2014 under the franchise-tag. 
Show Comments
Hide Comments
Our Latest Stories
The Redskins aren't fans of their 'Color Rush' look

If it's one thing the Browns need it's a franchise quarterback

Chicago's quarterback plan is an interesting one
Stewart turned 30 on Tuesday and is entering his 10th NFL season

San Diego will play in a Major League Soccer stadium next season

Plus, three teams move on quarterbacks in the top half of the first round in this latest m...