You can own Aaron Rodgers' draft day suit coat (if you have $3K)
The draft day suit coat worn by Packers quarterback Aaron Rodgers is up for auction. So far, the highest bid is $3,000.
• 1 min read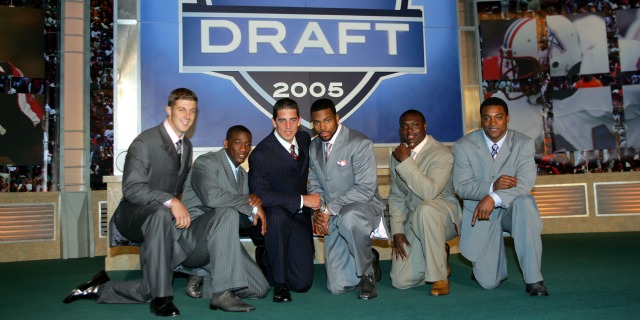 What would you do if you found the suit jacket that Aaron Rodgers wore on the night that he was drafted just sitting there innocently on the rack at a Goodwill? Well, obviously, you'd buy it. And assuming it didn't fit you, you'd probably auction it off.
Which is exactly what is happening over at Heritage Auctions. For now, the bid is $3,000 and the next minimum offer would be $3,250.
Here's the description for this latest find from Heritage:
"The story of how our consignor obtained the suit is amazing in its own right. During a trip to the Goodwill store on West Mason Street in Green Bay, he stumbled across the highly recognizable piece and took it off the rack for closer inspection. It looked to be approximately the proper size for an NFL quarterback and, sure enough, the interior pocket tag read: 'Aaron Rogers [sic] 4/18/05.' In addition, there is also a tag for Elevee Custom Clothing of Van Nuys, Calif., the company responsible for tailoring suits for Rodgers, Adrian Peterson, Larry Fitzgerald, Dwight Howard, Kevin Durant and many others. A terrific conversation piece that the winning bidder will possibly be able to sell back to Rodgers someday, as he will undoubtedly need another nice suit coat to accept a future MVP award as head man in Titletown."
A few questions: 1. Did Rodgers donate his suit to Goodwill? I guess that's the likeliest explanation, but it seems a little strange, doesn't it? 2. Do you really want to wear the suit coat that's tainted by the fact that Rodgers had to sit in the green room forever before the Packers mercifully called his name with the No. 24 pick? If there has been a failure of Rodgers' career, this just became the biggest symbol for it. 3. If you win it, do you wear it? Or, do you, like, frame it, like you might a jersey and hang it on your wall?
The bidding continues through Friday for those who are interested.
Show Comments
Hide Comments
Brad Kaaya looked smooth in passing drills in front of all 32 teams at Miami's pro day

That would result in the second-most touches in a single NFL season

The free agent notched two picks for the Rams last year, but his offseason isn't going wel...
So then, let's compare Bennett to Rob Gronkowski

The NFL approved the Raiders' move to Las Vegas on Monday

'I don't see anything happening at all,' Seahawks coach Pete Carroll said Wednesday