Super Bowl media day madness
NEW ORLEANS -- Over the years, Super Bowl media day has grown into an event of its own where fans actually buy tickets to watch players interact with media members. I can understand why fans would like to see me ask players questions. I mean, who wouldn't want to view all this awesomeness in person? But why they'd pay good money to barely see the faces of players is beyond me.
Outside of the players, the media members are also part of the show. They dress up in weird costumes, ask crazy questions and even challenge players to physical competitions. Each year there's something different, but it never disappoints. Here are some key moments from the circus that is media day:
- Question: What's your favorite Beyoncé song?
Randy Moss answers: "Uh oh, uh oh, when she's shaking her hips and her butt, I like that song. I like that." I bet you do, Randy.
- Randy Moss also likes Crustables.
- Reporter: If you could call anyone over in a game of red rover, who would it be?
Vernon Davis answers: After much confusion, "Beyoncé."
Queen B is really popular at Super Bowl XLVII, and you can watch her halftime show live right here on Sunday.

This guy challenging players to race to the 50-yard line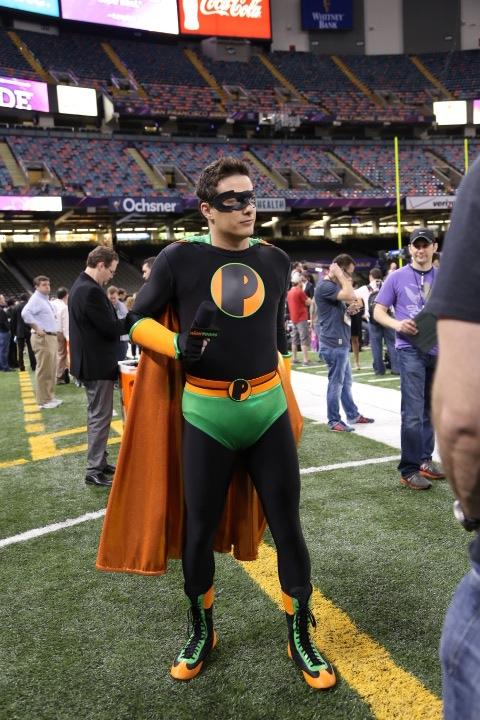 I mean, what can you say.
Question: What type of lunch box did you have as a kid?
Michael Crabtree answers: "A paper bag." (via @GreggDoyelCBS)
Question: If you had a Pegasus, what would you name it? Best answer:
Frank Gore answers: "Ask me a real question, man." (via @GreggDoyelCBS)
An actual raven (the bird) flew in to make a media-day appearance
Awww, they are bonding.
A preview of the Baltimore Ravens Super Bowl ring
Look at the detail on that bad boy.
This guy
Just call him King Media Day.
This guy
Dad?
Oh, and don't forget him
That's a clown question, bro.
No madness here. Just my two favorite guys, Adam Schein and Rich Gannon of NFL Monday QB.
Thanks for the smiles, media day.
Make your voice heard in the comment section below or on Twitter @NFLMondayQB . Also make sure to check out more photos on our Facebook and Instagram pages. You can also follow Adena Andrews on Twitter @adena_andrews.