Super Bowl XLVII through social media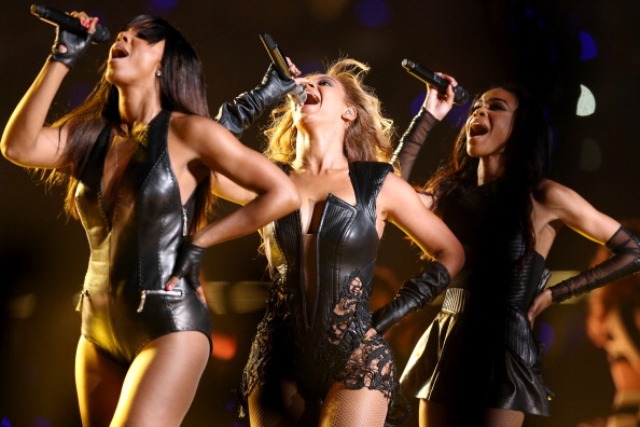 The Destiny's Child reunion in Super Bowl XLVII set Twitter ablaze with 257,000 tweets per minute. (Getty Images)
NEW ORLEANS -- Super Bowl XLVII set record numbers in the social media world with the most action at 257,000 tweets per minute when the ladies of Destiny's Child hit the stage accoring to the Twitter blog.
Jacoby Jones' catch for a touchdown was the only in-game moment to even come close to DC with 185,000 tweets per minute. A total of 22.1 million Tweets were about the game & halftime show and the most talked about players (in order) were Ray Lewis (@Raylewis), Joe Flacco (@teamflacco), Colin Kaepernick (@Kaepernick7) and Jacoby Jones.
According to our Facebook insights, chatter about the Ravens spiked at 10 pm with approximately 820,000 mentions while 49ers chatter fell dramtically like the confetti at the Mercedes-Benz Superdome.
If you were too busy bitting your nails during this close matchup and missed all the great fodder on the web, don't worry we got you covered. Here are some of the best tweets, photos and memes from Super Bowl XLVII.
Gridiron chatter
11 years in the NFL, and Ed Reed is out of his first Super Bowl already? Nah. Can't happen. Please come back.

— Gregg Doyel (@GreggDoyelCBS) February 3, 2013
When was the last time there were back-to-back Super Bowls with safeties?

— Will Brinson (@willbrinson) February 4, 2013
February 4, 2013
"@chedthetruth: He'll ascend into the heavens RT @cthagod What if Ray Lewis intercepts a pass and runs it back for a TD?" #Win

— Lower East Scribe (@LowerEastScribe) February 4, 2013
Was going to watch some TV. Anything good on right now?

— Don Cheadle (@IamDonCheadle) February 3, 2013
Bet the Harbaugh brothers' parents are stoked about hearing Jim's thoughts on the missed holding call at family dinners for a few decades.

— Emily Sutherland (@emilysutherland) February 4, 2013
Wow on the return to start 2nd half and Wow on the damn lights! Lets see if this changes the momentum

— Kobe Bryant (@kobebryant) February 4, 2013
Beyonce Bowl

So nice of Beyonce to let these two random fans come down from the stands and perform with her

— Sorry I'm Not Sorry (@SororityProblem) February 4, 2013

It's almost Beyonce o' Clock!!!!!

— MiMi Cartell (@MiMiCartell) February 4, 2013

Need to get me some boots like Beyonce's.

— mike freeman (@realfreemancbs) February 4, 2013

Super Blackout

Somewhere Bud Selig is laughing his ass off.

— mike freeman (@realfreemancbs) February 4, 2013

If you're looking for Jim Harbaugh, he's in the room with the circuit breakers

— Will Brinson (@willbrinson) February 4, 2013

No jumbotron - half of the light grid is out. Is Beyonce available for an encore? #SuperBowl #lightsout

— kevin corke (@kevincorke) February 4, 2013

Lights out!!! Any questions??

— Mr. Carter (@S_C_) February 4, 2013

What do you think was the best of social media during Super Bowl XLVII? Make your voice heard in the comment section below or on Twitter @NFLMondayQB . Also make sure to check out more Super BowlXLVII photos on our Facebook and Instagram pages. You can also follow Adena Andrews on Twitter @adena_andrews.