ATLANTA -- Trying not to get too excited about one game. Trying not to get too excited about the Atlanta Falcons' 45-28 rampage Sunday over Carolina.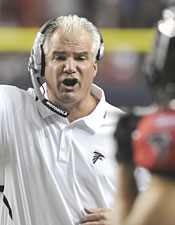 Trying.
Trying.
Failing.
And so what? So what if I am failing? If this column is premature congratulations, so be it. Name a franchise that could use some good press, even premature and overstated good press, more than the Atlanta Falcons.
Lions. Raiders. Chiefs. Bengals.
Right. All of them suck. All of them are stuck with a bad owner, bad general manager or bad coach. Or in the Bengals' case, all three.
But none of them had a dog-killing dirtbag for a franchise player, like the Falcons had with felonious quarterback Michael Vick. And none of them had a lying, sniveling, high-tailing coward of a coach like Bobby Petrino. Both in the same calendar year.
Last year, come to think of it.
So if I'm overly excited for the Atlanta Falcons, sue me. But this doesn't feel like overexcitement or a rush to judgment or anything I'll regret saying in the morning. The Falcons are going places, and not just next season. And listen, next season would have been plenty fast enough for a franchise that lost its offensive (and financial) centerpiece to prison and its rookie coach to fraudulence within a matter of months. After Vick was jailed and Petrino bailed, the Falcons were left with a 4-12 team going nowhere.
Only now, this team could be going to the playoffs. This season, even.
The Falcons are 7-4, but unfortunate to be stuck in one of the strongest divisions in the NFL. At 7-4, Atlanta would be outright leading two divisions (AFC West and NFC North), and would be tied for first in one more (the NFC West).
In the NFC South, the Falcons are in third place. But they're just one game behind co-leaders Carolina and Tampa Bay, and while Tampa Bay's veteran offense and playmaking defense are built to last, Carolina can't keep this up. Carolina is too much of a one-man team -- that one man is receiver Steve Smith -- to be 8-3. After their next two games, at Green Bay and against Tampa Bay, they'll be 8-5 and mired in a three-game losing streak and facing season-closing games on the road against the Giants and Saints.
So the opportunity is there for the Falcons to do the unthinkable, which is to say, make it into the 2008 playoffs. Whether they get there or not, their future is fine. They have a fresh new coach, Mike Smith, who seems like such an anomaly -- an actual likeable NFL coach -- and a fresh new general manager, Thomas Dimitroff, who helped build the Patriots and has already put his pretty fingerprints on the Falcons.
In his first draft, Dimitroff picked quarterback Matt Ryan, receiver Harry Douglas and middle linebacker Curtis Lofton. In his first free agency period, he signed running back Michael Turner and safety Erik Coleman.
Those were five of the biggest stars Sunday. Coleman and Lofton combined for 14 tackles to hold the Panthers in check for most of the game. Ryan threw for 259 yards, his 17-for-27 day marred by at least five drops. Turner ran for 117 yards and four touchdowns, including a 1-yard score in the fourth quarter when he ran over a defender on fourth down to make it 31-21. And Douglas? He scored on a 7-yard carry and 61-yard punt return, and he set up another TD with a 69-yard catch and (mostly) run.
"(Douglas) is just one of these young guys we drafted this past draft class," Smith said. "He's maturing like a lot of our guys beyond their years. That's a credit to Thomas (Dimitroff) and the personnel staff -- getting players that can come in and compete early."
Petrino couldn't leave fast enough -- frankly, I'm surprised the weasel lasted 13 games -- but Smith understands he's in a good spot. Smith knows defense, and in defensive end John Abraham he has a superstar to build around, and on offense the Falcons have a good, young foundation. The same can't be said of the division's co-leaders, Tampa Bay and Carolina, who have aging quarterbacks and suspect receiving corps.
Whereas the Bucs' Jeff Garcia is almost 39 and the Panthers' Jake Delhomme almost 34, Ryan only plays like he has been around for a decade. If this were Little League baseball, opponents would be checking his birth certificate, because Ryan can't be as young (23) as he says.
"That guy plays like a veteran," Panthers cornerback Chris Gamble said. "He hits his keys and he looks off real well. He's not a rookie as far as I'm concerned. I can't believe he is."
Believe it. And believe this: Ryan is on pace for 3,500 passing yards and only 10 interceptions, high-low benchmarks reached only once by Tom Brady and John Elway, twice by Joe Montana -- and never by Dan Marino or Brett Favre.
Comparing Ryan to those guys? Not really. Not yet.
But so what if I am?
These are the Falcons. They need, and even deserve, some (over) excitement. Don't forget the last quarterback they drafted in the first round. His name rhymed with, um, tick.