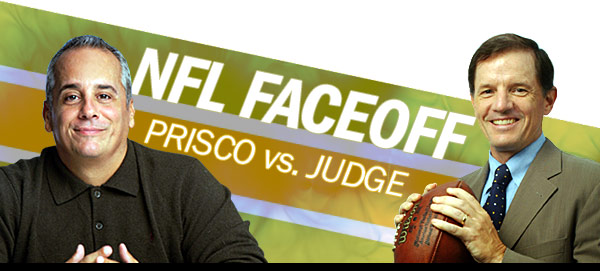 CBSSports.com pro football writers Pete Prisco and Clark Judge face off weekly throughout the season.
Should the Vikings sit Brett Favre?
PRISCO: Not yet. I know there are a lot of people pushing to bench him after Monday night's game. It's too soon. Yes, he isn't playing well. But if the Vikings begged him to come back the way they did, they shouldn't sit him down after four games. I will say this: If his struggles continue, he will have to sit down. The elbow could be an issue, but why wasn't he rubbing it after throwing a long touchdown pass to Randy Moss? He rubbed it when he wanted to for emphasis. It looked Drama Queen to me. If Favre can't throw, then it's time to sit him down. But I didn't see that against the Jets. Here's what happens: If the Vikings lose two or three more, I predict he will check out. He will say the elbow is bad and then sit down. If that happens, how the Vikings will feel about selling their soul for the 2010 season?
JUDGE: Absolutely not. They didn't acquire Randy Moss to play catch with Tarvaris Jackson, and they didn't fly three players to Mississippi to coax Favre to return so he could sit on the bench. Favre is the only option at quarterback, provided his right elbow holds up. If it's an issue -- if it's so painful it affects his throws and inhibits him -- then, yeah, I'd consider sitting him. But saying he should sit reminds me of critics calling for Donovan McNabb to step aside after the Eagles two years ago benched him for a half. McNabb was the only guy who could take them to the playoffs, so sitting him then in favor of an inexperienced quarterback made absolutely no sense. Neither does this. As one coach said, "Favre makes the Vikings a top three or four team; otherwise, they're somewhere in the 20s." I don't know about that, but you're paying the guy $16 million for a reason, and it's because he's the only quarterback who can take the Vikings deep into the playoffs. I don't care that Favre has been inaccurate this season. What I do care about is that he threw three touchdowns the other night and showed signs of emerging from his funk. You take your shots with your best weapons, and Brett Favre is not only the Vikings' best weapon at quarterback. He's their only weapon there.
What's wrong with Carson Palmer?
PRISCO: There are a couple of things. One is his arm. I don't think he's ever really recovered from the elbow injury he suffered in 2008. He said he has, but he didn't have surgery and there are some who speculate that he needed it. Palmer told me he didn't, but his passes don't have the same zip they once had. He also isn't seeing the field the way he did early in his career. His decision-making isn't as crisp. He also has a tendency to lock on to a receiver now. I still believe the push to make the run a factor in 2009 hurt Palmer. Maybe they were protecting him some. But this isn't the Palmer who had two 4,000-yard seasons earlier this decade. Something is wrong. If it's his arm, it could be a real problem. If it's his head, it's time to get it right.
| | |
| --- | --- |
| | |
| Palmer (US Presswire) | |
JUDGE:
I don't know if it's the injuries he absorbed over the years or what, but he looks like an ordinary quarterback who is getting worse, not better. He doesn't throw with the velocity or accuracy he once did, and you'd have a hard time convincing me his arm is OK. I thought the same thing watching him in last season's playoff loss to the New York Jets, wondering then why he couldn't rocket passes or squeeze balls into tight windows. Now, I just think he can't because he can't. He throws too many interceptions, not enough touchdown passes and he can't win -- with a 12-13 record since 2008. Once upon a time he completed nearly 68 percent of his passes. Now, he's down to 59 percent and ranked 22nd among passers. Teammate Terrell Owens earlier this year suggested the offensive line was to blame, but this isn't about the Bengals' offensive line. This is about Palmer and his inability to complete passes he once did. It's also about questionable decision-making, and that dove-tails with diminished arm strength. He thinks he can make the throws he did five years ago. Too late he discovers he can't. A year ago, you could say Palmer lacked the receivers necessary to produce gaudy statistics. Well, now he does, and nothing has changed.
Bigger surprise: Cowboys and Vikings at 1-3 or 3-1 Bucs?
PRISCO: I'll go with the Bucs at 3-1. Are you kidding me? When I saw them in training camp, I saw some young talent. But I figured they were a year or so away. I do think quarterback Josh Freeman has the tools to become a top-flight quarterback. But I thought it would take time. What has happened is the young players are stepping up sooner than expected. Rookie receiver Mike Williams is a future star, and he's played a big role so far. The young defensive players are making plays. You saw rookie Cody Grimm make a big pick-six last week. There is a lot of young talent, so there will be inconsistencies the rest of this season. Watch out in a year or so. All those empty seats in Tampa will be full. This is a team being built the right way -- through the draft.
JUDGE: This one's a photo finish, but I'm going with Tampa Bay. There is no way I envisioned the Bucs as anything other than a bottom feeder in the NFC. They shouldn't have beaten Cleveland, but they did. They shouldn't have beaten Cincinnati, but they did. I admit it: Despite their record, I still have trouble taking them seriously and don't envision the Bucs as anything more than an improved club that finishes at or below .500. Nevertheless, I never saw this start coming. They are young, they play in a division with two playoff-worthy clubs and their quarterback is unproven. Put those together, and the Bucs are defying the odds. Of course, I never saw the Cowboys or Vikings going to sleep on us either, but slow starts don't concern me. You saw what happened to San Diego last year ... and the year before that ... and the year before that ... Anyway, they always recovered. These guys can, too, though I confess I'm surprised they're in this position. And it will only get worse for one of them after the two meet this weekend.
What's the worst team out there?
PRISCO: I think that's an easy one. I'll go with Buffalo. Look at that team. What do they do well? Not a lot. They are 30th in total offense, 28th in total defense, 32nd in run defense. It has not been pretty. Teams have run all over the Bills, and Buffalo can't get the points on offense to keep up. Chan Gailey's team is undermanned, and it doesn't have a quarterback to help cure the ills. Ryan Fitzpatrick isn't the answer. He tries hard, but he doesn't have the tools needed to play the position. They won't go winless this season, but I will be shocked if this team wins more than two. They will have the first pick in the draft next April. The 49ers and Panthers have struggled, but the 49ers have been close and the Panthers pushed the Saints two weeks ago on the road. The Bills seem to be going in the wrong direction. Buffalo is the worst team. That's the easiest of these questions.
JUDGE: Carolina. The Panthers aren't just bad. They're unwatchable. At least Buffalo can score and act competitive. Carolina cannot. In fact, the Panthers are so dreadful that when an opposing quarterback completes just six passes and throws four interceptions they still lose by 17. Horrible. When they pulled quarterback Matt Moore three games into the season and replaced him with rookie Jimmy Clausen it was an admission then that they knew how bad they were and weren't going to waste time developing Clausen. OK, I'm all for that. Why wait on the future when you can start now? Only now there's talk that they might go back to Moore, which begs the question: Huh? I know Clausen stunk, but you drafted him to make him the starter. So do it while you can. The New York Giants stuck with Eli Manning his rookie year after he produced a 0.0 passer rating against Baltimore, and look where it got them. The Panthers are young and inexperienced, and that's a combination that can get you in trouble. It has here, with Carolina's next two games their best chances to break through. They play San Francisco and St. Louis, and if they fizzle there tell the 2008 Detroit Lions to move over. They may have company.