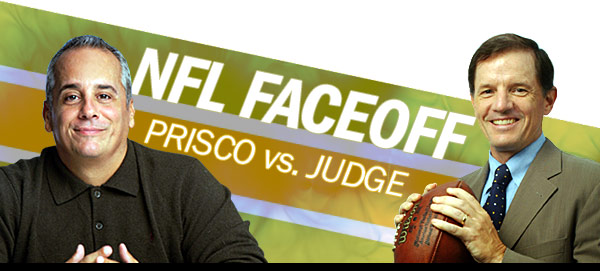 CBSSports.com pro football writers Pete Prisco and Clark Judge face off weekly throughout the season.
What is the best team in the NFC?
PRISCO: Is there one? I thought it was Atlanta before last week, so I'll stick with them. I'll call what happened in Philadelphia a road-trip mulligan. The Falcons have played four of their first six games on the road. That's just brutal. To be 4-2, they have to be thrilled with that. I think with the return of Michael Jenkins to the passing game, the offense should steadily improve. Matt Ryan has had his moments, but he's lacked consistency. They have some young defensive players who have emerged, but they take time to mesh with the others. The Falcons' best football is in front of them. They play their next two games at home against Cincinnati and Tampa Bay. I expect them to win both and get to 6-2 at the halfway point. That might be the best record in the NFC if that happens. So my pick is Atlanta.
JUDGE: Philadelphia, with New Orleans and the Giants right behind. Until last weekend, Atlanta was the consensus pick, but the Falcons just got torched by Philadelphia. That moves the Eagles to the front of the pack. Yeah, I know, they lost to Green Bay and Washington, but in both those games their starting quarterbacks bowed out by halftime with injuries. When they have one quarterback play four quarters they're 4-0. More than that, they have a legitimate running game, they commit few mistakes and their defense is producing the big plays that were missing a year ago. But I'd be careful not to overlook the Saints. They just destroyed a Tampa Bay team that was feeling pretty good about itself, and they did it in Tampa. Moreover, they will get running backs Reggie Bush and Pierre Thomas back, as well as safety Darren Sharper -- and don't minimize the importance of Sharper's return. If there's a shortcoming with this year's Saints it's the lack of takeaways, but that's Sharper's strength. And takeaways mean more possessions and shorter fields for an offense that is starting to gain strength. The Giants are the most balanced of these three, with Perry Fewell re-charging a defense that is back to terrorizing opponents. But there's something I don't trust about these guys, and maybe it's the turnovers. They commit way too many. Anyway, I want to see them conquer a desperate Dallas team next week before I send them to the front of the class.
What should the NFL do to reduce helmet-to-helmet hits?
PRISCO: Play without facemasks? Widen the field? Think about the first one. If there weren't facemasks on the helmets, would a player lead with his head? I doubt it. It might be a way to take away some of the nasty collisions. That would also mean that some faces might get cut up some, but isn't a cut on the head better than a concussion? It's a drastic idea, but one worth considering. Widening the field could be tough because of stadium construction. Fields fit snugly. But it could be done. I think the speed and size of the players has made the field too narrow. If it were widened, it could cut down on the hits. Add 4 or 6 yards to the width of the field and open up the game more. It will cut down on the hits. As for what they can do now, I'm not sure. As a football player, you are trained to hit anything that moves. Trying to change that mentality will be tough. If a defensive player hesitates, he might be the one getting hurt. I don't think fines and suspensions will change the way players play. It's in their nature to hit things that move, and the angles are sometimes the cause of the helmet-to-helmet shots, not the intent.
JUDGE: Suspend flagrant offenders a minimum of one to two games. Fining them -- no matter how much or how often -- doesn't seem to serve as a deterrent, so it's time to get tough. First, I'd eject them. A second offense would have them in the penalty box for at least one game, thus punishing not just the offender but the team that benefits from his hits, as well. Look, the NFL talks about how concerned it is about head injuries and concussions, right? Well, then, DO SOMETHING ABOUT IT! If you listened to former safety Rodney Harrison last weekend, it's clear he didn't consider fines severe penalties. So find out what players do. My guess? An expulsion, followed by a suspension, would get the job done -- or at least get you closer than where you are now. You send a message to players that you'll do whatever it takes to protect them from unnecessary head injuries, plus you send a message to fans that you care about putting the best product on the field. If the NFL is serious about expanding the season to 18 games -- and it is -- it better show us why it can work. Last weekend's demolition derby showed me why it can't ... not unless something is done now to clean up this mess.
Who should start at quarterback for the Eagles?
| | |
| --- | --- |
| | |
| Kevin Kolb (Getty Images) | |
PRISCO:
I'd go with
Kevin Kolb
. I think he's the long-term answer. He showed last week that he could get it done in the passing game. This is a passing league. Michael Vick has improved as a passer, but I don't think in the long term he is a good enough passer to win a Super Bowl. Kolb can be. He isn't there yet, but he made big strides last week against Atlanta. Kolb looked much more comfortable in the pocket. It looks like he will get the start this week at Tennessee. If he goes out and has a big game against that defense on the road, I think Andy Reid has a problem on his hands. If he struggles, Reid will go back to Vick after the bye week when he returns from a rib injury. If Kolb plays well, look for a full-blown controversy.
JUDGE: Michael Vick, but only when he's healthy. I suspect that will be after next weekend's bye, so make it Nov. 7 against Indianapolis. In the meantime, let's see Kevin Kolb another week, then make the decision. Look, I love what Kolb has done the past two games, and I believe he has the talent do be a starter in this league for years. But he's young, inexperienced and learning on the job. If you think you have a chance to be a playoff team now, and the Eagles do, then choose the quarterback you trust more. At this juncture, I trust the guy who took his team to a conference championship game and is playing the best football of his career over the quarterback with five starts to his resume. That's not a knock on Kolb. Philadelphia has two quality quarterbacks, where some teams have none. But if you have to choose one, I'm opting for Vick based on what I saw while he was on the field. Michael Vick didn't play his way out of the lineup. He got hurt. So when he's healthy he should return.
Are the Patriots truly better without Randy Moss?
PRISCO: I don't buy it. Did they do a nice job scheming things up against a good Baltimore defense last week? Sure, they did. But I don't think they can they do that every week to hide the speed deficiencies left by the trade of Randy Moss. This is a vertical passing league. You must get the ball down the field. They did little of that against Baltimore and got away with it. They did have two weeks to prepare for the Ravens, so that helped. We'll see how they do this week in San Diego. Tom Brady is great at finding open receivers, and he did a nice job on the shorter routes against the Ravens. But those won't always be available without deep speed. In summation, they did a nice job last week but don't count on it lasting. You don't just trade Randy Moss and think Deion Branch can do the same things. He can't. Moss not being in New England will be felt.
JUDGE: I can't speak for what happened in that locker room. If Moss was a disruptive force this season -- and I have no reason to believe he was -- then, yeah, the Patriots are better off. All I know is that after the first game of the season he was out there talking a little too publicly about a new contract and how disappointed he was with the Patriots. New England didn't need that, and neither did Moss. It was an unnecessary distraction that had the potential to divide the team and annoy the head coach. So the Pats dumped him, and I'm all for addition by subtraction. But as far as what it does to them on the field? Nope, they're not as good. Moss is a premier receiver who can beat you with one go route to the end zone. Deion Branch is not. Defenses constantly are aware of Moss, often double-teaming him to minimize his damage. They don't do that with Branch. Basically, Moss is a difference-maker; Branch is not. Branch will produce a lot of catches, maybe more than Moss, but he's not the stick of dynamite that Randy is -- on or off the field. That's good for the Pats in the locker room; not so good on Sunday afternoons.