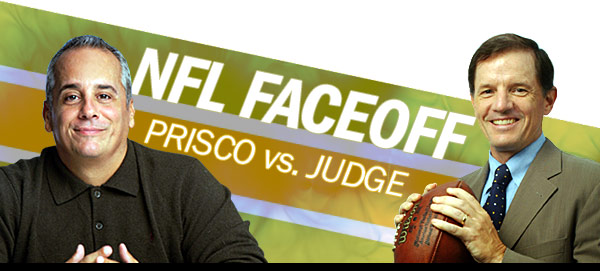 CBSSports.com pro football writers Pete Prisco and Clark Judge face off weekly throughout the season.
Are the Pittsburgh Steelers in trouble?
PRISCO: I'd have to say yes. The one thing you could always count on from the Steelers was physical play on both lines. They aren't getting that right now. The offensive line was without three projected starters against the Patriots -- two out for the season -- and it showed. The Patriots got after Ben Roethlisberger all night long. Even with his great ability to escape rushers, he can't handle the kind of pressure he saw Sunday night. Expect to see Roethlisberger blitzed a ton in the weeks ahead. It's hard to play with both starting tackles out for the season. The defensive line is without Aaron Smith for the season. He might be their most valuable player up front. They've played without him in the past, but it's a big hit. Brett Keisel also missed the Patriots game. The Steelers have line issues. And if your lines aren't good, which is especially true for a physical team like the Steelers, there will be problems ahead. So Steelers fans should be concerned.
JUDGE: Nope, I don't believe it, and here's why: Last time I checked they had most of their defense intact, and Dick LeBeau was the coordinator. As long as that doesn't change I don't worry about these guys. Until last weekend, they were one of the best teams -- if not THE best -- out there. So one game erases all that? I don't think so. The Steelers are a playoff team. The only question is: How deep do they go? They have injuries along the offensive line, and that's an issue. Plus, losing Hines Ward last weekend had an impact on the short and intermediate passing game. But so what? Everyone has injuries at this time of year. You move on. There's talk that upcoming opponents will use the Patriots' game as a blueprint to attack the Steelers, and duh. Of course, they will. But that's why these guys get paid the big bucks. Pittsburgh will fix the holes, made the adjustments and move forward. Plus, of their remaining opponents, four not only have losing records, they are a combined 7-28. Let's see, the Steelers are 6-3. Win those games, and they move to 10 victories. No, I don't worry about the Steelers.
If you're Michael Vick, do you re-sign with Philadelphia or go to the highest bidder?
PRISCO: My first choice would be to re-sign with the Eagles. But I wouldn't take a home-team discount. Yes, the Eagles did him right by signing him after his jail time. But there is no loyalty in football. If he didn't produce, the Eagles would let him go in a minute. So Vick has to do what's best for him. If that means looking for more money elsewhere, so be it. Remember, this is a man who lost his entire fortune. If I were Vick, I'd look for the best fit from a team that's willing to pay the most money. If the Eagles offer a deal that would bring him $45 million in guaranteed money and a team like the Raiders would offer $50 million, I'd stay for the $5 million difference. But if the Raiders were better by $15 million, that's a different story. You people hate to hear this, but it's a job for these players. They need to get whatever they can whenever they can. It doesn't last forever. Loyalty is a laughable thing in the NFL. Vick owes the Eagles nothing. So look out for No. 1 is what he should do.
| | |
| --- | --- |
| | |
| Michael Vick (AP) | |
JUDGE:
You re-sign with Philadelphia. He's in the right place at the right time in his career. So why screw up a good thing? I saw something similar happen to running back Ricky Watters in 1995 when, rather than re-sign with San Francisco, he took the money and ran to Philadelphia. Big mistake. Watters would've been a Hall of Fame back had he stuck with San Francisco, and the 49ers might have won one or two more Super Bowls. Instead, he got greedy. Vick shouldn't make the same mistake. This is not about owing the Eagles anything. This is about going somewhere where Michael Vick is comfortable, where his talents can be maximized and where he can win. Seems to me that sums up the Eagles. Stay where you are, Michael. You have a good thing going, and you'll understand just how good if you leave.
How much should we read into the Cowboys first game under Jason Garrett?
PRISCO: Considering the opponent, coupled with the venue, I'd say a lot. Throw in the score, and it's eye-opening. I think Garrett brought some much-needed discipline to the team. They weren't as rigid under Wade Phillips. Garrett changed that in his first week. It showed. The Cowboys played harder. They played faster. They played better. One game does not make a coaching career, so let's hold off on anointing him the next coach. But based on the first game, Garrett deserves to get a serious look the rest of the way. I know he wasn't great as the offensive coordinator this season, but he seemed much more comfortable in that role as the head coach. I liked what I saw last Sunday against the Giants. It will be interesting to see if it carries over against a lesser team like the Lions. That's a test for a team that hasn't always been disciplined (see Jaguars game). If the Cowboys handle that, who knows? Maybe Garrett should get the job. Jerry Jones might be facing a tough decision.
JUDGE: A lot. The team played with more urgency, more discipline and more success in six days under Garrett than it did in a season under Wade Phillips. Plus, it won. I'm not sure that's not more an indictment of the players than it is Phillips, but it doesn't matter. Garrett gained immediate results, and I assure you he gained the team's attention when he fined Marion Barber -- a team captain -- for not following the dress code on the flight east. Players were too comfortable under Phillips, and their performance against Green Bay was a disgrace. Someone had to get their attention, and it looks as if Garrett is that someone. No, I don't expect an upset every week, but I do expect a team that is competitive, disciplined and plays hard. That's what I saw in one week under Jason Garrett, and, yeah, that's significant.
Who wins the NFC West?
PRISCO: Can I say nobody? I mean it. I don't think there's a best team. They're all average to below average. But since I have to pick, I'll go with the 49ers. They do have talent on that team, and Troy Smith is adding life to an offense that needed it. I am not a big fan of coach Mike Singletary, but they might be able to overcome his shortcomings as a coach. They have a huge game this week against Tampa Bay. They can't afford to lose too many more -- if any. Seattle leads the division, but they don't excite me much. St. Louis would be my second choice, a close second, and still might win the division. But their schedule is tough the rest of the way, starting Sunday against Atlanta. I'd take Sam Bradford over any other quarterback in the division, which is why the Rams are intriguing. But the 49ers have more overall talent. So they are the pick because I can't just say it's nobody.
JUDGE: We have four candidates, so forget a coin toss. How about a quick game of rock, paper, scissors? None of these guys seems like a serious playoff threat, but someone has to win the division -- and that someone is Seattle. The Seahawks have done what they could not the past two years, namely, re-establish a home-field advantage at Qwest Field and win on the road. They beat Chicago in Chicago. They beat Arizona in Arizona. Something is right there, and that something is quarterback Matt Hasselbeck. As long as Pete Carroll and his coaching staff keep him upright, the Seahawks are the team to beat. Yes, San Francisco has more talent, but the 49ers' horrible start will be too much to overcome, even with Troy Smith settling in at quarterback. Four of Seattle's last six games are at home. Four of San Francisco's last six are on the road. Check, please.