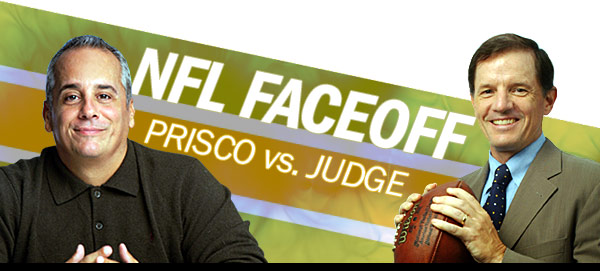 CBSSports.com pro football writers Pete Prisco and Clark Judge face off weekly throughout the season.
You a believer in Jay Cutler and the Bears yet?
PRISCO: I'm one of the few who actually has praised Cutler in the past. I know Clark Judge, my partner working here, doesn't like him as a player. I do. I think if he's protected, Cutler can sling the ball around. The problem comes when he's pressured. With the Bears struggling on the offensive line for much of this season, Cutler has had some problems. But as that line is improving, so is he. It helps that the Bears have run it the past two weeks. Cutler's season numbers aren't nearly as bad as some would think. He has 16 touchdown passes and 10 interceptions. He threw four touchdown passes last week against the Eagles. Cutler can be a pain to deal with sometimes, and he has terrible body language on the field and sometimes falls in love with his arm, but he is better than you think. The Chicago defense also helps him. If he does make mistakes, they can bail him out. Yes, I am a believer in both Cutler and the Bears. Are you, Clark?
JUDGE: No. Look, I'm coming around to the Bears, largely because of their defense. But Cutler? I've seen this before. He was 8-5 in 2008 and couldn't close the deal -- and that includes a loss to Buffalo at home that would've clinched the division. The guy flashes, then disappears, and he's flashing impressive numbers now. Big deal. I've seen it before. Then again, beating Philadelphia was a big deal. It proved that Chicago is legitimate, and that the Bears might, just might, be the team to beat in the NFC North. Me? I'll stick with Green Bay even though the Packers are one-dimensional on offense. Chicago has too many speed bumps ahead -- like the Patriots and the Jets at home and the Packers and Minnesota on the road. Those obstacles make me reluctant to make much of a commitment to the Bears or their quarterback. Both are in good shape now, but there are five weeks left. Plus, remember this: Cutler hasn't had a winning season anywhere since high school. Just telling it like it is.
Who keeps his job on a full-time basis, Jason Garrett or Leslie Frazier? Or both?
PRISCO: I say both. I think they both work in the situations they are in now. Garrett brings a discipline to a Dallas Cowboys team that needed it. He might be one of those coaches who is better running the whole show than just the offense. The Cowboys are 2-1 with Garrett as the coach and could be 3-0, if not for a final-second drive by the Saints last week. The Cowboys play with a lot more discipline now than they did under Wade Phillips. He put them in pads, which has helped the blocking and tackling. As for Frazier, I think he has the right temperament to take over. He reminds me of Tony Dungy, a man he worked for and leans on for advice. Frazier is a former player who commands respect. He's won a Super Bowl as a player. He knows what it takes. I think the way the Vikings played last week at Washington is a sign they like him. More than that, they respect him. So I say both should keep their jobs full time.
JUDGE: Garrett has the inside track, and for good reason: Dallas looks like a different team with him. So the Cowboys lost last week. I gained more respect for them in defeat than I did in their previous two victories, and here's why: Down 17-0 to New Orleans, they could've gone into a fetal position. But they didn't. Instead they fought back and came this close to pulling off a come-from-behind upset. That tells me these guys are playing hard for Garrett, and that's what I want to see. Based on three games, I'd say he returns. Frazier's a tougher read because his resume is one game. Nevertheless, the Vikings did what they had to in his opening audition, and let's see what happens the next five weeks. All I know is the division, controversy and underwhelming play that characterized Minnesota in previous weeks was gone with Frazier calling the shots, and that's a start. But let's give this one time. Frazier would be the popular pick, but only if he keeps his team playing as well and as hard as Garrett has the Cowboys.
Randy Moss -- Hall of Famer?
| | |
| --- | --- |
| | |
| Randy Moss (AP) | |
PRISCO:
Is he temperamental? The answer is a rock-solid yes to both. I don't care that he's loafed at times in his career -- which I find despicable by the way -- but the numbers insist he gets a bust in Canton. They overshadow anything else he's done to harm his career, including the loafing. Moss is eighth all-time in receptions with 952. He's fifth all-time in yards (14,827) receiving and he's second in touchdown catches with 153. His 76.5 yards receiving per game in his career is the fifth best ever, and is higher than Jerry Rice, the top man in all three other categories. Moss has six seasons of averaging over 80 yards receiving per game. Rice is tops in that category as well with nine. Rice played 303 games to 197 for Moss. In those games, Moss averages 4.8 catches per game, while Rice averaged 5.1. Their numbers are close. Do the off-the-field issues taint him some? You bet. But it would be foolish to think he shouldn't be in the Hall someday. It's not the Teammate Hall of Fame. He wouldn't go into that one. But as far as the Hall goes, he's a slam-dunk.
JUDGE: No, and I'll use the same argument here that I made with the suggestion of Terrell Owens for Canton: At the height of his career, teams couldn't wait to get rid of the guy. Check, please. Look, I agree that Moss is talented, can be a difference maker and spent the bulk of his career putting up big numbers. But the Hall of Fame is not about numbers. If it were, Wes Welker would be a slam-dunk choice. Welker's a nice, reliable, productive player I'd love to have on my team, but he's not a Hall of Famer. Neither is Moss. This is a guy who once said, "I play when I want to play," and if you think that's someone on a Hall of Fame path, then let me sell you on JaMarcus Russell as a quarterback. Moss was a terrific pass catcher but a disruptive influence whom Minnesota shed at the top of his career. The Raiders couldn't stand him for more than two years; the Patriots three; the Vikings one ... uh, month. Now he's doing nothing for Tennessee, and tell me how you make a presentation for someone teams didn't want. You don't. Yeah, Randy Moss had big numbers, but if he was so much better than everyone else why didn't anyone want to keep him?
Can the Colts rebound to make the playoffs, then do something once they are there?
PRISCO: They can rebound, but it won't be easy. They have issues. Peyton Manning has helped cover up a lot of warts the past decade. But even he might not be able to do that now. The Colts offensive line is getting whipped. When pressure comes inside, Manning has problems. The Chargers showed that last week. He also doesn't have Dallas Clark as a security blanket in the passing game or Joseph Addai to catch the ball out of the backfield when the pressure does come. The defense has some injury problems as well. Will Bob Sanders ever play? And the Colts certainly aren't the same defense when the offense isn't scoring. I do think they will still find a way to win the division since the schedule is in their favor, but unless they get some important bodies back in the postseason they could be a one-and-done team.
JUDGE: Sure. First of all, they're still the favorite in a weak AFC South because they have one of the two best quarterbacks in the game. Yeah, I know, it's been a tough two weeks for Peyton Manning, but get real: He can't continue to carry this team by himself. The Colts will get players healthy, and the more players they have the better their chances of winning the division and going deep into the playoffs. I remember in 2006 when they were awful vs. the run, then suddenly Bob Sanders reappeared for the stretch drive and ... voila! ... they win a Super Bowl. Having Sanders made a huge difference in their defense and helped launch them to a championship. Now, they need him back. And Joseph Addai. And Gary Brackett. And Austin Collie. I think you get the idea. The only threat to Indy in the division is Jacksonville, but I don't see the Jags making a run at anything. Nope, the Colts win again, and how far they go in the playoffs depends on how healthy they become.