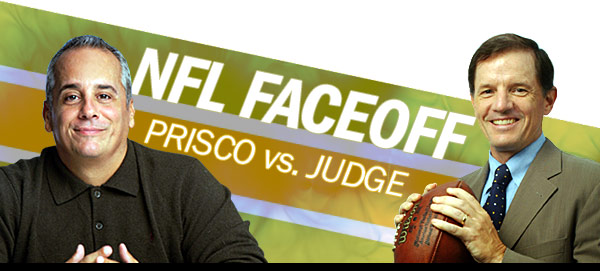 CBSSports.com pro football writers Pete Prisco and Clark Judge face off weekly throughout the season.
Do you favor re-seeding the playoffs based on records?
PRISCO: The more I think about it, the more I do. I wasn't sure in years past, but it makes sense. Why should a 7-9 team from the NFC West -- if that happens -- have a home game in the first round when a 12-4 team from the NFC South might not? That's just dumb. I'm all for the divisions deciding the teams that get in, but after the teams are decided it would make a lot of sense to re-seed the teams. Will it be fair if the New Orleans Saints finish 12-4, earn a wild-card berth, and then have to go to St. Louis to play a 7-9 Rams team that won that division? Didn't the Saints just beat the Rams this past Sunday? Blew them out, in fact. That would be absurd for them to face them on the road in a playoff game. I know it's a cyclical thing as far as what divisions are good and bad, but re-seeding them would ensure we would never have a scenario like the one we're about to have this season. Do the Rams or Seahawks deserve a home playoff game? I don't think so either. Please, let's start re-seeding playoff teams.
JUDGE: No. There should be a reward for winning a division, and the reward is at least one playoff game at home. I don't care what your record is. Winning a division should mean something, and it does. Yeah, OK, so the NFC West stinks, and the winner may be no better than 8-8 and could be 7-9. I don't care. It happens. San Diego was 8-8 in 2008, and nobody seemed to mind when it reached the playoffs -- nobody, that is, but the Colts, whom the Bolts closed out in the playoff opener. Anyway, I like the idea of a division championship meaning something, and it does the way the system is set up now. So keep it.
The Giants or Eagles?
PRISCO: I'll take the Giants. I think they win this Sunday at home. That will give them a one-game lead with two to go. They have a tough game at Green Bay and then close at Washington after that, so it's not an easy road. The Eagles play home to the Vikings and home against Dallas. The schedule favors the Eagles, but I think the Giants might run the table. The way they are running the football and attacking the quarterback is a good formula for the close of the season on into the playoffs. I think their defensive front will get after Mike Vick this week. They do have to be careful next week at Green Bay, but they've won there before under Tom Coughlin in an important game (see 2007 NFC title game). The thing here is that the loser of the division might not make the playoffs. That's why Sunday's game is so important. It should be a good one, but I'll take the Giants and they will go on to win the division.
JUDGE: The Giants, and I'll tell you why: I trust their defense, and I trust their running game. Plus, they're home. I know Philadelphia has Michael Vick, but when the Giants faced him last month they kept him from breaking loose by walling off all escape routes to his left. So there's a blueprint to follow. Plus, there's this: The Eagles just lost defensive end Brandon Graham and middle linebacker Stewart Bradley, and that's huge. Graham is out for the season. Bradley may not be, though coach Andy Reid conceded he'll be sidelined "for a couple of weeks and maybe more." I remember Philadelphia without Bradley last season, and the Eagles spent all season looking for a suitable replacement. They never succeeded. Now they take on the Giants without Bradley, without Graham and maybe without cornerback Asante Samuel? That's enough for me. Advantage, Giants.
Do the Jets make the playoffs?
| | |
| --- | --- |
| | |
| Mark Sanchez (AP) | |
PRISCO:
I say yes. I think they will win one of the next three, which should be good enough to make it. It's not a given though. The schedule is tough. They play at Pittsburgh this week, then at Chicago and close with the Bills. I think they lose this week to the Steelers, but they might beat the Bears and should beat the Bills. Is it possible they lose all three? It is, but not likely. The offense, however, has to be better. It has not scored a touchdown in the past eight quarters. That doesn't give the Jets the playoff look. The swagger they had earlier seems to be gone. The defensive pressure isn't as good as it was early in the season. If they get blown out in Pittsburgh, can you imagine the uproar in New York? Mark Sanchez has to play like he did in the 2009 playoffs, which is to take care of the football. If he doesn't, the Jets might be staying home this season. Remember they did get hot late last season, so it's possible that can happen again. I say they make it.
JUDGE: Yes. They're reeling right now -- on and off the field -- and that happens when you declare yourselves kings of the world, then wake up to find out that world doesn't extend beyond Morris County, N.J. But this team is resilient, pulling itself up off the mat a year ago to reach the playoffs and make it to the conference championship game. Of course, that was then and this is now, and now nobody mails games in as Indianapolis and Cincinnati did down the stretch in 2009. Nevertheless, I say the Jets win one of their next two road games -- probably the Dec. 26 date in Chicago -- before returning home to close out Buffalo. But to make it, they must get that "Ground and Pound" attack going again, relying less on Mark Sanchez and more on the league's sixth-ranked running game and third-ranked defense. Do that, and Fireman Ed should be happy.
Is it time to play Tim Tebow?
PRISCO: I would. It's not that Kyle Orton has been the problem, although he was horrible last week against Arizona. But why not take a look at Tebow in a starting role? He's done some things in the gimmick offensive stuff the Broncos have put in for him, but that's not playing quarterback. They need to give him a chance to show what he can do when he starts a game and handles the full week of preparation of being a starter. Some will say it's dangerous to mess with a rookie's psyche by starting him, risking his playing poorly. Tebow seems to have such a strong belief in what he can do that it shouldn't be the problem. I get it that interim coach Eric Studesville would be getting him ready for another coach, but if I'm Pat Bowlen, the Denver owner, I get word down that it's time to see Tebow under center. You know what you have in Orton, a decent player but not a guy who has that Super look as a quarterback. Tebow might, although I don't think so. But it's time to find out.
JUDGE: Yes. When the Broncos made him a first-round draft choice they must have thought he could be a starter some day. So make that day now. I mean, what does Denver have to lose other than another game? I can't imagine the Broncos spent a first-round pick on someone they envisioned to be a part-time something, so put Tebow in the lineup and get an early read on the guy for next season. He either can play or he can't, and having him step on the field each weekend for a handful of snaps is not how you find out. So start him, let him take his lumps, and you accomplish two things: 1) You discover if he has what it takes to quarterback at this level, and 2) you give Broncos' fans a reason to go to the next game. Sounds like a no-brainer to me.