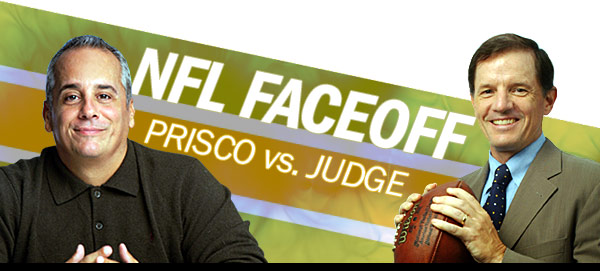 CBSSports.com pro football writers Pete Prisco and Clark Judge face off weekly throughout the season.
Is Tom Coughlin in trouble in New York and should he be?
PRISCO: I say no and no. Coughlin is too good a coach to fire if he doesn't make the playoffs this season. I still think the Giants will make it anyway, but this knee-jerk reaction to get rid of him is amazing. Just because his staff -- and ultimately him -- made some bad decisions against the Eagles doesn't mean he needs to go. He won a Super Bowl in New York. Doesn't that get him some leeway? For some reason, Coughlin is always getting ripped, and the media and the fans always want to run him out of town. Bill Cowher is coming, they all say. I'm not sure Cowher is a better coach than Coughlin. In fact, I don't think he is. Coughlin never has received the due he deserves as a coach. He's been to three conference championship games and he has the same number of rings Cowher does. So let's hold off on this fire-Coughlin talk. It's really dumb.
JUDGE: Maybe and yes. Look, the guy is a solid coach. He knows how to win. He knows how to get the most out of his players. Plus, he has a Super Bowl ring. But he was on notice this season to return to the playoffs, and anything short probably won't cut it. This has nothing to do with Sunday's meltdown, though his chances of returning would be virtually guaranteed had he won that game. Nope, this has to do with making the playoffs, pure and simple. When team president John Mara fumed after last season's finale, saying "the status quo is unacceptable," he basically demanded that changes be made. So one was: Coughlin fired his defensive coordinator. That put Coughlin on probation and moved him to next on the chopping block, both of which he understands. He's done a credible job with this year's team, and it still could make the playoffs. For Coughlin's sake, it better.
Where does Bill Cowher coach next season?
PRISCO: I say Houston. I do think there is a chance Miami could come knocking if Tony Sparano is fired, but I think Houston makes more sense for Cowher. They have a better quarterback situation. Matt Schaub is a good one. Texans owner Bob McNair is considered one of the best to work for as well. I could see Cowher sticking his nose in at Houston if Gary Kubiak is fired, which appears likely. As for Miami, owner Stephen Ross loves making a splash. And with the Heat getting so much attention in the South Florida market, Cowher could make sense. But I think Houston is a better fit for Cowher. So my guess is the Texans.
JUDGE: Somewhere he will be left alone. That means somewhere he and the team's GM get along and somewhere the team owner does not meddle. Look, Cowher's only experience was in Pittsburgh where the Rooneys stay out of the picture and where GM Kevin Colbert operates quietly and effectively behind the scenes. There is no power struggle because the Steelers won't allow it. They're simply not set up that way. So that scratches Dallas off the list. I'd eliminate Minnesota, too, and I reference the head coach/owner spat over Randy Moss. Cincinnati? Nope. Carolina seems to be off the radar, too, even though Cowher lives in the state. I could see Houston because Bob McNair stays out of everyone's way. I could see the Giants, too, for the same reason. Ownership is content to go along for the ride, not drive the bus. But I don't know that either of those situations opens. Miami? Maybe. But I don't know what happens there -- at any level. All I know is that Cowher will have numerous options. If and when he returns he chooses a job where management stays out of his way.
Should the Vikings be fined for making the injury report a sham by listing Brett Favre as out and then he plays?
PRISCO: I say yes. What's the point of having that report if teams aren't going to adhere to it? If a player is listed out, and then plays, that tells me there was fudging on the report. You're either out or in. If there was any chance Favre plays, then he should have been listed as doubtful. Not out. That was glossed over Monday night during the fawning over Favre's toughness for playing. I had a hard time watching the game through all the drool. Are you kidding me? I mean he looked like a broken-down old man, which is probably why he was listed as out. Once he was out, he should have stayed out. Why did the Vikings let him play? It was clear he couldn't throw the ball more than 10 yards without severe pain. The injury report is there for the integrity of the game. The Vikings skirted the rules, which means they hurt the integrity of the game, whether they planned it that way or not. So, yes, they should be fined.
JUDGE: Yes. He wasn't "questionable." He wasn't "doubtful." He was characterized as "out," which doesn't mean he doesn't start. It means HE DOES NOT PLAY!!! If there were any questions about his availability the Vikings should have hedged. But they didn't. They told us he wouldn't play, then changed their minds Monday. I don't doubt that Favre was being honest when he told the Monday Night Football crew he was "done." I don't doubt that he felt better on Monday, either, and wanted to give it one last shot for a national TV audience. But that doesn't make this OK. This cuts to the integrity of the game. Opponents prepare for whom they play, not who might show up at the last minute -- one reason the injury list was devised. It also cuts straight to what makes pro football so popular -- namely, betting. Odds are set and money put down based on who will play, too. I know Favre recovers faster than almost anyone out there, but this is about precedent, and the league better not let Minnesota skate on this. Otherwise, the floodgates are open.
Which defense on a top team should have more worries after last week, Philadelphia or New England?
PRISCO: I'll say the Patriots. They do have a lot of young players on that defense, so there will be some ups and downs. But what they showed against the Packers and backup quarterback Matt Flynn wasn't pretty. The Packers had too much success. The young players on that New England unit continue to improve, but until they play with consistency there will be doubts. I know there were injuries last week, but they've always been a team that overcomes them. I'd rather play with backups on defense than a backup at quarterback like the Packers did. Flynn did some good things against the Patriots defense. The Patriots are 30th in pass defense and 28th in total defense. Those numbers are alarming for a team that has such a good record. Part of that is because New England is tops in turnover margin at plus-20 with 29 takeaways. That has helped cover up some of the defensive issues. New England needs to play better on defense in the playoffs.
JUDGE: Philadelphia. It lost three starters the past two weeks, including middle linebacker Stewart Bradley, and, yeah, I know that replacement Jamar Chaney had another big game, leading the Eagles in tackles for the second straight week. But I also know what happened to the Eagles last season without Bradley, and it wasn't good. The team assures us he could return for the playoffs, and it can only hope. Because it just lost two key members (safety Nate Allen is the other) up the middle, and that's always a problem. Not to diminish the significance of what happened in New England, but, in the words of coach Denny Green, the Patriots are who we thought they were: A young, inexperienced defense that, frankly, isn't all that accomplished. The Eagles have injury issues, and injured players force inexperienced ones into the starting lineup -- which might be OK if this were Week Three. But it's not.