Faceoff: No D in Jets? Top exec? AFC, NFC fields? Rendell?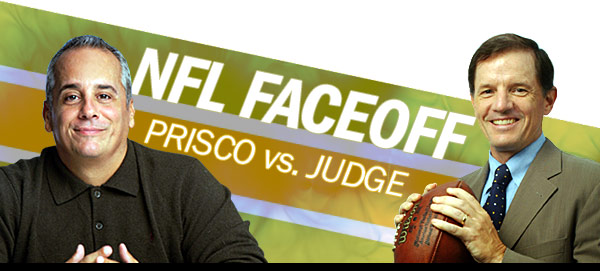 CBSSports.com pro football writers Pete Prisco and Clark Judge face off weekly throughout the season.
What's wrong with the Jets defense?
PRISCO: That's easy. It's the outside pass rushers. When you play a 3-4 scheme, you need to have edge rushers who can create major problems. They don't. The three primary outside linebackers have combined for 14½ sacks. That's not good enough. When you look at most good 3-4 schemes, the outside rushers are a big reason they have success. The leading sacker on the Jets is Bryan Thomas, one of the outside 'backers, but he has just six sacks. If the Jets don't blitz they don't get enough pressure. That leaves the back end vulnerable. The Jets have good cover corners in Darrelle Revis and Antonio Cromartie, but when you are asked to play man coverage as much as they do they need to get help from the sack players. If the outside 'backers do not get more pressure in the playoffs, the Jets will continue to give up big plays as they did against the Bears on Sunday.
JUDGE: It can't get to the quarterback. A year ago the Jets were effective with their blitzes, hurling defensive backs at quarterbacks from all directions. This season they're not, and I don't know if the loss of Jim Leonhard figures in there or not. What I do know is that opponents seem to have the Jets figured out, with two of their past four opponents scoring 38 or more on them. Rewind the videotape to last Sunday's game, and you find quarterback Jay Cutler sacked twice -- and on one of them he had at least five seconds to survey the field before he was tackled. I don't care how good your defensive backs are, they can't hold their coverage that long. In essence, the Jets have lost the swagger that made their defense so effective last season. If they can't frazzle the quarterback with innovative blitz packages and defensive backs coming out of nowhere, they're in trouble. When I saw what Minnesota did to the Eagles and Michael Vick with blitzing defensive backs I immediately thought of the Jets and wondered why that doesn't happen. A year ago it did. Not anymore. And that's a problem.
Who's the executive of the year?
PRISCO: My choice is Kansas City Chiefs general manager Scott Pioli. He has taken a team that was in the cellar last season and has it in the playoffs. He has made some sharp moves. He signed guard Ryan Lilja and center Casey Wiegmann, who have played well for the Chiefs line. He also drafted safety Eric Berry to get a quality player in the back end. Rookie Kendrick Lewis, a fifth-round pick, is starting next to him. The Chiefs also added speed in return men Javier Arenas and Dexter McCluster. Arenas also plays on defense while McCluster contributes on offense. Rookie Tony Moeaki is also starting at tight end. But Pioli gets this award for not only trading to get Matt Cassel last season but also giving him a long-term deal. That was rolling the dice then. But Cassel has paid off in a big way. The Chiefs were 4-12 last season. Now they're in the playoffs. That's good enough for me.
| | |
| --- | --- |
| | |
| Chiefs GM Scott Pioli (Getty Images) | |
JUDGE:
It has to be Kansas City's Scott Pioli for resurrecting the Chiefs, though let's be fair: He had an assist from the previous regime. Many of the team's top young players were drafted during the final years of Carl Peterson's administration -- guys like Dwayne Bowe, Branden Albert, Brandon Flowers, Derrick Johnson, Glenn Dorsey, Jamaal Charles and Tamba Hali. But Pioli coupled that group with the right mix of veterans and the right quarterback. More than anything, his strongest move was solving the most important position. He had a conviction with Matt Cassel when others did not and he was smart to acquire him and smarter to lock him down to a long-term contract. Look at the Chiefs vs. San Diego when they didn't have Cassel, then look at them last week when they did and tell me he's not a difference maker. But let's not stop there. Pioli hired the right coach in Todd Haley, left him alone then helped him with a marvelous draft this spring. Once, people wondered if Scott Pioli could survive without Bill Belichick as his head coach. I think you have your answer.
What playoff field will be deeper: AFC or NFC?
PRISCO: I'll go with the AFC. It starts at the top. I'll take New England and Pittsburgh over Atlanta and Chicago in the 1-2 spots. So the AFC is top heavy. But it also has the depth. The bottom two teams are the Ravens and Jets. Those two are better than the bottom two in the NFC. Then there's the winner of the NFC West dragging the playoff pool down. If it's the Seahawks, they would be the first team in with a losing record. The Rams would get in with a .500 record. That drags the field down. So my pick is the AFC as far as lining them up from top to bottom.
JUDGE: The AFC, and here's why: It has the best team in the business, and the NFC has the West division winner. I don't care if it's St. Louis or Seattle; it's a dead team walking in the playoffs. I see the AFC as a six-team field, with New England, Baltimore and Pittsburgh the most likely to win it all. The NFC might be more balanced, but parity doesn't necessarily mean a deeper field. It just means that it's more wide open. Plus, this is a five-, not six-team race. New Orleans could be the best one out there, but the Saints almost surely make it as a wild card. Philadelphia just got smoked by Minnesota. Atlanta just lost at home to the Saints. And I'm not sure what to make of Chicago. The Bears have a first-round bye, but they're 5-3 in Chicago, 6-1 on the road. Plus, their quarterback has never been to a playoff game. If the Packers make it, they're dangerous, but they're one dimensional -- and Aaron Rodgers hasn't won a playoff game. The NFC might be deeper through the middle of its field, but there's no playoff team better than New England and no playoff team worse than the NFC West winner. Plus, the AFC has quarterbacks with five Super Bowl rings (six if Peyton Manning makes it). Check, please.
Should the NFL have delayed Sunday's Eagles-Vikings game?
PRISCO: No question the league made the right move. I do believe the game could have been played without any problems. Snow isn't that big a deal. It might have actually been fun. But the problem would have been people arriving at and leaving the stadium. What if just one person was killed in an accident caused by the snow? Would that have been worth it to play the game? Not a chance. The decision to delay it two days was the right one. Pennsylvania Gov. Ed Rendell was way off base with his comments about the decision to not play the game. What's the big deal about postponing it for two days?
JUDGE: Yes, though I find myself trying to subdue my innermost Ed Rendell. I covered the 1987 season finale between San Diego and Denver when a blizzard blew through Mile High Stadium, yet nobody complained, nobody tried to call off the contest and nobody suffered for it. I guess the difference is that in 20 years we learned from experience and, yes, litigation. The NFL acted because the city of Philadelphia was shut down, and if the mayor wants people off the streets there's a good chance they probably shouldn't be going to the game, either. And those who would? Well, they would've been at risk of something ... with lawsuits the first thing that comes to mind. Anyway, the NFL wasn't protecting its players; it was protecting its audience, and I have no problem with that. What I do wonder about, though, is the precedent this establishes and who makes the call ... and on what basis ... in future storms. If, for example, the 2014 Super Bowl in New Jersey were affected by similar conditions, do you honestly think the NFL would postpone it? I think you know the answer.