Whipping Minnesota Vikings defensive end Jared Allen in a game is tough to do.
Jacksonville Jaguars left tackle Eugene Monroe not only whipped him last Sunday, but he abused him, tossing Allen around as if he were a junior high kid trying to make his way to the varsity.
It's hard to believe after watching the tape that Allen was the same relentless player who led the NFL in sacks last season.
It was as dominant a performance you will see from a tackle this year against a top-level player like Allen.
Monroe opened the game by driving Allen four yards out of the play on a run and never let up. He pushed him around in the run game, limited him to little pressure and may have earned himself the notoriety he deserved in 2011.
Since coming into the league in 2009 as a first-round pick, Monroe has been highly scrutinized. He struggled early, had some injuries, and there was some who questioned his toughness.
Pop in the All-22 from the Vikings-Jaguars game and they can't possibly do that anymore.
Monroe got off to a slow start in 2011, in large part because his weight was down to 280 or so after a stringent offseason workout program. The coaching staff asked him to put the weight back on and he played at a high level afterward for much of the season, without much recognition.
That's about to change.
Allen was dominated. He didn't even show up in the final stats. Not a tackle. Not an assist. Nothing. Among the Monroe highlights:
• On a first-down run late in the first quarter, he drove Allen three yards inside to create a lane for Maurice Jones-Drew to pick up 11 yards on the left side, right where Allen was moved.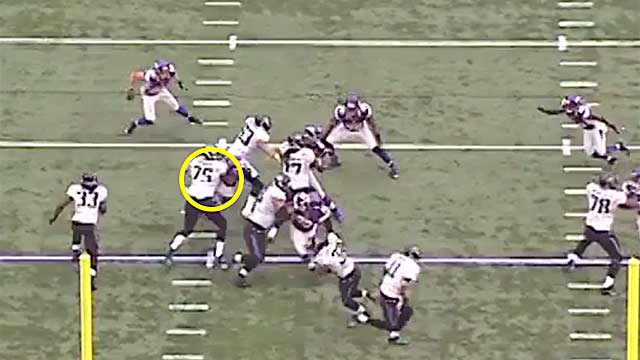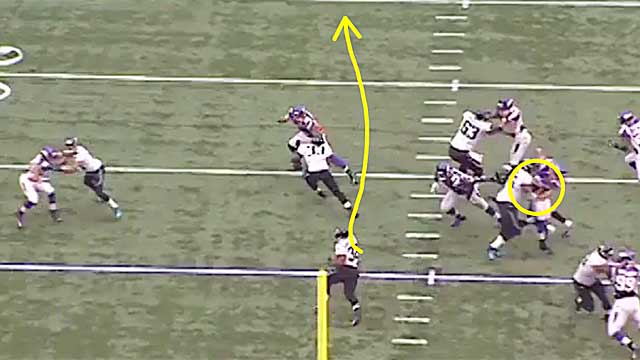 • On a first-down run midway through the second quarter, Monroe got underneath Allen, moved him out of the hole, threw him to the ground, and allowed Rashad Jennings to gain nine yards.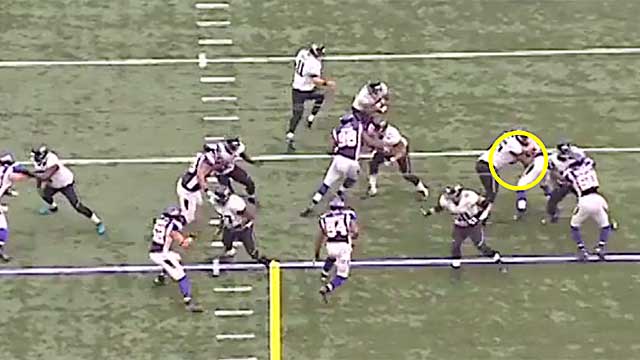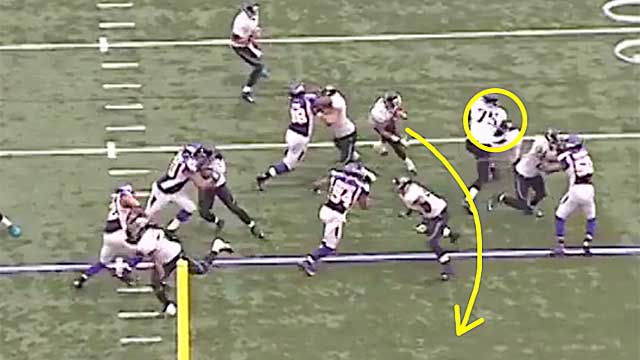 This is a Rashad Jennings run where he mauls Allen.
• On the very next play, Monroe got to the second level, got a good block on linebacker Jasper Brinkley and allowed Jones-Drew to pick up 11 yards. That showed Monroe's athletic ability.
• On one third-quarter drive, Allen appeared to start trying to take a circular route to get to Jaguars quarterback Blaine Gabbert. All Monroe did was use Allen's momentum to keep him off the quarterback, driving him past where Gabbert was standing.
• On a play during the Jaguars final drive, Allen started to try and spin inside on Monroe, but he was stoned and just stopped, almost frustrated.
• Late in the game, Monroe actually just tossed Allen to the ground.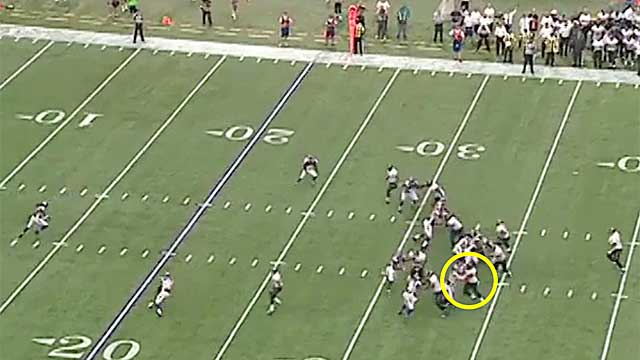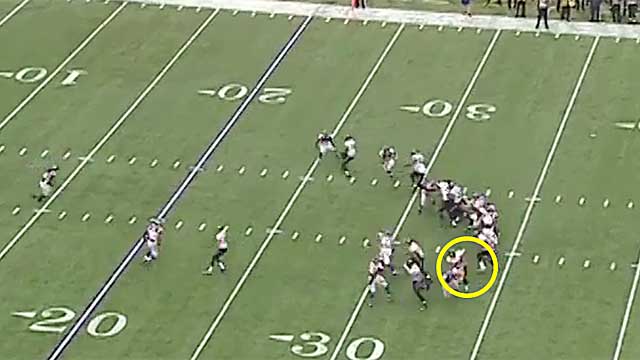 There were a few times where the Jaguars used a back or a tight end to chip on Allen, but most of the game it was Monroe vs. Allen.
And the winner by TKO was clearly Eugene Monroe.
Film Study
10 things I saw on tape
1. How does a short pass turn into a 71-yard touchdown pass? A bad play by a safety that seems immune to criticism. That guy? Troy Polamalu.
That's what happened Sunday night when Demaryius Thomas took a quick toss from Peyton Manning and turned it into a 71-yard catch-and-run for a score. On the play, Thomas was lined up wide left with Ike Taylor playing off and Polamalu lined six yards off Jacob Tamme in the slot. At the snap, Manning play-faked to Willis McGahee, forcing Polamalu to take a false step forward. Manning then fired the pass to Thomas, with Tamme blocking Taylor. Tackle Ryan Clady got out on the quick screen to block Polamalu. He didn't get a great block, but Polamalu went underneath the block, creating a lane for Thomas to run. As one NFL safety told me this week, "You can't go under the block there."
It was a classic example of Polamalu trying to make the big play, rather than the wise play, and it cost him. But that's what you get with him. He made some nice plays in the run game near the line of scrimmage -- where he is more like a linebacker -- but I still think he has coverage issues. There was a play earlier in the game where he gambled on an out, and the tight end was wide open in the middle of the field, but Manning had immediate pressure and couldn't get the ball to the tight end. If Polamalu isn't near the line of scrimmage I just don't think he's as good as his reputation.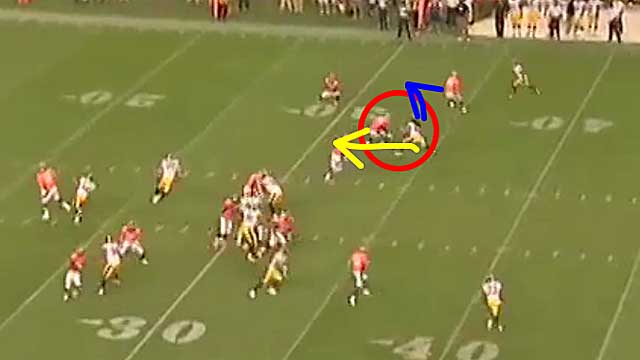 That is Polamalu in the circle. The blue line indicates how he should have gone over the block of Ryan Clady, while the yellow shows him going under to create the lane.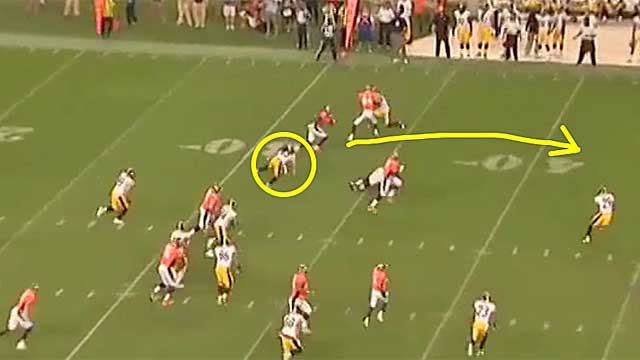 This shows Polamalu going under the block and helping to free Thomas for the easy score.
2. Bills defensive end Mario Williams complained about Jets tackle Austin Howard getting his hands up in his face several times without calls being made, and there were a couple of times where that happened. But Williams, who got a $100-million contract as a free agent, was pretty much handled by Howard, most of the time in one-on-one situations. There was actually one play where it looked like Williams got his hands up in Howard's face. Howard moved him in the run game and protected Mark Sanchez. The Bills certainly didn't get much bang for their buck in this one -- and it has to sting coming against an undrafted rookie who was cut once before.
3. One of the things we are seeing more and more of in the NFL is when a team is in man-under, two-deep zone, quarterbacks are checking off to the quick screens -- or smoke screens -- to the wide receivers. It makes for an easy completion and with the safeties off, it takes usually one block on the outside corners to free the receiver for a potential big play. The Falcons got a touchdown like that against Kansas City last week. With the Chiefs in two-deep, man-under and showing blitz, Julio Jones was lined up wide on the left side of the formation inside slot receiver Harry Douglas. Both had corners lined up in press coverage. Matt Ryan checked to the play, and Jones ran hard before stopping his route and coming back to the line. Ryan stood up, and threw him a quick pass. Douglas got a block on cornerback Stanford Routt for Jones, chopping him down. Then offensive lineman Justin Blalock got out and blocked Javier Arenas, the other corner, while center Todd McClure did enough to screen Travis Daniels as Jones ran by into the end zone.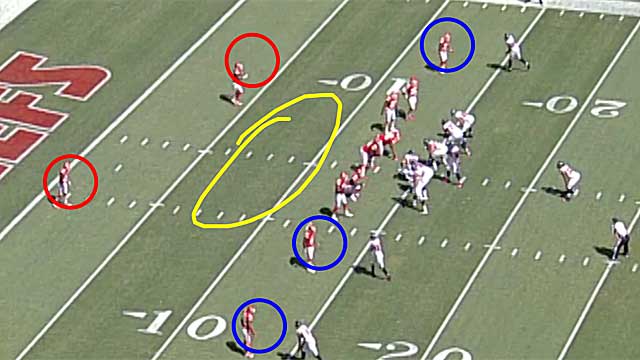 The Chiefs are in two-deep (red circles) man under (blue circles). All of the linebackers are up near the line of scrimmage. That means a void in the middle of the field (yellow area). Julio Jones is lined up wide left with Harry Douglas in the slot inside of him, with both corners up in their faces.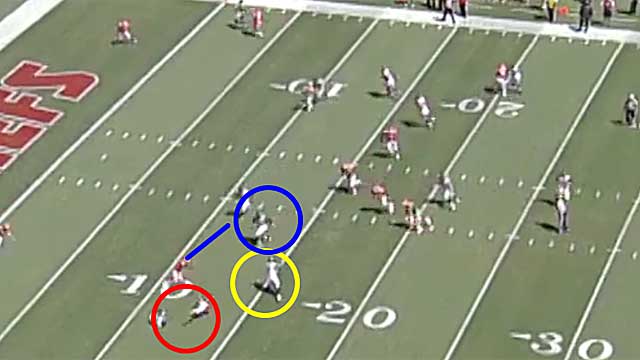 At the snap, Jones, in the yellow circle, takes a step forward then comes back to the line of scrimmage to catch the short pass from Matt Ryan. As he does, Douglas makes a line for corner Stanford Routt and chops him down with a block (red circle). The Falcons also get two linemen out into the screen. The first to make a block is guard Justin Blalock on corner Javier Arenas.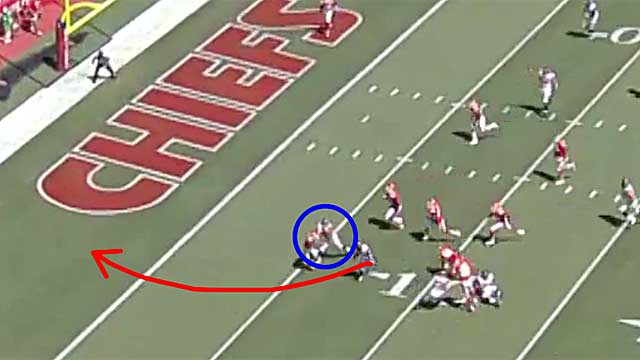 As Blalock blocks Arenas, Jones runs off that block and gets a little bit more of a block from center Todd McClure on safety Travis Daniels (blue circle )which allows him and easy path into the end zone.
4. The Packers secondary really struggled against the 49ers. There was blown coverage on the Alex Smith to Randy Moss touchdown. Moss lined up in the left slot just outside of Delanie Walker. The Packers were in zone. Safety Morgan Burnett and linebacker D.J. Smith were lined up against those two -- but way off. Walker ran a little curl, freezing both Burnett and Smith as Moss ran by them into the end zone. It appeared Burnett was the culprit, but he also looked quickly over to young safety M.D. Jennings after the play. Jennings was on the other side, but with one receiver there and three Packers, he might have blown rolling to the middle of the field.
5. What Bill Belichick does, you can bet others will follow it. So get used to seeing more of the two-tight end sets. Belichick loves them. Of course, he has Rob Gronkowski and Aaron Hernandez, which makes it easy to do. They were on the field together for nearly every snap last week against the Titans. It helps that both are big-time players. Both can do so many things in the passing game. The 23-yard touchdown pass from Tom Brady to Hernandez shows the types of things they can do with those two.
On the play, the Patriots broke the huddle with one receiver split wide and three tight ends, all lined up to the left. But just before the snap, Gronkowski moved to the right side of the formation, leaving Hernandez just outside the tackle and third tight end Michael Hoomanawanui outside of him. At the snap, Hernandez is bumped (actually held) by defensive end Kamerion Wimbley, who tries to stay with him for a few yards before releasing him in zone coverage. Hernandez then runs in front of safety Michael Griffin for an easy score. That's what having two great pass-catching tight ends can do for an offense.
6. I love what the Chicago Bears are doing on third down. What they did against the Colts was move Julius Peppers inside next to Henry Melton. Rookie Shea McClellin is one end with Israel Idonije the other. All four can rush the passer. Peppers got a sack lining up inside when he looped around Melton, bull-rushed Colts center Samson Satele to hit Luck and force a fumble and a punt. Melton, a rising star inside, also had two sacks. As a former running back, he has outstanding quickness for a man his size.
7. I know Adrian Peterson had an impressive first day back after his recovery from a torn ACL -- amazing really. But I have to say early in the game, it looked like Peterson was reluctant to plant his leg and cut. He seemed to be hopping around, rather than cutting. That's always a problem for a back coming back from a torn ACL. Eventually, Peterson seemed to regain his confidence and did a better job of cutting. But I still didn't see the decisiveness that I saw before the injury. It might take a couple of weeks or so before he gets back to believing in his knee again.
8. While Jared Allen was mauled by Monroe, Brian Robison, the other Vikings end, had a field day. He spent the afternoon in the Jacksonville backfield. He had his way with Cameron Bradfield early, but when Bradfield went out it got worse for the Jaguars. He abused Guy Whimper, one of the worst tackles in the league. Robison is one of those guys who always seems to play hard and find a way to make plays. It helps being opposite Whimper.
9. Two of the impressive linebackers from Week 1 were Atlanta's Sean Weatherspoon and Stephen Nicholas. We expect that from Weatherspoon, who is considered one of the rising stars at linebacker, but Nicholas was actually better. He flew around all day against the Chiefs. The Falcons used a lot of defenses with just those two at linebacker, which meant they had to cover a lot, which both can do. On one first-quarter delay to Jamaal Charles, Nicholas showed off his speed, knifing in from the left side to dump Charles for no gain. In Mike Nolan's defense, which will play to speed more than the previous style in Atlanta, these two will play vital roles in whether the Falcons improve on that side of the ball.
10. One of the great concerns for the Broncos heading into this season was whether right tackle Orlando Franklin, who excelled as a drive blocker in the Tim Tebow gimmick offense a year ago, could transition to a more conventional tackle. In other words, could he hold up in pass protection? He sure did against the Steelers. Matched some against LaMarr Woodley, Franklin did a nice job. He moved his feet, even engulfing the powerful Woodley at times. If Franklin can play that way all season long, the Broncos might have as good a tackle tandem as there is in the league with Ryan Clady on the other side.
Hot tub
1. 49ers linebacker NaVorro Bowman: He had a huge pick of Aaron Rodgers and was all over the field with 11 tackles. He showed off his speed on the pick by taking a forward step on the play-fake, yet still having the ability to get depth to pick off Rodgers.
2. Eagles CB Dominique Rodgers-Cromartie: He finally looked like the player many thought he would become, getting two picks and playing some outstanding coverage.
3. Bills RB C.J. Spiller: With Fred Jackson down with a knee injury, Spiller is the guy. But after his 169-yard game last week against the Jets, that might not be a bad thing.
4. Cardinals DE Darnell Dockett: He looked like the Dockett of two years ago against the Seahawks, getting five tackles and spending a lot of time in the Seattle backfield.
5. Chargers OLB Shaun Phillips: He had two sacks and helped choke off any Raiders comeback Monday night.
Cold tub
1. Bills QB Ryan Fitzpatrick: He just never seemed to get into a rhythm against the Jets.
2. Saints S Roman Harper: He really struggles in coverage and the Redskins got him matched up and exploited him some. His interference penalty in the end zone set up a big Redskins touchdown.
3. Giants WR Victor Cruz: He had three drops that impacted the game. He's better than that.
4. 49ers T Joe Staley: Clay Matthews abused him in last week's game, getting 2½ sacks.
5. Panthers QB Cam Newton: He looked sloppy throwing the football in terms of mechanics. Is this the start of a sophomore slump?
Three and outs
Three college pass rushers who have NFL scouts drooling
1. LSU DE Barkevious Mingo: He is a pass-rush freak and will be a top-10 pick.
2. Georgia OLB Jarvis Jones: See Mingo. Wow, can he rush the passer. He also had a pick-six against Missouri.
3. Auburn DE Corey Lemonier: At 6-foot-4, 250 pounds he has the frame to get even bigger. He has great speed off the edge.
Three biggest lies this season so far
1. Alabama could beat the Dolphins. Are you kidding me? Miami wins by 50.
2. The replacement officials are horrible. Not really. Some bad, some good. Just like the real guys.
3. Joe Flacco is an elite quarterback. Slow it down, guys. He's better. He looks more comfortable. But elite? Not quite.
Tweets at me
1. From: @adilmomin786
@PriscoCBS Bengals in AFC champ game???????
2. From: @DiProjetto
@PriscoCBS @cbssports did u do these rankings? Or did a small child steal your laptop? Horrible Prisco, just horrible.
3. From: @cnilson
@PriscoCBS At which point in the season will you decide to revise your SF 49er predictions? Mr. Expert, I would suggest to man up now.