You find out a lot about young quarterbacks late in close games with the game on the line, the ball in their hands.
We saw that play out Sunday with two rookie passers within minutes of each other winning key road games with some late-game magic. First, it was the Seahawks' Russell Wilson leading his team to victory against the Bears in Chicago with a touchdown drive in overtime.
A short while later, the Colts' Andrew Luck beat the Lions in Detroit by throwing a 14-yard touchdown pass to Donnie Avery on the final play of the game.
These are the types of drives you expect from veterans, not quarterbacks playing in their 12th game -- on the road, no less.
Both drives have their special moments. Both drives showcased the rookies' mobility. And both drives showed the poise and confidence of the two young passers.
Both were a joy to watch when they happened.
They were even better on the All-22 coaches' tape.
Here's a look at each of the two drives with some pictures. We'll start with Wilson, who also had a long drive for the go-ahead touchdown late.
But this drive is his game-winner in overtime.
The Seahawks take the opening kickoff of overtime and start at their own 20 after a touchback. Wilson opens the drive with an 11-yard run off the read-option to the right side. That gets him and the team going. After a 14-yard run by Marshawn Lynch, a run for no gain and a delay penalty, the Seahawks face a second-and-15 from their own 40. That's where Wilson makes a smart play.
Wilson has a chance to take a shot in the middle to Sidney Rice -- a risky throw -- but he opts to check it down to his right to a wide-open Michael Robinson for 13 yards. The next play, Wilson runs around the left side for 5 yards and a first down.
Later, he faces a third-and-10 at the Chicago 37. That's where the Bears made a major mistake and didn't keep him contained, and Wilson runs for 12 yards. After two runs by Lynch net nothing, Wilson makes another big third-down throw.
On the play, Wilson fakes inside to Lynch and then rolls to his left. As he does, he keeps his head up and sees Doug Baldwin open on the sideline, in large part because Charles Tillman fell down. Wilson hits Baldwin for 13 yards to the 12. That sets up the game-winner.
Here's a look at the game-winner in pictures. As you can see below, Wilson (red circle) is lined up in the shotgun in the read-option look. Rice (blue circle) is split to the right in the slot. He is in man coverage with Tillman. At the snap, Wilson fakes to Lynch, and all the line action goes to the right. That makes many of the Bears defenders step to that side -- their left -- as you can see by the second picture. Wilson bootlegs out of there to his left, and when he does, Rice is wide open after crossing the field and Wilson hits him for the score.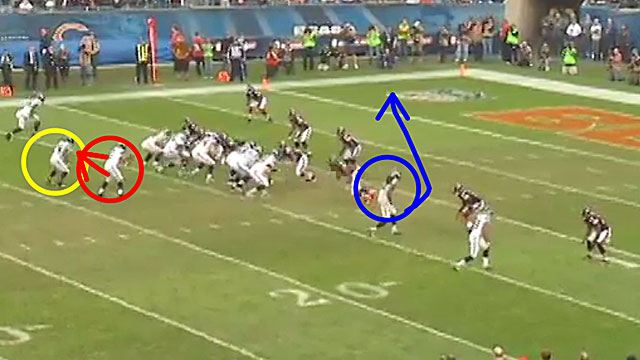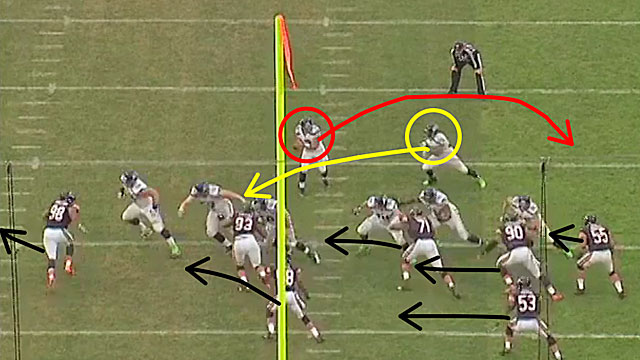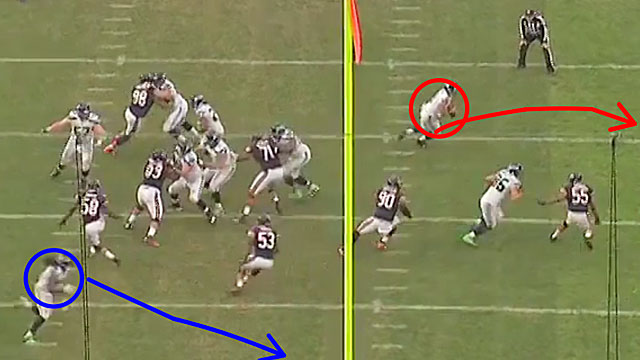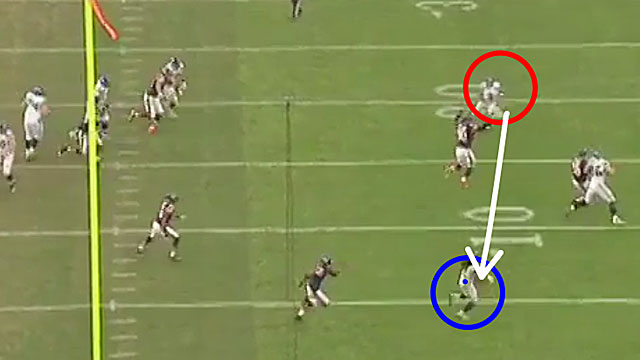 Luck's drive is even more impressive because of the time element. The Colts take over at his own 25 with 1:07 left, no timeouts, down 33-28.
It starts with a 9-yard scramble by Luck. After a spike came the drive's biggest play and Luck's best throw. On third-and-1, he hits Reggie Wayne for 26 yards to the Detroit 40. It's a timing throw into the middle of the field, into a crowd, that few can make.
Here's a look. It starts with Wayne lined up to the left in the slot outside of T.Y. Hilton and inside of Donnie Avery. The Lions are in a cover-2 scheme, which they stay in for most of the drive. At the snap, Wayne (blue circle) runs a deep dig route into the middle of the field. Luck throws the pass even before Wayne makes his break and it's in the perfect spot, just over the heads of linebacker Stephen Tulloch and corner Jacob Lacey and in front of safety Louis Delmas. It's definitely a "wow" throw.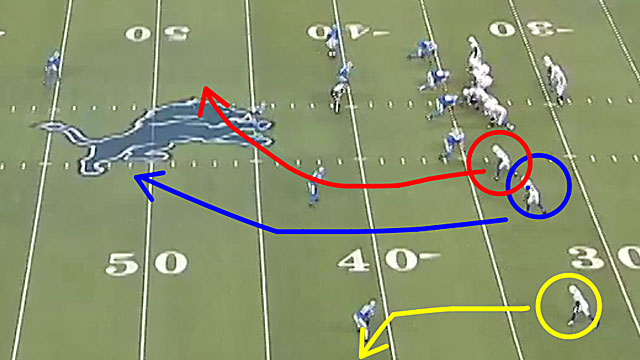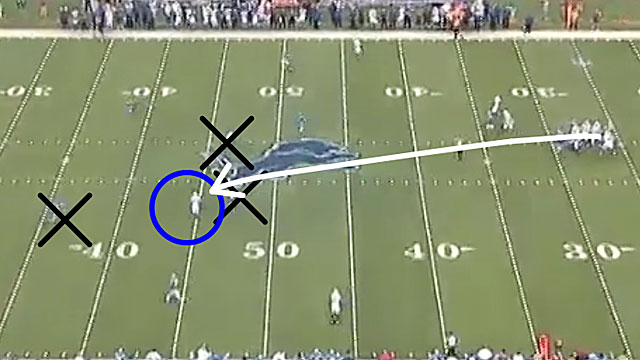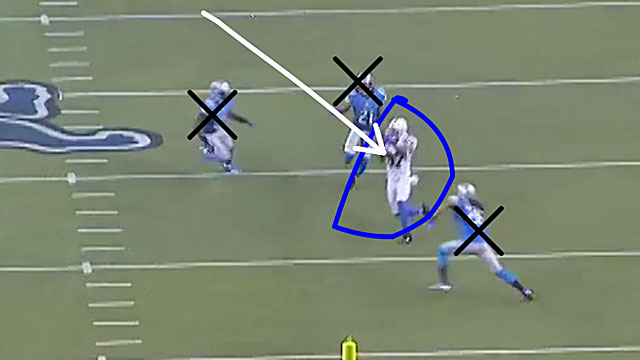 From there, Luck scrambles for 16 yards, hits Dwayne Allen for 10, sees a potential touchdown pass to Wayne broken up by Don Carey in the end zone and sees a potential pick by Lacey go off his hands in the end zone. That sets up fourth down from the Lions' 14 with three seconds left.
The Lions stay in zone coverage. They drop seven to the goal line and deeper. The Colts run four players into the end zone, which leaves a huge void in the middle of the field. Avery (blue circle) runs a shallow cross from the left to the right and he is wide open as you can see by the second picture. The mistake on the play is made by Lacey, who takes a few steps to his right when Luck scrambles and looks inside. That enables Luck to flip a pass to Avery, who waltzes into the end zone for the game-winning score. The play showed Luck's patience, and his ability to move defenders with his eyes.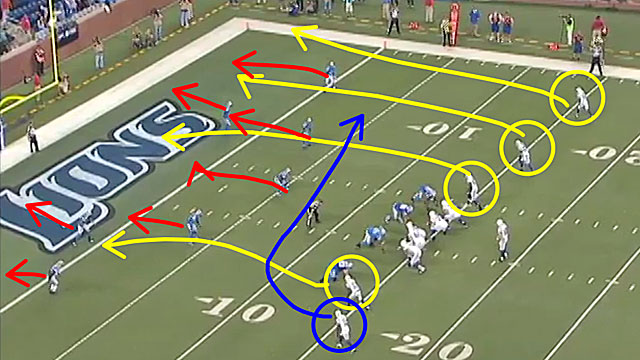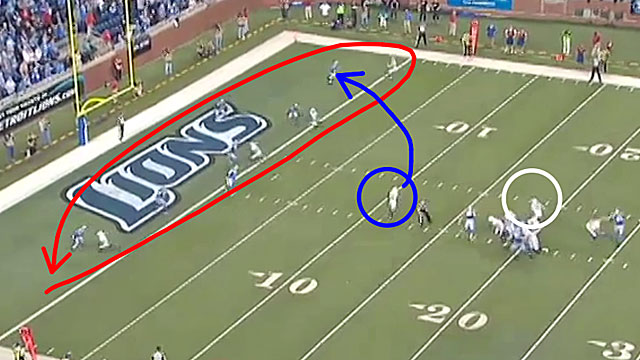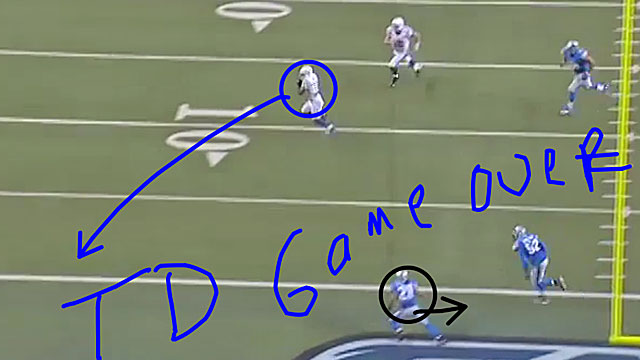 As they continue to show us, these rookie quarterbacks, including Robert Griffin III and others, don't seem to be fazed by the moment. So much for rookie jitters. These quarterbacks seem to love the spotlight -- and who knows what special things they can do in the future.
Film study
1. What went wrong with the Atlanta Falcons' high-flying pass offense last week against the Saints? Matt Ryan struggled to throw the football, but there were reasons. One was this: His receivers, two big-time players in Julio Jones and Roddy White, didn't win enough. The second big reason was the design of the Saints defense. Coordinator Steve Spagnuolo threw a ton of looks at the Falcons, and it seemed to bother the pace of their offense. The Saints did some of the same things the Falcons have used to slow down opposing quarterbacks this season, which is to show one look and just before the snap have a safety bail into a different coverage. At other times, the Saints played a cover-2 scheme with Malcolm Jenkins and Rafael Bush playing deep, and dropped Roman Harper down as an extra linebacker. That helped in a big way in coverage. And the last thing to slow the Falcons was the Saints got a nice game from corner Jabari Greer. Add it all up, and now we know why the Falcons threw for only 165 yards.
Here's a look at some of the trouble plays the Falcons had against the Saints. This is a play where the Saints played a two-deep, man-under scheme. As you can see, the corners have the receivers covered. The linebackers take tight end Tony Gonzalez inside and fullback Mike Cox in the flat. There is safety help over the top, so the corners can be aggressive. Ryan has nowhere to go with the football and a hard inside rush forces him to his left before he throws incomplete to Jones, who tries to come back to help him on the play.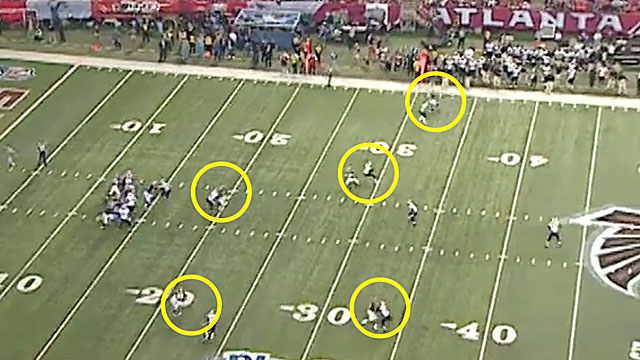 Here is a look at another Atlanta pass play that shows how well the Saints did in coverage. You can see every man is locked up with a safety over the top. The coverage was much better in this game for the Saints than in most.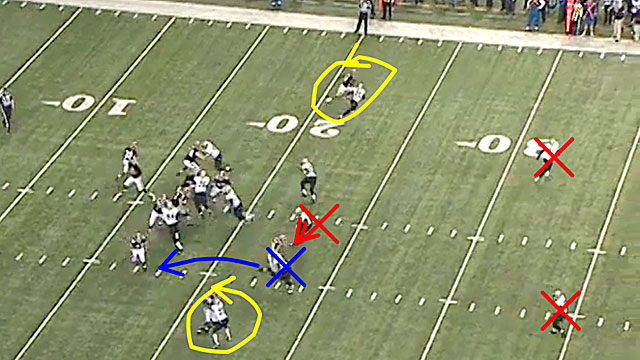 The Falcons didn't take their normal shots down the field in this game either. Even when a team is backed off in Cover-2, teams often take the shots to put pressure on them. But the Falcons rarely did. Ryan also missed a few shots. Here's one. It's actually a successful 20-yard throw to White (blue circle). But take a look at Harry Douglas (yellow circle). He's wide open for a touchdown. This is being a bit nitpicky, since the throw did pick up 20 yards, but the Falcons settled for a field goal. A throw to Douglas would have been a touchdown.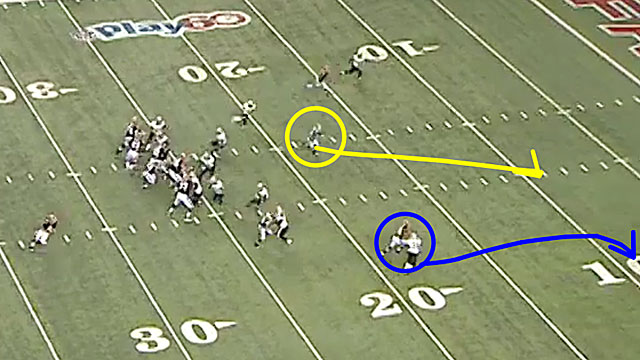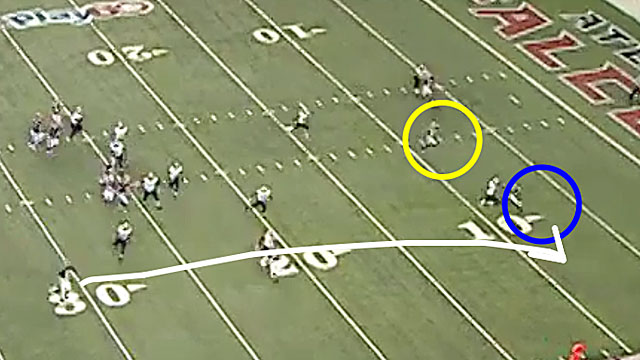 2. When I was watching the Rams-49ers game live, I kept seeing pass after pass completed in front of rookie corner Janoris Jenkins, who seemed to be playing off in some situations where he should have been playing up. The Rams played a ton of zone that day, almost the entire day in fact, and Jenkins never seemed to adjust. He is an outstanding man-cover player, one who will be a star down the road, but he has to become more aware in zone coverage. He did have the big play of the game, scooping up the fumble on the read-option play for a touchdown, but he made some head-scratching moves in coverage. You can't just line up and run with receivers all the time, Janoris. Here's a look.
The 49ers have a third-and-4 at the Rams' 8. Jenkins is lined up seven yards off the ball and actually takes a half step to his left at the snap, opening up inside. That allows Mario Manningham inside for an easy throw for seven yards and a first down.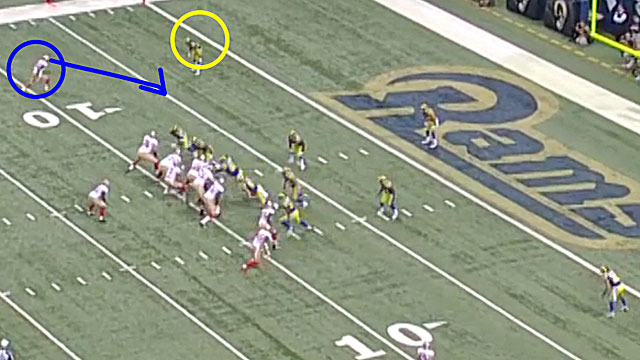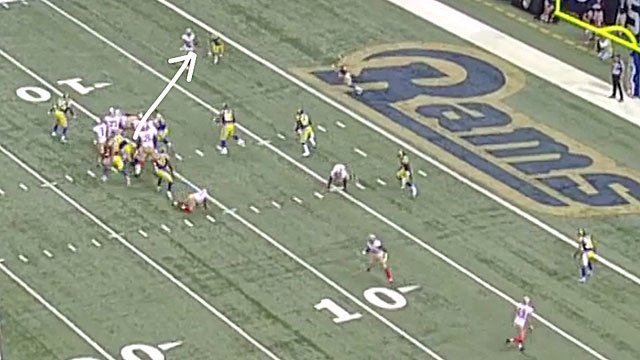 Later in the game, the 49ers have a third-and-3 and Jenkins lets tight end Delanie Walker beat him inside for a slant and a first down. He's even farther off in coverage on that play. If you play that far off, you have to be able make a quick breaks on the ball. Jenkins has not yet learned that.
3. One other thing I noticed in watching the 49ers-Rams tape was that the Rams defensive front beat up what is supposed to be one of the best offensive lines in the league. And all five of the 49ers linemen had problems of some sort. Center Jonathan Goodwin, who had been having a solid season, had real issues with Michael Brockers and Jermelle Cudjo. Left tackle Joe Staley and left guard Mike Iupati also had major issues. The Rams have a good, young line, one that will cause problems for a lot of teams moving forward.
4. Cincinnati running back BenJarvus-Green Ellis has rushed for more than 100 yards in each of the past three games. He's a tough runner, but the reason he's having so much success is the play of the right side of the line. Rookie guard Kevin Zeitler and right tackle Andre Smith are mauling people. Smith and Zeitler were big in Green-Ellis having a big day last week against the Chargers. On his 41-yard run in the second quarter, Smith started on a double with Zeitler, then got off that and made a key block on linebacker Takeo Spikes. Smith is playing as well as any right tackle in the league right now. Rookie center Trevor Robinson, who has started the past month, has also helped the run game. He isn't overpowering, but he is smart and knows how to use angles to block his man. Add in good left tackle Andrew Whitworth and underrated left guard Clint Boling, and now you know why the Bengals have started to run it so well. Tight end Jermaine Gresham, not known for his blocking, has helped out at times, but he sometimes has problems on the edge -- otherwise the Bengals might be even better running it.
5. Sometimes when you watch a tape, it's tough to imagine what was going through the mind of a quarterback when he threw a pick. Such was the case when watching Andy Dalton's pick-six against the Chargers. Dalton, the Bengals' smart, accurate passer, threw it right into the stomach of San Diego linebacker Demorrio Williams. Dalton was trying to fit in a ball to A.J. Green on a slant, but Williams slipped underneath it and Dalton never saw him. But Dalton's other interception of the day was a perfect pass to rookie Marvin Jones. It bounced off Jones' hands into the arms of Chargers safety Corey Lynch.
6. Speaking of bad pick, have you ever seen Drew Brees throw so many of them in one game? Brees was horrible against the Falcons last week. But the amazing thing is that some of those were misreads, something you don't see from him.
Here's a look at the five interceptions he threw:
• Brees tries to hit Marques Colston on a skinny post, but he doesn't hold safety Thomas DeCoud long enough with his eyes to Brees' right, and DeCoud gets over to make a great interception.
• The second pick is a short throw in the flat to Chris Ivory that went off his hands into the arms of linebacker Sean Weatherspoon. That throw is a little behind Ivory, who didn't get turned around in time.
• The third one comes when Brees tries to throw across his body to Devery Henderson, and William Moore steps in front for the pick. It appears Brees never even saw Moore, who is standing right in his line of sight.
• This one is a result of the pass rush by Kroy Biermann and a bad decision by Brees to try and throw it with Biermann grabbing his arm. The ball flutters and falls into the arms of defensive lineman Jonathan Babineaux. It's a terrible decision.
• The last pick comes right after the two-minute warning when Brees tries to hit Colston along the left sideline. Colston is clearly covered by corner Dunta Robinson, and Moore comes over and tiptoes the sideline for a nice interception.
Brees had five picks, one called back, and all came in a variety of ways that were so not like Brees. Credit the Falcons defense. They got after him.
7. New York Giants defensive end Justin Tuck was considered one of the top defenders in the league before the season. But Tuck hasn't had a very good season. He has only three sacks, and two of those came in one game against the Steelers a month ago. Tuck had two tackles against the Redskins on Monday night, but the tape showed he was blocked a lot. It wasn't like he was working against a Pro Bowl player most of the time, either. There were several plays where Tuck didn't get one bit of penetration and on some run plays he got handled. Tuck has to play better down the stretch. Right now, he sure isn't living up to his reputation. Is he hurt? If he is, that could be a reason. But when you're on the field, you're considered healthy. It's time for him to start playing like the star he's perceived to be.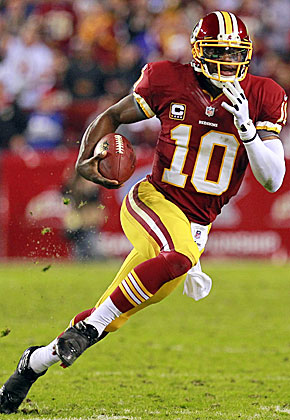 8.
So what's wrong with the Bears defense? That's a question being asked a lot lately. So I closely studied the Seattle game to try and get an idea what's going wrong. For starters, they are not taking the ball away. They didn't have a takeaway against the Seattle. The other problem was containing Wilson. He kept getting outside the pocket. But one of the biggest problems was coverage. Early in the season, some were touting
Charles Tillman
as the league's defensive player of the year. He had a rough go of it against Seattle in coverage, and
Tim Jennings
, who is also having a good season, struggled some as well. Wilson actually missed some big-play chances because of blown coverage. One thing that wasn't a problem was defensive tackle
Henry Melton
. He was a force inside in both the run game and in pressure. If he doesn't get to the Pro Bowl this season, it will be a shame.
9. A few years ago, Arizona's Adrian Wilson was one of the guys I targeted for future stardom at safety. Now it's the Dolphins' Reshad Jones. The kid is a play maker. He had a spectacular interception of Tom Brady last week that he returned for a touchdown, only to have the score nullified by penalty. He also had a sack. And he has improved greatly in coverage. Jones has the range you need in the current NFL, guys who can run and cover, but still hit. He should get strong consideration for the Pro Bowl. The only problem is that he isn't exactly a big name. So what?
10. The design of the Redskins offense is a good thing for Robert Griffin III. And he excels in it. But the Redskins have to be careful about the way they use him. The read-option makes sense now. But he has to be prepared to be more conventional in the way he plays. Most of Griffin's throws are one-read throws off the "pistol" formation or the read-option. That makes it easy for him. And he has done a great job with it. But in time, he has to learn to be a passer who can do it in the pocket. I took a lot of heat on Twitter for saying that Monday night after the game, but I've heard several other analysts say it, and I've talked to a handful of coaches who agree. Can RG3 do it? No doubt. So let him. It's likely it will take another year before the change to a more conventional style of offense. But it has to happen. It's not safe running around taking shots -- even when you are pitching it. Faking into the line and pulling the ball back to wide-open receivers isn't hard to do. That's why teams will eventually figure it out. All gimmicky stuff gets figured out. Let the kid play quarterback. It's a lot safer.
Hot tub
1. Falcons S William Moore: He had two picks of Brees, but he also helped in the run game. He is a player.
2. Chiefs QB Brady Quinn: In a tough situation, he played his best game. He was impressive against the Panthers.
3. Jets DT Muhammad Wilkerson: He is getting better and better by the week. He is one of the few Jets bright spots.
4. Rams LB James Laurinaitis: He gets overshadowed playing in the same division with the two 49ers linebackers, but he was better than both of them last week.
5. Broncos CB Chris Harris: I loved this kid as a nickel corner last year, and now he's making plays as a starter. What a competitor.
Cold tub
1. Vikings QB Christian Ponder: What has happened to him? He's afraid to take shots.
2. Jaguars WR Justin Blackmon: He had two big games, and then disappeared again. He dropped a couple in Buffalo. He needs to be consistent.
3. Cowboys RT Doug Free: It doesn't matter who lines up against him. He is getting whipped.
4. Jets QB Mark Sanchez: How low can he go?
5. Saints T Zach Strief: He had a tough time last week in protection -- no matter who he was blocking.
Three and outs
Three reasons never to draft a running back high
1. Bryce Brown, Eagles: Have you watched the kid run? Now he just has to hold onto it.
2. BenJarvus Green-Ellis, Bengals: They signed him as a free agent, but he came into the league undrafted. He now has three consecutive 100-yard games.
3. Alfred Morris, Redskins: He is tied for third in the league in rushing as a rookie. Not bad for a sixth-round pick.
Three interesting stats from this week's data
1. The Colts, despite having an 8-4 record, are a minus-16 in the takeaway/giveaway ratio. The only teams worse are Kansas City and Philadelphia.
2. Bears QB Jay Cutler leads the NFL in fourth-quarter passing with a rating 134.9. The next highest is Aaron Rodgers at 111.8.
3. Patriots RB Stevan Ridley has more rushing first downs than any back in the league with 66.